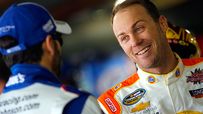 Kevin Harvick sits 30 points behind leader Denny Hamlin at the start of NASCAR's Chase.
Welcome to SportsNation! On Wednesday, NASCAR driver, and member of the Chase for the Cup, Kevin Harvick stops by to chat. The flag on the Chase drops Sunday (1 p.m. ET, ESPN).
Headed into New Hampshire this weekend, Harvick sits in third place in the points standings. Harvick, driver of the No. 29 Chevy Impala, won three races prior to the Chase to go with his 17 top-10 and 11 top-5 finishes.
Harvick owns 14 career Sprint Cup wins, finishing fourth in the points standings twice - 2004, 2008. He has also had much success in the Nationwide Series, winning two titles (2001, 2006), to go with 37 overall wins.
Send your questions now and join Harvick Wednesday at 11:30 a.m. ET!
More Special Guests: Previous chats | SportsNation
Buzzmaster
(11:28 AM)
Kevin is here!
Matthew (Columbia, NJ)
Hey Kevin, what race tracks in the chase do you see that is your best chance to win at?
Kevin Harvick
(11:29 AM)
We've won at Loudon, we've won at Phoenix. But really the mile and a halfs have been our strengths this year. But I don't think we have a bad track like we have had in the past.
Mike (Nijmegen, Netherlands)
How much has the ECR engines to do with RCR's turn around?
Kevin Harvick
(11:30 AM)
I don't think they have anything to do with the turn around. We had the same engines last year, but our cars were just off. They haven't really done anything different other than giving us good power.
Clark (Virginia)
In the chase, if you find yourself in a tight situation toward the end of race will you risk going for the win or be conservative and settle for points?
Kevin Harvick
(11:30 AM)
I think you have to go for the win. If you don't, someone else is going to. You have to win some races in the Chase to be able to be the champion.
Dave Mains (Avon)
Hi Kevin, What is the one thing you or your team needs to improve on in the chase, that would give your team the best chance of winning the championship.
Kevin Harvick
(11:31 AM)
I don't think we need to improve on much. We've done a good job of getting cars built that are good. We just have to keep doing what we've been doing during the season and minimize mistakes.
Cody (NE)
Who do you think is the team that could surprise us during the chase?
Kevin Harvick
(11:32 AM)
I think all of the teams can surprise you. Everyone's been there before. Everyone's run well at certain points in the season, so I think anyone can be a wild card.
JD (PA)
How great was that win in your Nationwide Series Car at Richmond? Is it true that paint scheme with Armour Vienna Sausages is undefeated over the last 2 years?
Kevin Harvick
(11:33 AM)
Yeah, I have never lost in that car. It's 3-for-3. To win in the new car was really cool. That's the future of our company and it's something that we're proud of and looking forward to doing it some more.
Tim (Indiana)
Great resurgence for all of RCR cars. What track wil you have the best opportunity at in the chase. What track gives you the most concern?
Kevin Harvick
(11:33 AM)
If you look at past history, Charlotte would be the place that concerns us the most. We ran well there this year, but I think that would be the weakest link.
david reinard (grand island ny)
do you think the points leader after 26 races should get bonus points for the accomplisment?
Kevin Harvick
(11:34 AM)
I think you could probably argue it a million different ways. Going into the year, we knew that the Chase would come after 26 races. We all knew the rules.
Brian (Wichita,KS)
Kevin, do you think you will win this next race in Loudin?
Kevin Harvick
(11:35 AM)
We feel well. Jeff Burton probably had the best car up there. I think we have good notes and I think we should have a good place to start.
craig barrett (brandon mississippi)
kevin how do you approach the chase will you change up any ways or strategies or do you just go about like you have leading to the chase for the championship
Kevin Harvick
(11:36 AM)
I think you just have to go about it like you have the rest of the Chase. It's worked for us the rest of the year. Every week you go to the track, you want to win the race, whether you're in the Chase or out or it's early in the season.
Awayne (INDY)
Which crew puts on the best BBQ at the track?
Kevin Harvick
(11:36 AM)
That's a new question. I don't even know the answer to that.
Kevin (Wisconsin)
Being a huge fan of yours I was very happy to see you do so well before the chase. After your win at Michigan you have fell of a little bit in performance, how hard is your team working at bringing your car back to the top 5?
Kevin Harvick
(11:37 AM)
I think we had the best car in Atlanta and I just made a mistake. Last week I finished 9th. I wouldn't really call that falling off. If that's falling off, then I'm happy.
Kevin (Boston, MA)
Kevin now that we are in chase mode, is there any thoughts about good point days, or is it all geared towards the win?
Kevin Harvick
(11:38 AM)
I think you have to take the days that you're not going to win and make the most out of them. You can't throw caution to the wind and just go all out for the win. Doing that and finishing 40th is not going to get it done.
Dustin (Florida)
Seems like everyone is picking Denny Hamlin to be the favorite for this years Chase? Do you like being the underdog?
Kevin Harvick
(11:38 AM)
Obviously I think we've done well enough to be with those guys all year. We've been consistent. This is what it's all about, the spirit of competition.
David (Buford, Ga)
What is your feeling of no road course on the Chase format?
Kevin Harvick
(11:39 AM)
I would be all for having a road course in the Chase. I think that would spread the variety of the tracks out. If you're going to spread it out over 10 weeks, then I think you need to make sure that the team that wins is the most diverse team.
Kenny Adkins (McAlester, Ok)
Kevin, first of all, good luck in the Chase and I sure hope this is your year! My question is Dega, do you think the race will be a normal Dega race, or will it be low key cause 12 of you are chasing points?
Kevin Harvick
(11:40 AM)
I don't know that you can put low key and Talladega in the same sentence. I don't think this time will be any different. There will be varying strategies of whether guys are running at the lead of the pack, in the middle.
Jake (Atlanta)
With the success of KHI in Nationwide and Trucks, could there ever be a KHI car in Sprint Cup???
Kevin Harvick
(11:41 AM)
I have learned not to say never. There are always things that happen, but it would have to be 100% of the right opportunity. I think our facility has everything. We like to race and win races. We'd have to have the same approach.
Randy (Cincinnati, Ohio)
Kevin, how do you feel about Budweiser being one of your new sponsors for 2011? Seems like BUD has not been a great omen for the last driver who raced with them?
Kevin Harvick
(11:42 AM)
We're excited. Bud is a huge brand and they have a huge part of the history of our sport. To be a part of that brand and that car next year is great for us. To get that kind of exposure is second to none.
Dustin (Florida)
Do you think the Chase winner will come down to Homestead or will it be locked up before that?
Kevin Harvick
(11:43 AM)
With how competitive this group of drivers is, I wouldn't be surprised if it comes down to the last race with multiple drivers still competing for the title.
Brian (Wichita,KS)
How do you think you will do at Kansas?
Kevin Harvick
(11:43 AM)
Hoepfully well. We've run well at most of the mile and a half race tracks. You don't know until you get there how the tires will be on the track, how much the track has aged. But going there, on paper, we should be fine.
Jolt (IglooNATION)
How much contact do you guys at RCR have with EGR as far as setups for racing goes. Is it strictly an engine deal or is there more conversation there?
Kevin Harvick
(11:44 AM)
There is no more conversations than with the engine stuff. That's the end of it at that point.
KH Fan (VA)
Kevin, what do you contribute to RCR's success this season with all 3 in the Chase when last year all 3 of RCR's cars weren't in the chase?
Kevin Harvick
(11:45 AM)
It would be easier to tell you what we didn't change than what we did change. The engines are the same. Richard let us build all new cars. We changed everything about the car.
Ugly Mike (Canton)
If the schedule would work out would you ever consider running an Indy car race?
Kevin Harvick
(11:46 AM)
I don't think so. I'm pretty content having fenders over my tires. If I do something, I want to be competitive. It's such a different style of racing. It hasn't really ever interested me, to tell you the truth.
josh (indiana)
how disheartening is it to know that you led most of the year in points, but you aren't.... good luck
Kevin Harvick
(11:47 AM)
Technically, we haven't not led yet. We led going into Richmond and if we do well in Loudon, we'll lead again.
Kevin (Wisconsin)
Which driver is the funnest to race against?
Kevin Harvick
(11:47 AM)
That's a good question. I think the most recent one would be the last Nationwide race with Keselowski. That was fun. It all depends on the situation.
will (va)
do u think the 48 car is the team to beat being that he's the reigning champ?
Kevin Harvick
(11:48 AM)
I think we've run well enough to compete with him. Those guys have won the last four years, so it's hard to bet against someone like that.
Roman (NJ)
Do you get up early on Sun. mornings to watch the F1 races live?
Kevin Harvick
(11:49 AM)
I usually DVR the F1 race, because it's a little too early for me. I usually watch them. That's the racing league that I watch consistently.
Jolt (IglooNATION)
Are you excited about the future of RCR right now? You and Clint are still young guys right now. Paul Menard is coming on board with a lot of cash and Austin Dillon is moving up in the wings right now.
Kevin Harvick
(11:50 AM)
I think it is exciting. I think the most exciting part is seeing the young guys coming up. That makes everyone want to run well. Everyone is happy to be there and looking forward to staying competitive over the next few years.
Scott (Manchester, NH)
What is your average week like as far as a schedule for the shop, appearances and travel etc?
Kevin Harvick
(11:51 AM)
It really varies. This week, I spent all Monday morning in the shop until lunch. Tuesday you usually have some time off and then Wednesday, Thursday, Friday, Saturday you're traveling with appearances and races. But other weeks are different.
Barb (Ohio)
Kevin, You look like you stay in pretty good shape. What is your workout routine?
Kevin Harvick
(11:51 AM)
I try to workout at least a couple of days a week. In the winter, I try to workout 3-4 days a week. But the most important thing is keeping hydrated.
Kevin Harvick
(11:52 AM)
Thanks for all of the support. We're looking forward to the next 10 weeks and finish those weeks like we did the first 26.