Chat with Gordon, Busch, Stewart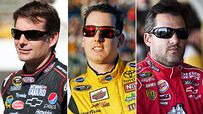 Gordon has four NASCAR titles, while Stewart has two and Busch is searching for his first.
Welcome to SportsNation! On Thursday, three drivers -- Jeff Gordon (left), Kyle Busch and Tony Stewart (right) -- from NASCAR's Chase for the Cup stop by to chat prior to the Chase commencing at this weekend's race in Loudon, NH (Sunday, 1 p.m. ET, ESPN).
Busch, driving the No. 18 Toyota Camry for Joe Gibbs Racing, has the third most wins this season, three, and sits in third place, 30 points out of first.
As the driver of the No. 14 Chevy Impala for his own race team, Stewart won once this season. He sits in sixth place entering the start of the Chase.
While Gordon, driving the No. 24 Chevy Impala for Hendrick Motorsports, has yet to win this season, he recorded 10 top-5 finishes, second most among NASCAR drivers this year.
Send your questions now and join the chat Thursday starting at noon ET! Gordon chats at noon, Busch at 12:20 p.m. and Stewart at 12:40 p.m. ET.
More Special Guests: Previous chats | SportsNation
Buzzmaster
(11:51 AM)
Jeff Gordon is on his way and should be here right at noon for the chat!
Buzzmaster
(12:01 PM)
Jeff is here!
Ken (VA)
What makes trying to with the Chase different then approaching any race prior to the Chase? Are you pushing harder for the win or trying to stay consistently towards the front for points and better finishes?
Jeff Gordon
(12:03 PM)
One of the things the Chase format has created is that while you're in the regular season trying to win races, but also trying to prepare for these 10 races and make sure you're better prepared. We're still trying to win like we always are and putting it all together and hoping that the communication and intensity of knowing that the championship is on the line. It elevates the competition and the best rise to the top. I don't think we're trying any harder or being any more aggressive.
Tom (New York)
Hi Jeff, How did your test go at Milwaukee a few weeks ago?
Jeff Gordon
(12:03 PM)
Tests went good. We primarily did that test to prepare for New Hampshire. We weren't as good in NH as we were last year, so we wanted to verify some things. We tried to sort out some things. I hope what we learned there will pay off this weekend.
Chad (Illinois)
What changes, if any, would the three of you like to see as far as the points system or qualifying for the Chase is concerned?
Jeff Gordon
(12:04 PM)
I really like the Chase format. I think it creates better competition, more excitement for the fans. The only thing I've suggested over the last couple of years is maybe mixing up the tracks during the Chase.
Bob (Virginia)
Hey Jeff, first of all best of luck in the chase buddy. I feel the experts have overlooked you this year, something you can use to your advantage. What's it gunna take to show that the 24 team is still the power house to be reckoned with?
Jeff Gordon
(12:05 PM)
I appreciate that. I think that we are going to use that to our advantage. We have been under the radar a little bit. We certainly recognize that we came into the Chase second in points. What we're going to have to do is consistently be in the top 10 and definitely the top 5. If we do that, we can win races.
Steven (Rochester)
DO you feel you are seeded good for the chase
Jeff Gordon
(12:06 PM)
No. I definitely don't, because we're 60 points back. I'm not so concerned with the 30 back of Kyle. But Jimmie and Denny will be a major threat and when you go in behind them, you have your work cut out for us. I would sure like to be on even ground with those guys and have some wins under our belt.
Harry (Lafayette, La.)
How do you feel NASCAR will respond if a team wins the championship without winning 1 race? Do you feel they will make some changes or will they respond to it as the way the points fall.This in my mind is about being consistent.
Jeff Gordon
(12:08 PM)
I don't think there's really any reason to respond to it. I think it would be very rare. It's unlikely that would happen. But if it does happen, I think you have to give a lot of credit to that race team. We've run really strong and been consistent. We will definitely take the championship if we don't win. But I don't think that will happen, that a team wins the title without winning a race.
Kathy (Tennessee)
Jeff, I absolutely think you are the best out there. What is your favorite track you will race at in the chase?
Jeff Gordon
(12:09 PM)
Thank you Kathy. I love Martinsville, even though we didn't run well at Charlotte, I like Charlotte. Kansas is a good track for us. And I'm looking forward to going back to Texas. I'd like to see if we have a good shot there as well. But if I have to pick one, probably Martinsville.
Steven (Rochester)
Is the Hendrick team ready?
Jeff Gordon
(12:10 PM)
It's been business as usual. Our engineers and the staff at Hendrick are constantly trying to build set ups and cars that are capable of winning races. Our crew chiefs are trying to build information as best as they can in their debriefs with the other teams. It's always very competitive.
Caleb VanZee (Fowler, MI)
Who is your favorite college football team?
Jeff Gordon
(12:11 PM)
I've never been one that's big on following college football. I do like the NFL, and I'll always be a 49ers fan, having grown up in the Bay Area. I like to play fantasy football in the NFL. But no favorite college team.
Joe (Pennsylvania)
Hey Jeff! Who do you feel the team to beat is?
Jeff Gordon
(12:11 PM)
Until the 48 gets beat, which hasn't happened the last four years, you have to look at him as the favorite. I think Harvick looks very strong. And Denny Hamlin looks very strong.
Kevin (VA)
Since you're technically Jimmie's boss, can't you just tell him to let you win this year?
Jeff Gordon
(12:13 PM)
That's where there's miscommunication. I'm not his boss, Rick's his boss. I'm just fortunate that I have equity in Hendrick Motorsports. I've looked into playing that card, but it hasn't played out. We just have to beat him like everyone else.
Tom (New York)
Compared to 2004 and 2007 especially, how do you feel the team is going into the chase?
Jeff Gordon
(12:14 PM)
I think this is one of the strongest teams we've had in a very long time. I look at the consistency. I look at the communication that's gone on between me and Steve and our engineers. I feel like we've lost some momentum over the summer, but I think we can regain that over the Chase. I think we have as good a shot this year as we have ever had.
Larry (MI)
With 2 of the 4 HMS cars in the chase will more preparation go into the 24 and 48 since you guys have a chance at the Cup? Will the 5 and 88 become more like test teams to try different set ups for you guys?
Jeff Gordon
(12:15 PM)
It's going to be a tricky balance. Those teams, just like any other team in the Chase, they're trying to figure out what they need to do to be more competitive for next season. Now, in that process, if they find out something that helps the 24 and 48 win the championship, that's great. We're not expecting them to give up their chances of building up their team for next year. It's a fine line of how you balance that out. We want to see those guys run good. When they run good, it gets us better information to help us run good.
Adam (Kentucky)
Who do you think is the one to beat at New Hampshire?
Jeff Gordon
(12:16 PM)
That's a good question. Jimmie won the last race there battling with Kurt, so you have to like those guys. Tony was strong. Bowyer seems to run good there. It's a tough call. I reall think these first two tracks, the favorite would be Jimmie. That's why we look at it like 10 races is a lot of racing. You can't get yourself overanxious.
Jeff Gordon
(12:17 PM)
Thanks for the support. Thanks for all of the great questions. Can't wait to get this Chase started and see how we can cut into the lead of the guys ahead of us!
Buzzmaster
(12:18 PM)
Thanks Jeff! We have Kyle!
Matthew (Columbia, NJ)
Hey Kyle, congrats on all the wins this year. How much has the nationwide series helped you in having a nice season so far in cup?
Kyle Busch
(12:19 PM)
I think just being able to get on the race track is always beneficial to me. Getting the most laps on the track helps me. It comes together, just putting all of that experience together.
Kyle Jackson (Corona, CA)
Kyle,What tracks are you most looking forward to in the Chase? Which tracks worry you the most?
Kyle Busch
(12:20 PM)
I'm looking forward to going to Dover and Charlotte, Texas, California. Those are probably my favorites. The only one that worries me is Talladega. And Kansas, we seemed to struggle this year at Chicago, which is similar.
Dave
How weird was it to have cameras follow you in NYC?
Kyle Busch
(12:21 PM)
They're still following me. We're doing good. It's not weird. What makes it weird is all of the people looking at you and not knowing what's going on. But having fashion week in NYC it blends it. It's been fun. It's over today, so unfortunately, we'll part our ways.
Mike (Raleigh, NC)
Kyle, say it comes down to the last few races of the chase and its you and Denny fighting it out for the title. Would the amount of information shared between the two teams decrease at all? Or would things not change much at all?
Kyle Busch
(12:22 PM)
No, it won't change. We're pretty good at knowing that the information needs to go throughout the whole organization. If it comes down to that, that's what JGR is all about winning the championship. If it comes down to that, we'd be happy that it's in the JGR stable.
Walt (Philadelphia)
Do you think a road course race be in the chase ?
Kyle Busch
(12:23 PM)
I think it would be fun if a road course would be involved. We race on those tracks throughout the year. It's our championship run. I think we should hit every race track that we race on during the season.
Andrew (WV)
Kyle, great job this year in EVERY series! How worried are you about the have at it boys during the Chase?
Kyle Busch
(12:24 PM)
No, I'm not worried. If there's an opportunity for someone to want to start something, it's going to be what it is. It could take your chance out of winning the championship. If it comes down to that, it's the wrong decision from that person and probably wouldn't be the smartest thing they've done.
Patrick (Charlestown, NH)
What are your chances this weekend to win in the Camping-World Truck Series race at New Hampshire?
Kyle Busch
(12:25 PM)
I'm looking forward to it. We've had fast trucks all year. Driving my own team is fun. I'm looking forward to winning again. We're trying to win the owners championship there too and that would really help us.
Keith (Fresno, Calif.)
Kyle you are the man, you're the reason why I watch NASCAR. What are you going to do different this time compare to the 2008 season?
Kyle Busch
(12:26 PM)
The first three races of 2008 was mechanical failures. I really didn't do anything to cause it. It wasn't anything I did, getting into wrecks or anything. Hopefully the team has done what it needs to to prepare for 10 good weeks and not have any issues.
Wade (Florida)
If you beat Kurt or Kurt beats you in the standings or in a race do you guys brag to one another or not make it a big deal?
Kyle Busch
(12:27 PM)
No, we race so much that it's not a big deal any more. It's more about the end of the year and being able to compete for the championship and trying to win it.
Tommy (SC)
Can anyone beat the 48? Hope somebody will
Kyle Busch
(12:28 PM)
I think so. We've seen the past couple of months that it's almost anybody's game. It should be a more open Chase. It will be more difficult to pick a true winner. Whoever is most consistent and not have those bad days will do it.
Lauren (Henderson, NV)
Hey Kyle, how much credit do you give to your dad for teaching you and Kurt about racing?
Kyle Busch
(12:28 PM)
I think a lot of credit goes back to my parents and the chance to go racing. My dad teaching us the ropes. We went over film and seeing what we did right and wrong. It's always to do that. They've been a big help.
Steve (CA)
How freaked out were those kids to see you at the MM shop? Did you have fun there?
Kyle Busch
(12:30 PM)
It was pretty good. The little boy was kinda weirded out. His grandma was cool about it. There were some people there that were foreign, so the communication wasn't the good. But it is always fun to go to M+M World.
Patrick (Charlestown, NH)
Kyle witch win in NASCAR's top three series was most memorable to you?
Kyle Busch
(12:31 PM)
I'm going to say the Cup one. That's the most memorable one. But the truck one that night, winning for your own team is pretty cool. We're fighting for sponsorhips and hoping we can keep that deal going into the next year.
Cheryl (FL)
Jimmie Johnson and your brother Kurt seem to be real strong at Loudon, who will be ones to watch?
Kyle Busch
(12:31 PM)
I think Jimmie is definitely the one to watch. Tony was fast there this spring, but never had track position. We were up front most of the day. Really, if you look at all of the names, it's kind of up in the air, just like the Chase.
Brian (NJ)
Hey Kyle great show the other night, Riding Shotgun. I thinks fans saw a different side of you. I was not a big fan, but your good in my book now.
Kyle Busch
(12:32 PM)
It's been fun doing the show. It's been neat. We've kind of gotten a lot of that reception from the show. To give people a different idea of what I'm like away from the track. It's been fun to see and hear.
Kyle Busch
(12:32 PM)
Maybe Jeff Gordon wants a show.
Dennis (Charleston South Carolina )
Who is the one guy you don't want on your rear bumper when your leading the last lap of a race?
Kyle Busch
(12:33 PM)
Jimmie Johnson is going to pass you clean, but you know he has a fast car. He's a guy you're racing in the race and in the championship. The better he finishes, you know the harder it will be to beat him the next time.
ASHLEY (MS)
Do you think it's possible for someone to win the title without winning a race and if so, do you think it would be fair?
Kyle Busch
(12:34 PM)
I think so. It's fair in any sport. You don't have to be winning races to win a championship, you have to be consistent. This sport is based on consistency. People put themselves in position to win the title without winning a race, that's fine. You can finish 5th every single race in the Chase and win the championship. If I could do that now, I would bank it.
Tyler (TX)
Hey Kyle, we follow you and Sam on twitter and with Sam being such a fitness freak how come you don't work out every day like her?
Kyle Busch
(12:35 PM)
My schedule is a little bit more constrained with the racing stuff. Being more involved in the day to day stuff. I have time to do it, but she is a fitness freak. She likes to eat healthy. She's gotten me doing that too, so at least I'm not getting any fatter.
Kyle Busch
(12:36 PM)
Thanks to everyone for joining the chat. It's been cool. I appreciate the questions. I'm glad everyone's been enjoying the show.
Buzzmaster
(12:36 PM)
Thanks Kyle! Next up is Tony Stewart!
Buzzmaster
(12:37 PM)
Tony is here!
Matthew (Columbia, NJ)
Hey Tony, what tracks do you think you will perform the best in the final 10 races?
Tony Stewart
(12:38 PM)
Kansas is one that looking at the stats, we're pretty good at. Loudon we were strong at in the spring. I really like Homestead. There are a lot of tracks on the schedule that I like, but those are the ones that I'm looking forward to for some good days.
Ryan (Ventura CA)
Tony, Just how open is the notebook Between SHR and Hendrick
Tony Stewart
(12:39 PM)
Wide open. It's how we got four of the six cars in the Chase. We're able to share information back and forth. This year it took us a bit to learn the Hendrick system and make it work. This year, we were able to do a much better job and get some of that information back to the Hendrick organization and make the system actually easier.
Cindy (Indianapolis, IN)
Tony,Good luck in the chase!! Who do you feel is you best competuition in the Chase?
Tony Stewart
(12:40 PM)
To be honest, it's really hard right now to figure that out. I think this is the first time in the Chase format that all 12 are legit contenders. It's really hard to pick right now. It's too close and there are too many good teams. Every one that's made it have been contenders all along.
Mike (NY)
What's your opinion on the chase format? do you believe in any changes?
Tony Stewart
(12:41 PM)
No. I like it the way it is.
Wade (FL)
Tony, are you and Kurt Busch cool now after all those years of controversy?
Tony Stewart
(12:42 PM)
Yeah. It takes people reminding me to even remember that we had those issues. The 12 of us were in New York the other night and it was probably the most fun I've had at a pre-Chase dinner.
Linda (Connecticut )
Tony what is the benefit for Hendrick to keep helping your team in the chase?
Tony Stewart
(12:43 PM)
It's two more sets of information that they get. I know since we started last year with them, the engine department has been excited to work with Ryan and myself. It's been nice for them to have our input because we came from other teams. Have the input on what we ran for our engines, the chassi and how the cars drove before.
Sandra V (New England area)
Question for Tony Stewart: much is said of the importance of "dialing in" the racecar every week....what-if anything do you do specifically "to dial yourself in" mentally/emotionally for each race-especially with all of your responsibilities and distractions from the media?
Tony Stewart
(12:44 PM)
I don't think "dial-in" is under that context. I think it's more getting the car to handle right. It's hard to get the car to 100 percent, so you're always trying to dial it in.
Clance' McClannahan (Boise ID)
Tony, if you could have The Chase end at any track...what track would you chose, or would you like it to be Homestead?
Tony Stewart
(12:45 PM)
It doesn't really matter to me. You still have 10 races. If you had a situation where the last track made a difference, you might feel stronger about it. Even though it comes down to Homestead, the other 9 weeks sets you up for that.
Andrew (WV)
How much different is the spoiler from the wing?
Tony Stewart
(12:46 PM)
It's really not a big balance change. It took a little bit of tweaking at first to get the aerobalance with the wing. But we don't even think about it any more.
Clay (Charlotte)
Tony, are you enjoying owning a team as much as you thought you would? How are you dealing with balancing the owner and driver roles?
Tony Stewart
(12:47 PM)
Having people trust and good people in the right positions. It is just as enjoyable as I thought it would be. But when you have a good day with the team, it's that much better, but a bad day is that much worse.
Scott (Indy)
Hey Tony. Do you get a chance to grill out much during the season? Charcoal or Gas?
Tony Stewart
(12:47 PM)
I can screw up cereal, so I don't grill, obviously.
Phil (Happy Valley)
Tony, when the season is done, are there things you do to get away from racing for a bit?
Tony Stewart
(12:48 PM)
I like to hunt. I deer hunt. I have land in Indiana that I like to go to and hunt. We have a charity event that we do with some children. And I normally go on a trip for a couple of weeks.
Guillermo (Moline, IL)
will you ever run the INDY 500 again? How can Nascar and Indycar collaborate to have the best drivers in that race
Tony Stewart
(12:49 PM)
I don't believe so. The IndyCar Series has gotten to competitive, I don't believe anyone can go in the month of May and get caught up. I think you have to spend a lot more time in those cars than the limited amount of time before Indy.
Vince (Akron)
Your BK commercial was hilarious. "When do you get off? I have to ask my supervisor." How much fun was that?
Tony Stewart
(12:50 PM)
That was nice, because we didn't have scripted lines. It was the first time doing a commercial where I didn't have to memorize lines. They made it fun.
Sherry (MT)
How is the log house coming?
Tony Stewart
(12:50 PM)
They're still working on it. It will be July of next year before it's done, but they're hammering away.
Kevin (Richmond, VA)
Do you miss working with the people at Gibbs? What do you think about Joey Logano?
Tony Stewart
(12:51 PM)
I think Joey's done a great job. I don't think there was anybody who I would have rather seen replace me than him. I miss working with Kyle Busch. And Denny too. I miss the team. I miss Joe and JD Gibbs. I was with that organization for 12 years. I was there for a third of my life. I'm still friends with Zippy. You don't just leave a place after being there that long without some friends.
craig centralia il [via mobile]
who do u think has the best chance at the championship?
Tony Stewart
(12:52 PM)
Nobody knows. It's the most competitive Chase field we've ever had. It's anybody's game now. You could take the best team and driver in the Chase and something could happen and it would change everything.
Wendy (Alabama)
You have an impressive collection of automobiles! What's your favorite and why?
Tony Stewart
(12:53 PM)
I don't know. It seems to change from week to week. I have a 55 Chevy Nomad that I really like. That was the one car I wanted to drive the last time I was home.
Phil (Happy Valley)
Tony, do you like the way your team has performed going into the chase? Do you like your chances on winning a 3rd title?
Tony Stewart
(12:54 PM)
I feel like we're one of the teams that's gained momentum as the season's gone along. There are teams that have leveled of or tapered off, but I think we are one of the teams that are building momentum. I like that scenario.
Tony Stewart
(12:55 PM)
I appreciate the fans and their taking time out of your busy schedules to spend a few minutes in the chat.
Buzzmaster
(12:55 PM)
Thanks Jeff, Kyle and Tony! Great way to prep for this weekend's start to NASCAR's Chase!