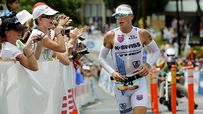 Lieto finished in a career best 8:22:56 in last year's world championship.
Welcome to SportsNation! On Friday, world class triathlete Chris Lieto stops by to chat about the upcoming Ford Ironman World Championship held out in Kona, Hawaii on October 9.
Lieto will be trying to win his first Ironman World Championship after placing a career best second last year. The race consists of a 2.4-mile swim, 112-mile bike ride and 26.2-mile run. In his 13-year ironman career, he has three top-10 finishes at the world championship. So far this year, he has won three of the six events in which he has entered.
This year, Lieto has joined up with World Vision to form the More Than Sport campaign, which is aimed at getting children around the world clean water, education, healthcare and food. He aims to get one child sponsored for each of the 141 miles he will race. The race airs December 18 at 4 p.m. ET on NBC.
Send your questions now and join Lieto Friday at 2 p.m. ET!
Chris Lieto online: @chrislieto | ChrisLieto.com
More Special Guests: Previous chats | SportsNation
Buzzmaster
(1:58 PM)
We've got Chris!
Anne Chrzanowski (Peachtree City, GA)
I'm a huge fan! I'm wondering what your strategy is this year to beat Craig Alexander? How far ahead to you think you need to be getting off the bike?
Chris Lieto
(1:59 PM)
That's a good question. Last year, I had 12 minutes, and that wasn't enough. This year, I would say I don't need that much. I don't know how the race will unfold. I'll take what I can get. But I know I won't have to push myself too hard on the bike.
Chris Murphy (Murrieta, Ca,)
How have you maintained the motivation to continue striving for success in triathlon?
Chris Lieto
(2:01 PM)
To continue it has probably been through pursuing the goals I set years ago. Every day, I have that in my mind that my job's not done. Also, the bigger part is that it's not just about winning. It's more than that. That's why I started MoreThanSport.org.
Courtney (Minnesota)
What is your favorite post-workout recovery food? & Your favorite fun food?
Chris Lieto
(2:02 PM)
My favorite fun food has to be a doughnut that I crave once in a while. Sometimes I don't wait until post race to do that. I do it during training, but just once in a while. Post race, we usually have pizza and a burger.
Ben (Boston)
What is the one part of training you like least?
Chris Lieto
(2:02 PM)
Sometimes it's getting up early or getting out in the rain.
Scott (Indy)
Do you ever go back to the finish line when everyone is finishing at like midnight for these things? You know, cheer on the 72 year old nun as she's finishing?
Chris Lieto
(2:03 PM)
Yeah, absolutely. That's one of the greatest times at the Ironman is to go back and watch them finish. I can't imagine being out there for 17 hours. I have the utmost respect for them.
Lois (Saratoga Springs, NY)
What advice would you give to someone looking to transition from Half Ironmans to full IM's?
Chris Lieto
(2:04 PM)
I think the biggest thing to focus on is nutrition. Make sure you have a good balance in nutrition. Make sure you have enough calories as you're training. Get enough nutrients and minerals. That's key. You really don't have to do that much more training. If you have a full time job, you can still do similar training.
Matt Ison (Waco, TX)
What was it like when you decided to 'turn pro' in triathlon? There isn't a lot of money in the sport, so were you working part time or did you have enough support in the early days?
Chris Lieto
(2:05 PM)
Yeah, I had great support from my wife and family. I did also have a full time job. I was a mortgage broker for years. Before that I worked at a bike shop. I went professional but still carried a full-time job for 4-5 years.
Joshua (Cherry Point, NC)
When you win this year how do you plan to celebrate
Chris Lieto
(2:06 PM)
Just spend some quality time with my family. I plan to spend some time in Kona after the championship. Celebrate with the family back at the house. It takes a lot of time, energy and work put into this.
Peter (Madison, NJ)
what's worst? running with blisters or swimming with a leaky goggle?
Chris Lieto
(2:07 PM)
Running with blisters for sure. You can always stop and get the leaky water out. I've been stopped in my tracks before because I had rally bad blisters and couldn't finish.
Mitch (PA)
Could you say what in races is your biggest mental strength?
Chris Lieto
(2:07 PM)
My biggest mental strength is my faith. I rely on my faith. I spend some time in prayer out there when things get tough.
Chris Lieto
(2:08 PM)
This year, it's going to be a huge advantage to think about MoreThanSport, we're teaming up to sponsor a child for each mile. We'll have signs for each child for each mile. To think about how tough things are for them.
Brad (Fort Worth, TX)
What's your advice on balancing family time with training?
Chris Lieto
(2:09 PM)
For me, training is my full time job. So, I try to do the same, spend time with my family, then go and train and come back in time for dinner. For those people out there that have full time jobs, it's important to have a balance. Don't be a slave to the training schedule. Make sure you skip a workout if you have to spend time with them. It won't mess up your training to do that here and there.
Scott (Indy)
Do you watch the NBC broadcast? I think if I did Iron Mans, it would be cool to buy the dvd to every one of them that I finished.
Chris Lieto
(2:10 PM)
Yeah, for sure. I watch them. I think my son, who is 7, watches them a lot more than I do. I think I've seen last year's race 20-30 times because he wants to watch the race.
Jim Robesky (Quincy, IL)
What and how have you changed your race strategy from years past to help you cross the line first this year?
Chris Lieto
(2:11 PM)
Every year strategy changes. There are different athletes. You can't just have one strategy. I try to play to my strengths. My style of racing is to push it out there. There are a lot of people that play out their strategy with the group, but mine is to put it all out there and risk it.
Austin (Palo Alto, CA)
What have been your biggest lessons in balancing and optimizing 3-sport training?
Chris Lieto
(2:12 PM)
That's a tough question. There is so much behind trying to find the balance. You can't train in sport as if you are only doing that one sport. You have to have a balance. Taking one or two key workouts in each discipline a week. The rest more casual workouts. You can't hit every workout hard as if you're only doing one sport.
Grady (Texas)
Chris - how long will your taper be and will you go any length of time before Kona without doing any workouts? Do you have any total rest days...if so, how many?
Chris Lieto
(2:14 PM)
Depending on where I am in my training....last week I took a day off. This week I took a couple of days easy. At this stage, it's rare that I take a full day off. I'll try an easy 45-minute spin just to let my body recover. Active recovery is important.
David (Austin (TX))
Can you talk a little more about what MoreThanSport is and where to get information
Chris Lieto
(2:15 PM)
MoreThanSport is a campaign that I came up with with World Vision to help kids around the world. The goal this year is to sponsor 141 kids in Africa, which will represent each mile of the race in Kona. In Kona, we'll also be supporting kids in need in Kona. We'll be supplying kids will school supplies for their education. You can go to MoreThanSport.org for more information.
Ryan (The hawkeye state)
What do you think are some of the biggest factors for the growth of the sport (triathlon) over the last 10-15 years?
Chris Lieto
(2:16 PM)
I think the biggest thing that helped is media exposure. The TV coverage is always good. And it's also the word of mouth. How exciting the sport is. I think it's a snowball effect. Once a person experiences a triathlon and crosses the finish line, they enjoy the experience and the journey.
Jess (Raleigh, NC)
at what point in your life did you know you could be an elite athlete?
Chris Lieto
(2:18 PM)
I believe that I had the ability and set that goal before I even started. Then through the first few years of racing, I realized that I had the ability. I did a talk to my son's school today that you have to believe in yourself and keep with that dream, not giving up to any obstacles you might have.
Dan Benjamin (Seattle, WA)
If I remember right, you were more of a swimmer/water polo guy growing up. What did you do when you first started into triathlon to get so crazy fast on the bike?
Chris Lieto
(2:19 PM)
Coming from a swimming background, you have that discipline. For the biking, I started with a mountain bike on the road. It sort of came to me easy. But also, learning from those who have had success before on the bike. Learning the skills and training techniques from others, I was able to get better from that.
Scott (Indy)
How many water bottles a year do you go thru?
Chris Lieto
(2:20 PM)
I'm sitting in my garage, and I have probably 30 sitting on my shelf. I probably go through a box of 40 a year, I try reuse them. I drink on average four water bottles a day.
Neal oseland (Colorado Springs, CO)
How does your brother matt being a professional triathlete motivate you? Are you two competetive with one another or just each others biggest fans?
Chris Lieto
(2:21 PM)
I think we're each other's biggest fans. He was out there the first time I did the Ironman. We get excited because we're racing with each other in the same race. It's a great thing. I'm a little bummed he didn't get a chance to qualify for Kona this year.
Chris Lieto
(2:22 PM)
I want to thank everybody for all of your encouragement. I've had so much the last few months. I appreciate it and hope to follow through and have a great performance in Kona.