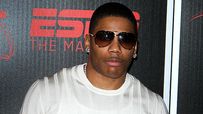 Nelly's album, 5.0 hits stores on November 16.
Welcome to SportsNation! On Monday, rapper/actor Nelly stops by to chat about his "Celebrity Sweat," DVD and his upcoming album "5.0" due out this November.
Nelly knows how important it is to promote health and wellness and how music and sports play a big role in motivating him to work out. In his new DVD "Celebrity Sweat," Nelly takes you through an exclusive workout, highlighting the best of his bicep and tricep routines. It also includes workouts from pro football, basketball, R&B and hip hop personilities.
Nelly's latest album "5.0" will be released on November 16 and his two new singles "Tippin' In Da Club and "Just a Dream" are out now.
Nelly online: @Nelly_MO | Facebook.com/nelly
Send your questions now and join Nelly Monday at 1 p.m. ET!
More Special Guests: Previous chats | SportsNation