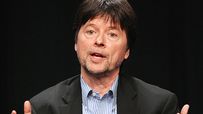 Burns releases his 20th film "The Tenth Inning" on PBS September 28-29.
Welcome to SportsNation! On Tuesday, Emmy Award-winning documentarian Ken Burns stops by to chat about his latest work The Tenth Inning, which airs over two nights on September 28-29 on PBS at 8 p.m. ET.
Burns, a two-time Academy Award nominee and seven-time Emmy Award winner, has produced and directed 20 films during his career, with probably the most well-known being The Civil War (1990) and Baseball (1994).
The Tenth Inning acts as a follow-up to Baseball, telling the tumultuous story of baseball from the 1990s to the present day. It highlights the transforming of the game because of the 1994 strike, the increase in Latino and Asian players, skyrocketing profits, interleague play and the wild card, the new Yankee dynasty, the Red Sox breaking their curse and the performance-enhancing drug revelations.
Send your questions now and join Burns Tuesday at 3 p.m. ET!
Ken Burns online: @kenburnspbs | Facebook | On PBS
More Special Guests: Previous chats | SportsNation
Buzzmaster
(2:55 PM)
Filmmaker Ken Burns stops by at the top of the hour to take your questions on his latest project "The Tenth Inning."
Buzzmaster
(2:59 PM)
Ken is here!
JD (Germantown, WI)
What was your favorite "Inning" of all 10 in the "Baseball" series? Why?
Ken Burns
(3:01 PM)
I don't play favorites, but one would have to say that Jackie Robinson's arrival in Inning 6 had the biggest impact, but I've enjoyed working on the 10th Inning.
Mike (Los Angeles)
I thoroughly enjoyed both of your previous films and am looking forward to The 10th Inning. Did you uncover any info that REALLY surprised you during the PED-infested era? Thanks.
Ken Burns
(3:02 PM)
I don't think we have any surprises or we're breaking any new ground. I think what we've been able to assemble is the smartest way to look at this story. It helps the viewers get a handle on the steroids era.
Brad (Gadsden,Alabama)
Ken, Who is going to win the world series?
Ken Burns
(3:02 PM)
Well, I think you always have to look at the defending champions as the most likely to repeat. But there are a couple of divisions with some wonderful seasons, the battle in the NL West and AL East.
Louis (NH)
Ken, will you be re-transferring episodes 1-9 for release on Blu Ray?
Ken Burns
(3:03 PM)
We're talking about it. We're hoping the PBS will have the resources to do that shortly. I hope that happens, because it will look that much better.
Troy Lynn (Sacramento, CA)
Thank you for your wonderful work. Your films make me cry and help me put things in the long perspective of history. What is your next project?
Ken Burns
(3:04 PM)
We're actually working on five films. The first will be out next year, it's a three part history of prohibition. The second one due in 2012 is a history of the Dust Bowl. In 2013, we have two films, the first of the Central Park killing and a major series on the Roosevelts. And in 2015 we have a series on the war in Vietnam.
Deuce (Vegas)
Do you find it ironic that your name is "Burns" yet the burns are the one part of your face that isn't covered with hair?
Ken Burns
(3:05 PM)
Well, I have a beard, so I have some sideburns, but they're hidden in the beard.
jabbadonut (Torrance, CA)
Hi Ken,Do you think records set by MLB players confirmed or suspected to have used PED's should be expunged by Baseball (or have, a la Roger Maris, asterisks besides any of those records)?Thanks and best regards,Jim Pappas, aka jabbadonut
Ken Burns
(3:06 PM)
I don't believe they should be expunged and I don't believe in asterisks. I think in all complicated records, a story needs to be told. If you look at the 1919 World Series, it will mention that the Reds are the champions. There is no mention that the White Sox threw the series after taking gambling money.
Mike (Ohio)
Were you done with the story after 9? Did the way the steroid era unfold spark the interest for making this one?
Ken Burns
(3:07 PM)
We thought we were done. The last bit of action we talked about previously was the 1992 World Series. But with steroids and the strike and all of the other positive stories with the Red Sox curse being broken, the rise of Asian and Latino players, etc. we couldn't resist coming back to the story.
Daniel (Tallahasse, FL)
What do you think people will be saying about the steroid era in 2100?
Ken Burns
(3:09 PM)
I don't think it will be the biggest scandal from baseball. I think the biggest right now was the exclusion of African-Americans. The second biggest one was the gambling scandal which banned some of the players for life. But I think we're gone from the steroid era. No hitter hit .406. No pitcher won 30 games. No hitter had a 56 game hitting streak. And no more 50 home run seasons. The steroid era is over and dead.
Dave (LV)
Shouldn't #11 be about George Steinbrenner's monument? That thing is so huge I bet you could see it from the moon.
Ken Burns
(3:10 PM)
I was there last night and watched them unveil it. I audibly gasped when I saw how much bigger his was than Babe Ruth and Mickey Mantle. It stunned me. The 11th Inning, God willing, will begin with Armando Gallaraga's perfect game that wasn't and move on from there and we'll have to deal with Steinbrenner's legacy.
Daniel (Tallahasse, FL)
If you could have dinner with one jazz musician and one baseball player ... who would they be? Living or deceased.
Ken Burns
(3:10 PM)
Oh, no question about it it would be Louis Armstrong and Jackie Robinson. Armstrong is to jazz what Einstein is to physics and the Wright Brothers is to travel. Robinson's arrival was the single most important moment in baseball history.
ben (houston, tx)
Mr. Burns, thank you for taking the time. Is it going to take a Ray Chapman type injury to put an end to the maple bat era like with what happened to end of the dead ball era?
Ken Burns
(3:11 PM)
I feel that what happened to Colvin a few days ago was sort of the wake up call. Hopefully it won't have to go as far as a fatality to make people realize that there's an intrisic problem with the maple bats.
Mike (DC)
Ken: It was my pleasure meeting you at Stephen Strasburg's debut at Nats Stadium. How did the electric atmosphere that night rank among others that you have experienced?
Ken Burns
(3:13 PM)
I actually can't remember a more dramatic game that I've ever been to. I've been to World Series games where my beloved Red Sox have won and that was exciting. But I haven't been to a game where 40,000 people were all into the game and chanting his name. This was a guy who you hope will after his TJ surgery will come back. If baseball isn't already in the Golden Age, he could make it so.
Matt (IN)
Since you're obviously a baseball fan, you probably like to grill. If so which do you prefer, charcoal or gas?
Ken Burns
(3:13 PM)
I went over to the dark side about 16 years ago and got a gas grill. But one of my producing partners still admonishes me about that and remains loyal to charcoal.
Sue (Canada)
Speaking of Prohibition, did you happen to see any of Boardwalk Empire on HBO?
Ken Burns
(3:15 PM)
Yes, I did. I think it captures pretty dramatically one tiny aspect of the Prohibition story that we're telling in our film a year from now. It's cliche to focus just on the gangster aspect. It's a political situation not too dissimilar from today. It's a complicated story that we tell in our film.
Ken Burns
(3:17 PM)
I'm very appreciative of all of the excellent questions. I'm looking forward to your response to the Tenth Inning which will be broadcast on September 28-29 on PBS all across the country.