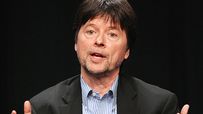 Burns releases his 20th film "The Tenth Inning" on PBS September 28-29.
Welcome to SportsNation! On Tuesday, Emmy Award-winning documentarian Ken Burns stops by to chat about his latest work The Tenth Inning, which airs over two nights on September 28-29 on PBS at 8 p.m. ET.
Burns, a two-time Academy Award nominee and seven-time Emmy Award winner, has produced and directed 20 films during his career, with probably the most well-known being The Civil War (1990) and Baseball (1994).
The Tenth Inning acts as a follow-up to Baseball, telling the tumultuous story of baseball from the 1990s to the present day. It highlights the transforming of the game because of the 1994 strike, the increase in Latino and Asian players, skyrocketing profits, interleague play and the wild card, the new Yankee dynasty, the Red Sox breaking their curse and the performance-enhancing drug revelations.
Send your questions now and join Burns Tuesday at 3 p.m. ET!
Ken Burns online: @kenburnspbs | Facebook | On PBS
More Special Guests: Previous chats | SportsNation