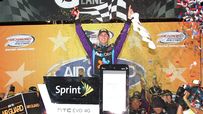 Hamlin sits in first after one Chase race.
Welcome to SportsNation! On Thursday, NASCAR Chase for the Cup points leader Denny Hamlin stops by to chat about racing's playoff season.
With six wins this season, Hamlin has the most victories for any driver in the Sprint Cup Series. His 11 top-5 finishes is second among drivers, while he also has 12 top-10s.
Hamlin, driver of the No. 11 FedEx Toyota Camry, finished third in the Chase in 2006, his first full season at the Sprint Cup level. He also won NASCAR's rookie of the year for his third-place finish.
Send your questions now and join Hamlin Thursday at 1 p.m. ET!
More Special Guests: Previous chats | SportsNation
Buzzmaster
(1:00 PM)
NASCAR Chase for the Cup points leader Denny Hamlin should be here in a few minutes to take your questions!
Buzzmaster
(1:03 PM)
We've got Denny!
Greg (VA)
Hey Denny! You ready for Dover?
Denny Hamlin
(1:04 PM)
Yeah, it's definitely been a tough track for us in the past. I'm excited how we've been running. I'm excited to go anywhere.
James (North Little Rock)
are you feeling a little relieved now that the guy who won last weekend and second in the points is no longer a factor after the penalty?
Denny Hamlin
(1:05 PM)
I would like to have the extra 15 points that I could have had with winning. I would rather have that than having him being out of it.
James (Rochester, NY)
Do you think that this season has been one of the best you've had in your Sprint Cup career?
Denny Hamlin
(1:05 PM)
I definitely think it is. It's the most competitive I've ever been in my career. For the first time, I feel like we can win anywhere. It's not something I felt like we had before.
Nick Rolando (Orlando)
Denny, what other sports do you follow or take an interest in? We'd love to have you as a member of Gator Nation!
Denny Hamlin
(1:06 PM)
I was actually born in Tampa, so I kind of am in spirit. I love football. Virginia Tech is my favorite college team and the Redskins my favorite pro team.
Andrew (Kettering Ohio)
Any chance we get to see the White FedEx car again, I always liked that scheme!
Denny Hamlin
(1:06 PM)
Yeah, I wish FedEx would do more special paint schemes. We keed it pretty simple. I don't think you'll see any more special ones this year.
Zach (Dallas, TX)
Denny, If you win when you come back to Texas, will you come party out in uptown Dallas to celebrate? All you can drink patron.
Denny Hamlin
(1:07 PM)
Yeah, I love going to Texas. Dallas is a great place. I love that city. Every time we go there, I am excited to check out Dallas. It's been great every time I go there, winning or not.
Gee (The Poconos)
Hey Denny!-"Mr. Legend In The Making"!! Have you given any thought to becoming a Team owner?
Denny Hamlin
(1:08 PM)
Not right now. I see some of the struggles that Kyle is having with getting sponsorships. I just think it's the wrong time to venture into ownership.
Cory (Montgomery, AL)
Hey Denny..I know NASCAR puts you guys' car under the template before qualifying runs, but do you think they should start inspecting before races?
Denny Hamlin
(1:09 PM)
The inspection process is a lot heavier after you win a race than before you go out. With the time constraints of our weekend schedule, they're doing all they can on any given race weekend to inspect the cars.
Matthew (Columbia, NJ)
Hey Denny, how many races do you feel that you can win during the chase?
Denny Hamlin
(1:09 PM)
I'd like to win 2-3. I feel that's a good number, a fair number for us. If we can do that, it will put us in a good position for the championship.
Matt (Boston)
Whats up Denny? just a piece of truthful humor......I am waiting for my tickets to be delivered by Fedex for the race and then driving down on Saturday
Denny Hamlin
(1:10 PM)
Good. One thing will be for sure, you'll have your tickets on time! You won't be worrying about that. And Dover is one of the best tracks to watch a race at.
Andrew (Kettering Ohio)
Is there any pressure running the #11? It is the second highest winning number in history and you could put it in front of #43 in your career!
Denny Hamlin
(1:11 PM)
No. I'm actually going to be happy if it ever gets to the No. 1. I think we have to get another 8-9 wins to get past the 43 car. I would just like to enjoy a part of the history of the No. 11.
Allen (Atlanta)
How is softball team going?
Denny Hamlin
(1:11 PM)
Well, we're 3-1. We're on our way to the playoffs soon, hopefully. I had the walk-off hit at last week's game.
GINA (PA)
Denny, how do you feel about your new QB for the Redskins?
Denny Hamlin
(1:12 PM)
I think we've already seen that it's better than what we had. He's a team leader.
Charlie (Suffolk, VA)
Of the chase drives, who are you looking to as your biggest competition for the cup (besides the champ)?
Denny Hamlin
(1:13 PM)
I think Kevin Harvick is probably the biggest threat. He's the guy that's shown enough consistency to be a championship threat. I think he's the guy that you're going to have to outrun each week.
rick (NC)
Denny,I have beeen following Cup racing forever.Good teams always push the envelope to try and gain an advantage. sometimes as is the case with poor Clint they edge over a bit.Does it concern you that it could happen to your team as well ?
Denny Hamlin
(1:14 PM)
Well, one of the good things I feel like at JGR is I always think we're on the conservative side of pushing the rules. I feel like we're the most straight up team in the garage. I really feel that.
christy (nj)
denny whats your opinion on how the year's been goin for the whole joe gibbs team??
Denny Hamlin
(1:14 PM)
I think it's been a better year for everyone. Joey's been better. Kyle made the Chase and we're doing well. All three have stepped up. That's a positive for everyone.
Dustin (Florida)
Who wins this weekend, Arkansas or Alabama?
Denny Hamlin
(1:15 PM)
I think Alabama is going to win it running away, literally.
ASHLEY (MISSISSIPPI)
I know that everyone puts such an emphasis on Talladega being the track that's going to produce the most drama in chase, but I feel that Dover is kind of a mini Talladega, because if there is a crash most of the time it's a multicar crash. I know that you worry about every race, but which track are you most concerned with in the chase? Good luck in the chase!
Denny Hamlin
(1:16 PM)
I would say this weekend at Dover. At Talladega, you really can't control your destiny. Here, if you qualify bad, you put yourself at more of a risk than if you're up front. This will be a key week for our team.
Kyle (NC)
If you could have picked one of these two drivers to mentor you on the sport growing up, who would it have been? Dale Earnhardt Sr. or Richard Petty?
Denny Hamlin
(1:17 PM)
That would be pretty close. Wow.....gosh. I would say probably Dale Earnhardt because he worked a lot on his own equipment. He was a guy that I felt knew the ins and outs of the sport. He knew about racing beside just driving the car.
Cole (Fort Worth, TX)
You have several tracks coming up in the chase that you have had better success than you have had at Dover. Does this play into you and Mike Ford's game plan. Do you plan on trying to just take it easy and get a top 15, top 20 finish or do you go out there and try winning, knowing you still have Martinsville, Kansas, Texas?
Denny Hamlin
(1:18 PM)
This weekend is going to be about conserving for myself. We're going to go and try to be top 10. This weekend, we'll be a little more on the defensive side. If we finish top 10, we'll be ahead of where we were last year.
ASHLEY (MISSISSIPPI)
If you don't win the chase, who would you prefer win it?
Denny Hamlin
(1:19 PM)
I wouldn't mind someone like Jeff Burton winning it. He's been in the sport so long. Him or Jeff Gordon. Jeff has been in contention the last few years and come up short. One of those two guys. They've paid their dues in the sport and the older they get, they stay just as competitive as they were years ago.
Matt (Boston)
Denny, I know alot of other drivers like Carl Edwards and Mark Martin have their pilots license. What about yourself? if you do what's do you fly?
Denny Hamlin
(1:20 PM)
I don't have a liscense. It's something I would like to get into, but probably later in my career. I have good pilots right now that I trust probably more than myself.
Dustin (Florida)
Seems like your family is very close knit. Do you think this helps you being with your family every weekend at the tracks? Did you teach Bristol the "bang" trick?
Denny Hamlin
(1:21 PM)
It does. I think it's important to my parents to be able to enjoy the life they should have been able to enjoy years and years ago, but I prevented them from doing that because of my racing career. It's good to have them around. It keeps you grounded.
Denny Hamlin
(1:22 PM)
Thanks for showing up to the chat. These are some of the smartest questions I've heard. Obviously my fans know a lot about the sport!