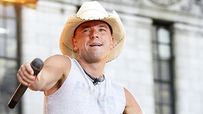 Chesney's next album "Hemingway's Whiskey" drops Sept. 28.
Welcome to SportsNation! On Monday, award-winning country music singer and songwriter Kenny Chesney stops by to chat.
Of the 16 albums Chesney has produced in his career, 14 have hit at least gold status. His 17th, "Hemingway's Whiskey," will be released Sept. 28.
The lead song of "Hemingway's Whiskey" is "Boys of Fall," which is also the name of a documentary Chesney directed that aired on ESPN. The film, while including some star power like Brett Favre, Peyton Manning and Mack Brown, focuses more on high school, with emphasis not on the stars, but on those who don't make it big. It depicts how for those who do not go on to long, storied careers in the NFL the lessons learned on the field help to shape who they are today.
Send your questions now and join Chesney Monday at 1:30 p.m. ET!
More Special Guests: Previous chats | SportsNation