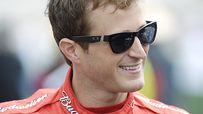 Kahne won NASCAR's 2004 Rookie of the Year.
Welcome to SportsNation! On Tuesday, driver of the No. 9 Budweiser Ford in NASCAR's Sprint Cup Series, Kasey Kahne, stops by to chat about the final eight races of the year.
Kahne, 30, in his seventh season at the Sprint Cup level, sits in 19th place entering this weekend's race at Kansas (Sunday, 1 p.m. ET, ESPN). He has eight top-10 finishes this year.
Kahne stormed on to the NASCAR scene in his first full year on circuit, by winning the 2004 Rookie of the Year. During the '04 season, he recorded 13 top-5 finishes and completed the season 13th in the point standings, missing the Chase for the Cup by a mere 28 points.
Kasey Kahne online: @KASEYKAHNE | KaseyKahne.com | Kasey Kahne Racing
Send your questions now and join Kahne Tuesday at 1:30 p.m. ET!
More Special Guests: Previous chats | SportsNation
Buzzmaster
(1:31 PM)
Kasey Kahne will be here shortly to take your questions!
Christy (NJ)
hey kasey how do you think you did this season before the chase began and how things can improve for next year??
Kasey Kahne
(1:33 PM)
I feel like we did pretty good before the Chase. We had some bad luck. We had some things go on that hurt us as far as the points go. There is a lot that needs to be done before next year. We're switching teams. I need to be prepared, get to know people. A lot of things.
Kristina (Waterbury, CT)
How is it different being the boss at Kasey Kahne Racing compared to being just the driver in Sprint Cup?
Kasey Kahne
(1:34 PM)
The biggest thing is as a driver in the Sprint Cup, you have a lot of rules, a lot of things you need to do right and go by. As far as ownership, you want to make sure that everyone is thinking about things at the right time and getting better. It relates to driving as well. At times they're very similar.
Cody (NE)
Do the nonchasers approach the races or drive against chasers differently than in the first 26 weeks?
Kasey Kahne
(1:35 PM)
No, I would say it's all pretty similar. I feel like it's pretty similar each week. There are some guys that are quick and will race you hard whether you're in the Chase or not. You want to race as good as you can and win whether you're in it or not.
JV (Los Angeles, California)
what is the craziest thing a fan has ever done to get your attention?
Kasey Kahne
(1:36 PM)
You see a lot of things. The craziest things you see is when you're driving around in the truck before a race and you see the fans doing some pretty obnoxious things. Male or female, you see some pretty crazy things.
Amber (Bristol, TN)
If you went out to Tricker treat on Halloween who or what would you dress up as?
Kasey Kahne
(1:37 PM)
Man, I haven't even thought about Halloween yet. I don't know. I'll have to think about that one. Good question.
Kristina (Waterbury, CT)
What is your overall goal for the last eight races of the season?
Kasey Kahne
(1:38 PM)
Truthfully, I don't want to give up. I want to finish as strong as we can. It gets tough at times with a lot of changes, but that's my biggest goal is to give 100% through the end of the year.
Brittany Ann (Maine)
When you get to Red Bull Racing what are you going to look most forward to?
Kasey Kahne
(1:38 PM)
Hopefully, fast cars. That's the main thing I'm looking for. I think there will be some opportunities to do some things on the side that I haven't been able to do before, because Red Bull is involved in so many things.
krista (barriale)
What are your chancing of winning the race this weekend?
Kasey Kahne
(1:39 PM)
Kansas probably hasn't been one of my better tracks. I'll be trying to figure it out. We've run well at similar courses this season, but it hasn't been one of my better tracks.
Wayne (Baltimore)
Are you still going to drink Budweiser after Homestead?
Kasey Kahne
(1:40 PM)
Yeah. I think once you get a great partner like Budweiser, there would be no reason to drink anything else.
Joanne (Henderson, NV)
Do you know what car # you will be running at Red Bull?
Kasey Kahne
(1:40 PM)
Still not sure. Probably will be my own number, whatever it is. We'll have a one-off number for a year. Just not sure what it is yet.
Trent (Greensboro, NC)
What are you gonna do in the off season?
Kasey Kahne
(1:41 PM)
I don't have any plans yet. I need to get some work done on my knees as soon as the season is over. Then go on vacation and let them heal.
Jerry (WNC)
Of the eight races remaining, which are your better tracks?
Kasey Kahne
(1:41 PM)
I would say Charlotte, Texas, Talladega. Those are probably my three best ones.
Bridgett (Newark, CA)
Hi Kase! If Dancing With the Stars asked you to go on the show, would you?
Kasey Kahne
(1:42 PM)
No way. I don't like dancing. I've tried.
Todd (GA)
I saw where you twittered one time that you were flying home with Dale Jr after the race. Is that something that the drivers do often, share plane rides home and such?
Kasey Kahne
(1:43 PM)
Yeah, once in a while. If it works out that way. Once in a while myself and Junior share the same hanger, so it's easy for us to fly together once in a while.
Grayson (Bowling Green,KY)
What are your thoughts about going to hendrick motorsports and having to wait a year to drive in their equipment?
Kasey Kahne
(1:44 PM)
I think the kind of cool thing is that next year will be some change. I look forward to that. Working with new people and trying to win races. The following year, I'll do it over again. It will take some adjustment, but it will be a lot of fun.
Brandy Flint (Lexington, VA)
You have your Sprint car teams, your foundation, your own racing career ....how do you stay sane?
Kasey Kahne
(1:45 PM)
All of those things are things that I enjoy and really want to be a part of. If I had the time, I would still be doing a lot of those things. It works out, because I get to do things I really enjoy.
William (NJ)
Do you have a preference for 12:00 starts, late afternoon or nights?
Kasey Kahne
(1:45 PM)
Actually, I like day racing, but night racing is pretty fun. The lights and everything just give it a different atmosphere.
Jenna (Anderson, SC)
What's your favorite track to race at?
Kasey Kahne
(1:46 PM)
My favorite track is Atlanta. I like the speed and the track surface is really slippery. You can race from the bottom to the top.
Ashley C. (Maine)
Would you ever do the Tony Stewart thing and own your own Sprint Cup team?
Kasey Kahne
(1:47 PM)
No, I haven't really thought about that. I have plenty of things going on now as it is. I have plenty of time to put into my own racing.
Kasey Kahne
(1:47 PM)
Thanks for the questions. Hopefully, we get things figured out here soon, and we can get up front where we need to be.