Chat with Dario Franchitti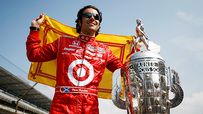 Franchitti has won two Indy 500 trophies.
Welcome to SportsNation! On Tuesday, Dario Franchitti, driver of the No. 10 Target car in IRL, drops by to chat prior to Saturday's final race of the season from Miami, live on Versus at 6 p.m. ET.
Franchitti sits 12 points behind points leader Will Power going into Saturday's season finale. He has three wins on the season, including the Indy 500 in May. He has 14 top-10 finishes in his 16 starts this season. Franchitti also won the Indy 500 in 2007, when he went on to win the points title.
The Scotland native spent five seasons in the IRL, took a two-year break to race NASCAR, before returning to the IRL in 2009.
Send your questions now and join Franchitti Tuesday at 1:50 p.m. ET!
More Special Guests: Previous chats | SportsNation
Buzzmaster
(1:48 PM)
Dario Franchitti will be here in a few minutes to take your questions!
Buzzmaster
(1:56 PM)
We've got Dario!
carlos (new jersey)
how confident are you that you can bring home the championship at homestead this weekend?
Dario Franchitti
(1:57 PM)
I'm very confident that we can do the job and we have the best team out there. But to say that it's 100% guarantee would make me look like a fool. That's why we have the competition and why we do our best to bring the trophy home.
Dan (Il)
What do you think of the new schedule? Would you be open to a 20 or so race year?
Dario Franchitti
(1:58 PM)
I think the schedule is a big departure, but I think it's a positive as well. What we have to have is have races that make sense. So if we can find 20 races that are in good markets and it makes sense, then let's do it. That's the important thing, have quality races and events.
Jonathan (Speedway, IN)
How much focus will you put on race set-up vs. qualifiying set up in practice this week?
Dario Franchitti
(1:59 PM)
We were lucky enought to test last night. Ourselves, Team Penske and another five cars or so were testing. We have a lot of focus on the race set up and then the qualifying set up before the race.
Chris Fiegler (Latham,NY)
Which Race did you Like Better the Indianapolis 500 or the Daytona 500?
Dario Franchitti
(2:00 PM)
The Daytona 500 is a fantastic race and I enjoy watching it, but for me, competing in the Indy 500 is something very special and there's no comparison. The track is coming up on its 100th anniversary. The Indy 500 is still the biggest race in the world.
Jerry B (WNC)
Good Afternoon, Dario.Do you talk with Sam Hornish or Juan Pablo Montoya at all, and did your experience in NASCAR have any benefits to take back to the IRL?Thanks and good luck!
Dario Franchitti
(2:01 PM)
Yeah, I spoke to Juan Pablo quite a lot, because we were friends and we were teammates. I spoke to Sam a little. It's a tough transition. I would love to see some of the NASCAR guys come to the Indy 500 and see how it works out. They're talented and they would get used to it, but it takes some time. It's very interesting to see what Juan's able to do with equipment that's up to standard.
Drew (Bloomington, Ind.)
Dario, best of luck Saturday. What quality about Will Power, your competition for the 2010 series title, impresses you the most?
Dario Franchitti
(2:02 PM)
I think this year, his speed, which is really everything. His speed has been everything. That's definitely caught our attention.
Dario Franchitti
(2:02 PM)
He has a pretty wicked sense of humor too, which is always a bonus.
Roy (Savannah GA)
Do you think their is a chance that the new 2012 Indycar will be as cool as the CART cars circa the late 90's? Also do you think we will ever see another 1000+ bhp race car ever again?
Dario Franchitti
(2:03 PM)
I hope so. It would be lovely to see those levels of power and noise back. On the road courses and ovals, to have that power, it would be great. Those were definitely cool cars. To my mind, it might have been some of the fastest race cars ever produced.
James (Rochester, NY)
What is your reaction of Chip Ganassi becoming the first owner to win the Daytona 500, the Indianapolis 500 & the Brickyard 400 in the same season?
Dario Franchitti
(2:04 PM)
We thought it was pretty cool when he was able to do the double. Then when Jamie managed to pull off the Brickyard, it was great. He's put so much effort into our team, but the whole organization just lifted. It gave us all confidence.
Scott (Indy)
What's the fastest you've ever driven on the highway?
Dario Franchitti
(2:04 PM)
The fastest on the highway, in Germany on the Autobahn was just over 200.
Joel (Wisconsin)
Dario, do you have any strange pre-race rituals?
Dario Franchitti
(2:05 PM)
No, no rituals. But with a lot of the races in my career, I tend to get ready in the same order. It just becomes that way. It just helps me focus and is a switch for the brain.
Jonathan (Speedway, IN)
What would mean more to you a thrid championship or a third Indy 500 win?
Dario Franchitti
(2:06 PM)
I would take either right now.
Jonathan (Speedway, IN)
Who was quickest in testing yesterday?
Dario Franchitti
(2:06 PM)
Testing went not too badly. As far as the quickest, it was too hard to tell because there was no official timing.
Andrew (Syracuse, NY)
Will there be team orders for Scott if he is out front late in the race?
Dario Franchitti
(2:07 PM)
I haven't spoken to Scott, he will help me out as much as he can. And Will's teammates will help him out as much as they can. I'm glad to have Scott in my corner.
Steph (Duluth)
Dario, what other racer remids you most of your racing style?
Dario Franchitti
(2:08 PM)
That's a tough one. Don't know.
Scott (Indy)
How high is the heart rate driving a race car?
Dario Franchitti
(2:08 PM)
My heart probably, in the car, sits around 140. That's due to just the physical exersion of driving the car. On the road courses, it might get up to 160-170. In the car, I try to exert myself as little as possible.
Dan (Illinois)
Pole day this year was amazing at Indy. With Helio going 228 for 2 laps. would you like to see pole speeds back over the 230's again?
Dario Franchitti
(2:09 PM)
Yeah, for us, it's about being quicker than the other people. The difference in the car between 228 and 234, you don't really feel that much difference in the car. I don't think the insurance companies are too keen to us running over 230 any more.
Jonathan (Speedway, IN)
What do you do in the off-season to prepare for competitive racing?
Dario Franchitti
(2:10 PM)
There's a lot of training going on, after a couple of weeks off. Then you start the build up for the season again. Now with testing being so strict, you have to build your strength and fitness outside of the car.
Dario Franchitti
(2:10 PM)
Tune in on Saturday night. Thanks for the support.