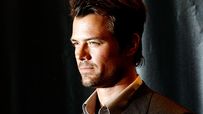 Duhamel's new movie debuts October 8.
Welcome to SportsNation! On Thursday, actor Josh Duhamel stops by as his new film "Life as We Know It" gets set to open Friday, Oct. 8.
Duhamel became well known with his role in "Las Vegas" which ran from 2003-08. He has also appeared in "Transformers" and "Transformers: Revenge of the Fallen" and will continue his role in the yet-to-be-released "Transformers 3."
Alongside Katherine Heigl in "Life as We Know It," Duhamel plays Eric Messer, a promising TV sports director. The two have a disastrous first date, however they are forced to put their differences aside when their goddaughter, Sophie, loses her parents.
Send your questions now and join Duhamel Thursday at 3 p.m. ET!
More Special Guests: Previous chats | SportsNation