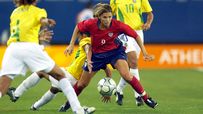 Hamm earned 276 caps in her career.
Welcome to SportsNation! On Wednesday, international soccer star Mia Hamm stops by to chat about next summer's FIFA Women's World Cup, soccer and her charity work.
In her career, Hamm won nine championships, including two Olympic gold medals and two World Cup titles. Hamm holds the record for the most international goals scored by either gender with 158. The 2004 Olympics in Athens, Greece was one of her last appearances and she was the first soccer player to carry the U.S. flag for the closing ceremonies.
Hamm is teaming up with GlaxoSmithKline to encourage adults to "Give Your Health a Shot" by staying up-to-date on vaccinations. Hamm and her husband Nomar Garciaparra have a pair of twins and they try to stay proactive with their doctors to make sure their family is getting the right exams and shots.
Send your questions now and join Hamm Wednesday at 3:15 p.m. ET!
Mia Hamm online: Mia Foundation | On Facebook
More Special Guests: Previous chats | SportsNation