Chat mustaches with Dr. Aaron Perlut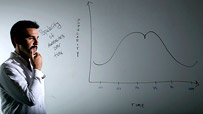 Dr. Aaron Perlut contemplates all things mustache.
Welcome to SportsNation! On Wednesday, Oct. 6, Dr. Aaron Perlut of the American Mustache Institute will stop by to chat about mustache season. Yes, that's right, not only is it football season, but we're talking thick, glorious, flavor-saving mustaches.
Dr. Perlut, SN's good friend and host of 2008's chat of the year, is the foremost advocate for the Mustached-American community. A wearer of lower nose foliage since age seven, Dr. Perlut is eager to talk about sportsworld candidates for the 2010 "Robert Goulet Memorial Mustached American of the Year," nominations for which close Friday, Oct. 8.
You may recall Dr. Perlut's stunning interview of 2009 Goulet award winner Clay Zavada of the Arizona Diamondbacks for ESPN2's SportsNation, as well as his position paper on moving the Super Bowl to Saturday, which is on file in the U.S. Library of Congress.
Send your questions now and join Dr. Perlut Wednesday at 2 p.m. ET!
More Special Guests: Previous chats | SportsNation
Dr. Aaron Perlut
(1:59 PM)
Hello to all of you people of Mustached American heritage and interested third parties. I'm here and looking forward to talking mustaches, nominees like Carl Pavano for the "Robert Goulet Memorial Mustached American of the Year," college mascots with mustaches, why soccer sucks, the Washington Bullets, any whether the legalization of prostitution is merited. Bring it.
Thomas (Mexico, MO)
Any favorite mustache upkeep products you've used recently?
Dr. Aaron Perlut
(1:59 PM)
I'm a big fan of soaking my mustache in Dewar's as well as Oregon Wild Hair mustache wax.
Boris (Fargo)
If you had to, would you rather go clean shaven the rest of your life or have no legs?
Dr. Aaron Perlut
(2:00 PM)
Really, is there any question. Lower nose foliage, of course.
Gary Hagen (Gilroy, California)
A moustache since age 7, really? So how does your wife feel about kissing with the moustache. I believe that 2/3 of all women don't like facial hair. Could this be a cultural bias, only true in the U.S.?
Dr. Aaron Perlut
(2:01 PM)
The wife does what any wife of a staunch Mustached American does. She enjoys the sexually adventuresome lifestyle that only she and every other wife of a Mustached American can enjoy.
Nathan (Kentucky)
Which kind of mustache is the best looking mustache in your opinion?
Dr. Aaron Perlut
(2:02 PM)
I'm a Fu Manchu or Horseshoe guy. There's a styleguide on AmericanMustacheInstitute.org. But big, burly, furry, and full of flavor-save-ability. Much like my man Al Hrabosky's used to sport when he was closing games for the Cardinals in the '70s.
Tom Selleck (Las Vegas) [via mobile]
My mustache has had more sex than most men.
Dr. Aaron Perlut
(2:03 PM)
Indeed, Tom, your mustache has. But when you shaved it during the "Three Men & A Baby Years." Well. That was. You know. Simply wrong. Lindsay Lohan wrong.
E (The World) [via mobile]
Your mustache is enthusiastic as well as hungry and strong. Will you ever grow a beard to match the stache or is a against the grail of stache law?
Dr. Aaron Perlut
(2:04 PM)
The American Mustache Institute has historically been right wing. Much like the Likud party in the Israeli parliament. But we've come towards the center and embraced ALL of our brothers and sisters in the facial hair community. So yes, I will sport the beard from time to time and it does not suck.
Sir Richard Farnsworth (London, U.K.)
Randy Johnson and CC Sabathia are the only two mustached Americans to win the Cy Young in the past 10 years. Though I'm not entirely convinced that Johnson is in fact American because his mullet suggests that he is Canadian. Are mustached pitchers discriminated against by baseball writers, and do you think pitchers like Roy Halladay and Tim Lincecum keep their upper lips bare out of fear of discrimination?
Dr. Aaron Perlut
(2:06 PM)
Let's just say this. There is no other performance enhancing substance that provides more power and support on the athletic playing field than the mustache. Consider that Jason LaRue's career ended when he shaved, got kicked in the face by Johnny Cueto, and then did not have the appropriate power to fend off the cleats to his lips. Or, Carl Pavano. Washed up before he grew his flavor-saving instrument of adjudication and now just won 17 games. Case closed.
Dr. Aaron Perlut
(2:07 PM)
I would just caution you as the government may start taxing you too much if the liberals have their way. They've been targeting the Mustached American community for years in spite of David Axelrod and Eric Holder.
E (The World) [via mobile]
How much more would Optimus Prime's legend and legacy be if he had such a dynamic mustache? The results seem to be scary and is making me have a panic attack almost.
Dr. Aaron Perlut
(2:08 PM)
An interesting case study indeed. Let me dig into a bit.
Chris (Alexandria, Va)
Do you support legislation to ban laser hair removal practices in the moustached area for men and women?
Dr. Aaron Perlut
(2:09 PM)
Chris, much like a breast reduction, laser hair removal is a crime against nature. In fact, according to the Dead Sea Scrolls, each time a mustache is shaved an angel in heaven dies and falls to earth. Now, consider that when you add in lasers and all hell might break loose.
Jason (Bmore)
In my lifetime, I've never seen my Father without his mustache. Much like Vietnam, he doesn't like to talk about this much. Is it safe to say the mustache could feasibly contain secret powers?
Dr. Aaron Perlut
(2:10 PM)
Jason, "feasibly?" Young man, the lip sweater, or Labia Sebucula in Latin, contains powers that are unspeakable and provides a 72% more romantic evening per capita....every time.
Mike (Ohio)
Do you shun all pre-mustache baseball history and instead pray daily towards your poster of the 1970s A's?
Dr. Aaron Perlut
(2:12 PM)
True story Mike. In 1971, on the A's team you speak of, Reggie Jackson became the first MLB player to play a regular season game with a Mustache since Satchel Paige in the 1940s. His influence on the Mustache in sports was immense. Reggie is a baseball legend for many reasons: candy bar, home runs, Mr. October, herpes, mustaches, and the list goes on.
Dave (LV)
Ben Zobrist struck out looking in the first inning of the Rays-Rangers game today with the bases loaded. Is it safe to assume that if Mr. Zobrist was donning the lip sweater, a diffirent outcome would have ensued?
Dr. Aaron Perlut
(2:12 PM)
Dave, while relevant, you also pose an obvious question. Let's stick to more intellectual fare. Go Rays!
Steve (Colorado)
Are you a real doctor?
Dr. Aaron Perlut
(2:14 PM)
Thank you Steve. I am. I'm a certified Nuclear Mustacheologist. We provide the coursework at the American Mustache Institute's Guam and St. Louis campuses if you are interested.
Gary (Indiana)
Never trust a man with a mustache. He's always hiding something from you, starting by his upper lip.
Dr. Aaron Perlut
(2:15 PM)
Gary, you can leave the chat room now.
Jason R. (Rochester, NY)
Who would win in a battle? Salvador Dali, Hulk Hogan or Tom Selleck?
Dr. Aaron Perlut
(2:16 PM)
Interesting question. I'd have to surmise Hogan, only because his epic Fu Manchu was able to stop the Iron Sheik in 1981 to gain the WWF title and escape the Camel Clutch.
Matt (IN)
Why Guam? Does it have some sort of mystical mustache power that us common folk are not aware of?
Dr. Aaron Perlut
(2:16 PM)
Guam and St. Louis are just 2 of our 42 international campuses.
Romeo DanceCheetah (The Flavor Savers) (Chicago IL)
In such hard economic times, how do you explain the lack of a mustache presence in politics today and how that plays into the recession? And do you think the country would be headed in a more positive perhaps more sexy direction if there was a mustache representation?
Dr. Aaron Perlut
(2:18 PM)
It's a sad state of affairs when Attorney General Eric Holder becomes the first Mustached American AG since 1946 (Francis Biddle). Yes, people of Mustached American descent have come along way. We can vote, we can serve in the military, and our taxes are now on an equal playing field. But we do, in fact, need a presidential mustache as we have not had one since William Howard Taft.
Dr. Aaron Perlut
(2:18 PM)
We are firm believers that back hair can only accentuate the Mustached American lifestyle but the carpet should, indeed, match the curtains.
Phillip (Brooklyn)
Any mustache enhancing drugs you recommend for us suffering from BULD?
Dr. Aaron Perlut
(2:20 PM)
BULD or Bare Upper Lip Disorder impacts 1 in every 18.7 Americans and can lead to feelings of despair or suicide. We simply ask that BULD sufferers support our way of life - applause for Mustached Americans as they walk down the street, a willingness to kick cats, and no Dave Navarro music.
Betty (Springfield)
What exactly makes your mustache so glossy?
Dr. Aaron Perlut
(2:21 PM)
Thank you Betty. That's enhanced Riboflavin and a regimen of Scotch, bacon, and justice.
Ed Hochuli (Chat Ref) [via mobile]
Gary (Indiana). Personal foul for a silly and unfathomable reference and a silly play on Gary, Indiana for your name. 15 yards for each. Repeat 1st down. Oh and while I'm here, Dr Perlut. Do you think my aura would be enhance tenfold with such a face ornament? The gun show would be even more epic and under federal watch and surveillance...
Dr. Aaron Perlut
(2:22 PM)
Ed, your immense muscularity and willingness to point to a first down like an erect Cheetah could only be complimented by a Chevron-style lower nose curtain.
Rolling Hills Swim Club (Springfield, Va)
Dr. Perlut - I have heard you were quite the ping pong player. Are there any great ping pong players on the national circuit? I note that Forrest Gump was moustache-less
Dr. Aaron Perlut
(2:23 PM)
I am quite the accomplished ping-pong player having won the Herbert J. Fundleman award for paddle excellence. Yes, Forrest Gump did not have a mustache but that was a piece of Fiction. Fiction, fine sir
Nathan (Missouri)
Would you consider Jared Allen and his Fu Manchu the poster child of the NFL?
Dr. Aaron Perlut
(2:24 PM)
Allen is a solid ballplayer but his commitment to the Mustached American lifestyle has been fleeting if that. He needs to get his priorities and life in order and reconsider his Mustached American commitment.
Joel Quenville (Chicago, IL)
FEAR THE Q-STACHE!!!!
Dr. Aaron Perlut
(2:25 PM)
Joel, thanks for joining us. You're a leading candidate for the Robert Goulet Memorial Mustached American of the Year awards (http://www.americanmustacheinstitute.org/MustacheAmericanOfYear.aspx) and wish you great luck. That lip sweater is glorious my friend. Glorious.
Hank (Burlington)
Does the American Mustache Institute does studies. I would like a study on whether movies with a mustached hero do better at the box-office
Dr. Aaron Perlut
(2:25 PM)
We do have a series of case studies on our website at http://www.americanmustacheinstitute.org and would welcome such a contribution from you Hank.
Robert Nelson (Charlotte, NC)
I have been a member of the great AMI for over 2 years now. I would like to thank you for creating such an amazing organization. What is the official AMI stance on communism? While certainly evil they also are well mustached.
Matt (IN)
I believe Rollie Fingers should be President. I mean, his 'stache is maybe the best ever plus he was described by a former teammate as only caring if the beer was cold after the game. I see nothing but a win win here.
Dr. Aaron Perlut
(2:27 PM)
Robert, you bring a tear to my eye and I will let it run down my cheek and soak into my upper mouth cabana fibers so that it will grow and flourish. Communism, of course, is most often associated with Canadians and we think that Canadians should be persecuted at every turn - especially if they like soccer...which is awful.
Dr. Aaron Perlut
(2:27 PM)
Matt, he's had too many tax issues but Rollie is a solid citizen in the eyes of the Mustached American community.
Dr. Aaron Perlut
(2:29 PM)
J.B., first let me say, thank you for being unemployed and posting some 25 questions. Secondly, if you'd like a man with a mustache, simply dip yourself in cheap bourbon and sit on a street corner in downtown Newark, Delaware. We'll find you.
Metz (Dallas)
Dr. Perlut, I'm often amazed to see (during the two or three times I watch NBA games during the season) that Adam Morrison has caught on with another NBA franchise. Is it his "Sideline Stache" that brought the Lakers two World Championships during his time there? I believe it is. Your thoughts? He is now with the Washington Wizards, where he will be keeping a close eye on Gilbert Arenas.
Dr. Aaron Perlut
(2:31 PM)
I'm a longtime fan of MorriStache and have been somewhat surprised he's not been a better pro. Not a star, but just a more consistent contributor. His mustache, as you note, HAS been a consistent contributor and we look forward to the annals of history outlining its role in Lakers championships.
John Shaft (Fighting Crimes, Sexing Dimes while looking cool doi
How high do I rank with my mustache?
Dr. Aaron Perlut
(2:32 PM)
Mr. Shaft, I am honored to have a Colt-45-sipping smooth character like yourself in the chatroom with us. Your mustache and pleather jackets made you a leader to this day.
Matt (IN)
There is a WNBA chat here at 3. What do you think the odds are that the player has a 'stache? I say better than 75%
Dr. Aaron Perlut
(2:33 PM)
My mustache's high school basketball coach used to say "watching girls play basketball is like watching the grass grow." Now, that was before the evolution of the Mustached American woman. Things have changed for the better.
Rodney Belaire (Chicago, IL)
What mustache best captures today's political climate?
Dr. Aaron Perlut
(2:34 PM)
Ah, that's Rodney Belaire of the Flavor Savers (FlavorSaversMusic.com) people. Bow to the man. To answer the question, Rodney, I'd have to the Walrus. It's large, conflicted, and full of flavor.
Dr. Aaron Perlut
(2:37 PM)
Thanks to all of you for participating. In closing let me ask 4 things:1. Nominate and then vote for the "Robert Goulet Memorial Mustached American of the Year" at AmericanMustacheInstitute.org.2. Vote for Joe Vandal or Paydirt Pete -- the only Mustached Americans in the running for the Capital One Mascot of the Year. Vote at CapitalOneBowl.com3. Tell Colin Cowherd he's wrong. About everything. 4. Give Skip Bayless the benefit of the doubt. Carry on.