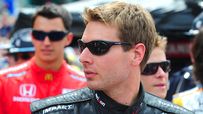 Power sits in first place in the points standings.
Welcome to SportsNation! On Thursday, driver of the No. 12 Penske car in IRL, Will Power, will stop by to chat from Miami prior to Saturday's final race of the season.
Power leads Dario Franchitti by just 12 points going into Saturday's season finale. He has five victories on the season, including a win at Watkins Glen. In his 16 starts this season, he has 11 top-5 finishes. Power also won the inaugural Mario Andretti Trophy as the road course champion of the 2010 Izod IndyCar Series.
Send your questions now and join Power Thursday at 4 p.m. ET!
Will Power online: Will Power 12 | On Facebook
More Special Guests: Previous chats | SportsNation
Will Power
(4:02 PM)
Hi everybody, thanks for joing me in chat today. Let's get strated!
James (Rochester, NY)
Do you feel excited or nervous about this weekend?
Will Power
(4:02 PM)
A little bit of everything. Sometimes when I think about it I get a bit nervous but I try to keep that to a minimum.
Roy (Savannah GA)
Which one circuit in the world do you wish Indycar could add to it's schedule?
Will Power
(4:04 PM)
Surfer's Paradise in Australia.
Andrew (Syracuse, NY)
Will winning the championship be the only way for you to say you've had a "successful" season at this point?
Will Power
(4:06 PM)
No, not necessarily. It would top off what I would call a fantastic season. I would be disappointed if I didn't win but all in all I had a fantastic year.
Brad (Gadsden,Alabama)
Will, Who is your favorite college football team?
Will Power
(4:07 PM)
I like Purdue, the Mrs. went there.
Andrew H. (New York)
How much do you attribute your improved oval performance to improved equipment and team versus more oval experience?
Will Power
(4:08 PM)
Actually, I think are about an even amount. I think having the total package, feeling comfortable within a team and have the best equipment add to the success of a team.
David (Milwaukee)
I heard that you and Mark Webber are friends. How do you know him and has he said anything to you about your championship run?
Will Power
(4:09 PM)
I know Mark from when I was living in England and racing in Europe. During the season we text back and forth with each other.
Elsa (new mexico)
Will, good luck! How much can your teammates help you this race?
Will Power
(4:10 PM)
Thank you. I think depending on my situation, my teammate can have a part in me winning the championship but at the end of the day I have to drive the car by myself.
Andrew H. (New York)
Why are you so much better at road racing than everyone else? Left-foot braking? Braver? Smarter?
Will Power
(4:11 PM)
It's a whole combination of things. You have to get all the little details right and in road racing those details add up.
Kaleb (Indianapolis, IN)
Do you think the IndyCar series will ever race on the road course at IMS?
Will Power
(4:12 PM)
I don't think so because it's not their tradition at the Indianapolis Motor Speedway.
Chas C. (New York)
Can you quickly go over your training regimen? Or is that proprietary info?
Will Power
(4:14 PM)
I swim maybe a 1 1/2 miles, I cycle 45 miles and do weights and conditioning. I try to keep it interesting.
Anton (wisconsin)
After the season, are you going to Australia and race the V8 supercars like Dixon and Dario?
Will Power
(4:14 PM)
Yes I am.
Chris (Indianapolis, IN)
What are your plans for 2011? And please beat Dario for the championship!
Will Power
(4:15 PM)
I'll do my best! My plans for 2011 are to drive for Verizon Team Pepsi and do the same as this year.
Hayley (oklahoma)
Since there will be more road courses next year, do you enjoy the road or street courses more?
Will Power
(4:16 PM)
It depends on what road or street course it is. Both are fun to me.
David (Milwaukee)
What was the biggest adjustment for you going from the Champ car to the Indy Car?
Will Power
(4:16 PM)
Running the ovals.
JeJe (Sydney)
What do you feel you need to do in order to contend again next year? (That's right, I am talking about next year already)
Will Power
(4:17 PM)
Exactly what I did this year, only next year I'll have more experience.
JeJe (Sydney)
Who is the most laid-back driver in Indy and who is the most uptight?
Will Power
(4:18 PM)
It's hard to tell. Off the track, Dixon is pretty laid back and Alex Tagliani is pretty intense.
Lily (Boston)
How much fun is Helio on and off track?
Will Power
(4:19 PM)
He's always a very positive guy no matter the situation.
Nick (Indianaapolis)
What do you think about that crazy new Indy Car trophy ?
Will Power
(4:20 PM)
I think it looks pretty cool.
ashley (Syracuse)
Do you change your approach for this weekend or is it business as usual?
Will Power
(4:21 PM)
It's business as usual but I will be very aware where Dario is at all times.
Chas C. (New York)
It is a shame that the Glen will not be on next year's schedule. Any thoughts?
Will Power
(4:22 PM)
Very big shame! Glen is one of my favorite tracks so it's very disappointing.
Will Power
(4:23 PM)
Thanks for all the questions, I really appreciate it. Thanks for all the support and hopefully we'll chat again!