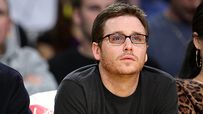 Connolly was nominated for a Golden Globe for his role on "Entourage."
Welcome to SportsNation! On Tuesday, actor Kevin Connolly will stop by to chat about his newest movie "Secretariat" as well as his favorite sports teams.
Connolly, who you might recognize from his role as Eric Murphy on HBO's hit series "Entourage," plays journalist Bill Nack in the story behind Secretariat's 1973 bid to become the first horse in a quarter-century to win horseracing's Triple Crown.
As a native of Long Island, N.Y., Kevin is a huge sports fan who follows the Miami Dolphins, New York Yankees, New York Islanders and Los Angeles Lakers. He attended the 2010 NHL Entry Draft in Los Angeles and announced the final pick of the first round for the Islanders.
Send your questions now and join Connolly Tuesday at 2 p.m. ET!
More Special Guests: Previous chats | SportsNation
Buzzmaster
(2:00 PM)
Hey everyone, Kevin's running a bit late, but we'll get this underway in about 15 minutes.
Kevin Connolly
(2:12 PM)
It's my first trip out to the ESPN headquarters. Pretty incredible stuff, I'm very impressed. I had no idea it was this elaborate...it's bigger than a college campus.
Adam (Albany)
Kevin, what drew you to the role of Bill Nack? And which star of the movie do you admire more: Diane Lane or John Malkovich?
Kevin Connolly
(2:13 PM)
What drew me to the role of Bill Nack was Diane Lane and the producers of the film (who had done films such as Miracle, Rookie, Invincible, all great films). Teaming up with those guys, I knew it would be a good film. Malkovich came after the fact, and that was just the icing on the cake, so to speak.
Jason (Miami)
What is your favorite sport to watch in person?
Kevin Connolly
(2:13 PM)
Hockey, no question about it. Big Islanders fan, and nothing beats a playoff hockey game.
Ryan W (University Park)
What was it like to announce a draft pick for the islanders and what is your favorite personal hockey moment?
Kevin Connolly
(2:15 PM)
My favorite personal hockey moment was probably when Mike Bossy scored fifty goals in fifty games. He was the first one to do it since Rocket Richard. I was young when it happened but I remember it very distinctly. As for the Islanders draft pick, it was a dream come true. The Islanders and their owner, Garth Snow, were very generous with me and let me do some cool stuff inside the organization.
Gus (New City, NY)
The Dolphins? How can you be from LI and root for the Dolphins? Can't wait to see "Secretariat". What's your favorite track to go to?
Kevin Connolly
(2:16 PM)
San Anita is a beautiful track. It's not too far from my house in L.A., and it's a beautiful place to go and watch the horses run. As for the Dolphins, I have an older brother who's seven years older than me, so I inherited all his teams. Not a football season goes by that I don't question him and yell at him for that.
Daniel (Tallahasse)
When was the first time on Entourage that you said to yourself, I can't believe I'm getting paid to do THIS!
Kevin Connolly
(2:16 PM)
Probably the pilot. From the first episode, we knew it was a special thing.
Mike (Columbus,Ohio)
Who is the coolest person you met so far
Kevin Connolly
(2:17 PM)
Me and the rest of the guys from the show were fortunate to throw out the first pitch at the Yankees-Dodgers game this year, and we got to spend some time with the Yankees, which was great for all of us.
Ryan W (University Park)
What is the best stadium or arena you have visited?
Kevin Connolly
(2:18 PM)
I haven't been to the new Cowboys Stadium yet, which I hear is off the charts, but the Staples Center is an amazing place to go watch a game.
Marty Watson (CO)
What's it like trying to portray a real person? Do you feel more pressure than when you're just portraying a fictional character?
Kevin Connolly
(2:19 PM)
I think you feel a certain responsibility to that person and his or her family. I try not to put too much pressure on myself to walk and talk like him. I've just felt like it was more about creating his world.
Benny T. (Chi=town)
On a scale of 1-10 how much do you hate the paparazzi?
Kevin Connolly
(2:19 PM)
Me personally, I would say a 1. They really don't bother me that often. They're just into me if I have a girl with me that might make a story for them. But as for just me, they pretty much just leave me alone.
Adam R (Brookfield)
Kevin, what would be the biggest moment for you: Islanders winning the Stanley Cup, Dolphins winning the Super Bowl, Yankees winning the World Series, or Lakers winning the NBA Finals?
Kevin Connolly
(2:20 PM)
Islanders winning the Stanley Cup, no question about it.
Richard Holusha (Westbury, NY)
Kevin, How closely do you get to follow the day to day activities of the Isles while living out west? Any predictions for the season?
Kevin Connolly
(2:21 PM)
The great thing about the internet and with the CenterIce package is that I see as much of it as anybody else! I think the Islanders are a good young team. We've obviously had some major injury problems, losing two of our best players before the season started, so we'll have to see. We're looking to squeeze into the seven or eight spot this year.
Newt (Jacksonville)
Please tell me that in real life that you would love to punch E square in the face ...
Kevin Connolly
(2:21 PM)
Newt, I would prefer to punch you in the face. Just let me know where and when!
Ryan W (University Park)
How much studying up on secretariat and horse racing did you have to do to prepare for your role?
Kevin Connolly
(2:22 PM)
Not a whole lot. I had a pretty decent knowledge of horse racing from a fan's standpoint. I grew up near Belmont, so I would go to the track as a kid.
AA (Atown)
I don't hate you, but I'm astonished that you are famous.
Kevin Connolly
(2:24 PM)
At the premiere of the first season of "Entourage", Mark Wahlberg put his arm around me and said , "Get ready, Kevin, you've just entered the land of the haters". Perhaps he was talking about you! Maybe "astonished" isn't the right word -- maybe it's "jealous".
Ryan W (University Park)
I'm supposed to be writing a paper on stand-up comedy but this is way more interesting. What has been the funniest moment for you on Entourage?
Kevin Connolly
(2:25 PM)
We've had some super-funny experiences on-set with Gary Busey. Very unique gentleman, but a lot of fun to work with.
Kevin Connolly
(2:27 PM)
I had a great time with this chat -- it's my first one. Thank you for your questions, and I promise I'm not just saying this because I'm in the movie, but I really would recommend "Secretariat". It's fun, inspiring, and it's a great movie to take your little kids, brothers, sisters, or nieces and nephews to see that actually has real people in it and not animated characters.