Chat with LSU's 'Mike the Tiger'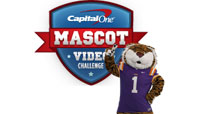 Welcome to SportsNation! On Tuesday, we look ahead to Week 7 for the college football season with members of the Capital One All-America Mascot Team, who will compete each week to be named the Capital One Mascot of the Year, awarded on Jan. 1 at the Capital One Bowl on ESPN.
Each week of the season, the 16 mascots will face off in eight matchups with fan voting deciding the winner. At the end of the season, the mascots with the best win-loss records advance to the playoffs.
But, why mascots? Why not! They are the unappreciated glue. Plus, the winning mascot earns $20,000 for the school and the praise of the United Coalition of College Mascots.
This week we've got the LSU's "Mike the Tiger." Currently in 11th place despite leading his football program to an undefeated start, Mike has some intriguing thoughts on his chances to be the Capital One Mascot of the Year, which of his competition he'd most like to eat, and why Alabama has a elephant for a mascot ... which makes little sense.
Send your questions now and join "Mike" Tuesday at 4 p.m. ET!
More Mascot Madness: Capital One Bowl | All-America Mascots | NCAA FB Index
Buzzmaster
(4:00 PM)
We've got LSU's "Mike the Tiger"!
Roc the Panther (Pitt)
I noticed you talking to Coach Miles before the game, is that when you told him your idea about a fake FG?
LSU's 'Mike the Tiger'
(4:02 PM)
Mike has a lot of tricks up his sleeve, but certainly coach Miles doesn't need any help from Mike. Mike just has to look pretty on the sidelines.
LSU's 'Mike the Tiger'
(4:02 PM)
And Mike did look damn pretty.
Jeff Rinaldi (Louisville KY)
Mike, I heard your growl once made the Ole Miss Rebel wet his old pants? Can you confirm this is true?
LSU's 'Mike the Tiger'
(4:03 PM)
Mike has been known to scare many a other mascots. In fact, he scared the Ole Miss Rebel right into oblivion. Though Mike would be scared of Admiral Ackbar.
Brettcajun (Baton Rouge)
I think there should be only one "Tigers" team in the SEC West. Would you support Auburn changing their mascot to the War Eagles?
LSU's 'Mike the Tiger'
(4:03 PM)
Mike's cousin Aubie is a great cat, but he just doesn't measure up to Mike. Mike would support that, but Mike also likes being the best tiger in the West. His cousin is weak.
Shane (Breaux Bridge, LA)
How fun is it when your crowd surf all the way to the top of the stadium in the student section?
LSU's 'Mike the Tiger'
(4:04 PM)
Mike loves crowd surfing because it allows him to be among his people. Mike has made it to the top in every game in 2010. Just as long as no one throws Mike over the top, he's fine with it.
Ethan (Lafayette)
Will the tigers go undefeated this season?
LSU's 'Mike the Tiger'
(4:05 PM)
Mike is undefeated and Mike will go undefeated this season. But that's also because Mike's never been beaten.
Kim Chicola (LSU library)
What will taste better this year? Grilled Gator or Roasted Razorback?
LSU's 'Mike the Tiger'
(4:05 PM)
Mike's favorite recipe is Gator gumbo. He ate that for a week straight leading up to the game last week. But he's also focused on taking it one game at a time. This week, he's working on recipes for cowboy.
Jarrod (lake charles, la)
If you had the chance to either A.)play linebacker for the LSU Tigers or B.)move to a remote island filled with zebras and llamas... Which would you choose?
LSU's 'Mike the Tiger'
(4:06 PM)
Mike would move do both. He would move to an island filled with zebras and llamas and play LB on Saturdays.
boudreaux (monroe)
do you get to party with the players? do they talk to you? are you important to them for motivation?
LSU's 'Mike the Tiger'
(4:07 PM)
Mike is the most important motivational factor in the world. Period.
LSU's 'Mike the Tiger'
(4:07 PM)
The players are fortunate enough if they can ever party with Mike.
Kingfish25 (NOLA)
I heard that UF mascot combo tag teamed you a few years back and roughed you up pretty bad. Is that true?
LSU's 'Mike the Tiger'
(4:08 PM)
There is no truth to that rumor at all. That was started on a Florida message board to try and bring down Mike. On Mike's absolute worst day, those two reptiles wouldn't have a prayer. Nice smiles, though.
Mike (Ohio)
Is it true that Tim Tebow once reduced your roar to a mere meow just by walking past you?
LSU's 'Mike the Tiger'
(4:08 PM)
No truth to that rumor whatsoever. Tim calls Mike for advice now that he's stuck on the Denver bench.
TJ (New York, NY)
Mike, what out of conference school would you like to visit that you have never visited before?
LSU's 'Mike the Tiger'
(4:09 PM)
Mike has been pretty much everywhere. Mike has a lot of friends throughout the country. Mike would really like them to open up a university in the Bahamas and Mike would make sure they're on the schedule in every sport every year.
Greg (alum) (Arlington, tx)
how would you suggest i hit on a fellow tiger, ive seen you with the ladies at Tiger Stadium
LSU's 'Mike the Tiger'
(4:10 PM)
Greg, it's a God-given gift. Some Tigers have it. Obviously, you don't.
Peter (Atlanta, GA)
Are you Les Miles' good luck charm? If you are, you must be better than a four leaf clover and a rabbit's foot together!
LSU's 'Mike the Tiger'
(4:10 PM)
No. Mike is nobody's charm. Mike is just the coolest mascot in the universe.
Rich Rodriguez (Ann Arbor)
Rich Rod say that people who refer to themselves in the 3rd person need to get lives.
LSU's 'Mike the Tiger'
(4:11 PM)
Mike refers to himself in third-Tiger, so obviously, coach Rich Rod needs some grammar lessons.
aj hansen (bellevue, nebraska )
thanks for giving bo pelini to us GOOOOOOO BIGGG REDDDD
LSU's 'Mike the Tiger'
(4:11 PM)
You're welcome. Mike used to hang out with Bo when he was in Baton Rouge. He's a great guy.
Joe Paterno (Penn State)
Are you related to Tony the Tiger?
LSU's 'Mike the Tiger'
(4:12 PM)
That's my cousin. He's grrrrrrrrreat. But Mike is awesome.
Matt (IN)
What do you say to those critics who claim you aren't even the best mascot in the SEC, let alone the entire country?
LSU's 'Mike the Tiger'
(4:12 PM)
I think Bobby Knight said it best. You'd have to search for it, but critics are like...you fill in the blank...but everyone has one.
Josh (Mississippi)
Mike, help us out on the Ole Miss Mascot debacle, The Land Shark, The Brown Bear, or Hotty Toddy, Which would you rather face?
LSU's 'Mike the Tiger'
(4:13 PM)
Admiral Ackbar was Mike's choice. Actually, Ole Miss contacted Mike about signing as a free agent, but there is no amount of money that could take him out of Baton Rouge.
Geaux_TIGERS_Memphi (Memphis )
Mike When do you plan on taking the celebration tour, we know your going to win. The Memphis LSU Alums would be happy to have you
LSU's 'Mike the Tiger'
(4:14 PM)
All Mike does is win. Win no matter what. When Mike steps into the building, everyone puts their paws up and they stay there.
Bonnie (Baton rouge)
What's you favorite part of a Saturday night in Death Valley?
LSU's 'Mike the Tiger'
(4:14 PM)
There is nothing like Saturday night in Death Valley. Mike loves being with 93,000 of his closest friends.
Andrew (Seattle)
Mike - what's it like in that cage when over 100,000 people are tailgating right outside on saturdays?
LSU's 'Mike the Tiger'
(4:15 PM)
Stay thirsty my friends.
Ryan (Reynoldsburg,Ohio)
You ever have a mascote fight. Like the ones on TV
LSU's 'Mike the Tiger'
(4:16 PM)
No, because everyone is scared of what might happen to them if they duked it out on the field with Mike. But Mike has had some off the field incidents, though, which is why nothing has ever happened on the field.
Gregatron (St. Louis)
Hey Mike,On average, how many med school students would you say you devour in a typical year? A ballpark estimate will do. Thanks!
LSU's 'Mike the Tiger'
(4:16 PM)
32.5.
ronnie (delaware)
mike, you recently had a birthday not too long ago, how'd that go? how did the LSU faithful celebrate the special day and can you spread the word down in baton rouge to lay off our man les? youve got a little bit of pull down there so do your best
LSU's 'Mike the Tiger'
(4:17 PM)
The LSU faithful celebrated it much more extensively than Mike did. Mike needs sleep to look this damn good.
Troy (Baton Rouge, LA)
What is under Les Miles' hat?
LSU's 'Mike the Tiger'
(4:17 PM)
A 6-0 football team.
Matt (IN)
What is your opinion on Brutus getting beaten down by the Ohio U mascot?
LSU's 'Mike the Tiger'
(4:17 PM)
Mike was disappointed to see Brutus beat down. It's probably because his head is so large. He got a little top heavy.
LSU's 'Mike the Tiger'
(4:18 PM)
The fact that he was taken down by a Bobcat, Mike doesn't like cat on cat violence, but in this case, he might make an exception.
kyle (iraq)
mike do you support you tiger fan soldiers over here...
LSU's 'Mike the Tiger'
(4:19 PM)
Mike thinks there is no greater committment to the country than our troops serving overseas. Mike fully supports all of our soldiers.
LSU's 'Mike the Tiger'
(4:19 PM)
Geaux USA!
The Duck (Eugene)
I challenge you to a push up contest!
LSU's 'Mike the Tiger'
(4:19 PM)
Seriously?? You haven't seen Mike in the gym. Have you ever heard of 1 claw pushup? Look it up.
James (LSU)
Mike can you get the oh-wee-oh chant back? I say Tigers!!!
LSU's 'Mike the Tiger'
(4:20 PM)
Mike can't talk. Mike just likes when the Tigers score.
Mike (Ohio)
You look a little fat these days. I saw the Syracuse Orange a couple of weeks ago and he's skinny compared to you. What gives?
LSU's 'Mike the Tiger'
(4:21 PM)
Mike, first of all, with a name like Mike, Mike thought you were smarter than that. Obviously, the Orange is rather large. You have no distinction between fat and muscle. Mike's body fat is at 2.5%, chump.
Scott (Tiger Roar!)
Who is more confident, Patrick Peterson or Mike?
LSU's 'Mike the Tiger'
(4:22 PM)
This is the toughest question Mike has received all chat. Patrick Peterson is a cat with extreme confidence. Obviously Mike's training sessions with him this summer paid off. But Peterson is the closest thing to Mike in the universe.
LSU's 'Mike the Tiger'
(4:23 PM)
Mike had a lot of fun today. Let's do this again sometime. Be sure to vote for Mike in the Capital One Mascot Challenge. Remember a vote for Mike is a vote for America, apple pie and football.