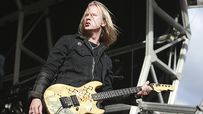 Welcome to SportsNation! On Thursday, fantasy football stud and Alice in Chains co-founder, Jerry Cantrell, stops by to chat about his music career as well as the "Alice in Chains & Friends Fantasy Football Charity League II," which features some of rock music's biggest stars.
Former NFL player turned actor Matt Willig won the inaugural event and Cantrell is set on claiming the title this year not only for bragging rights but because the league winner's charity receives proceeds of an auction of items donated by the league owners. Meat Loaf, Duff McKagan, ESPN's Jay Harris and several others round out the league.
Raised on country music, Cantrell's sound was shaped by the likes of Jimi Hendrix and Black Sabbath, leading to him co-founding one of the seminal rock bands of the 1990s. Alice in Chains went on hiatus for several years in the late '90s, during which time Cantrell released a pair of critically acclaimed solo albums, before the group reformed in 2005.
Send your questions now and join Cantrell Thursday at 5 p.m. ET!
Links: Alice in Chains | Cantrell's designated charity: Autism Speaks | The Life
Buzzmaster
(4:58 PM)
Alice in Chains' Jerry Cantrell will be here in minutes to chat music and fantasy football!
carlos sobarzo (chile)
where you extract inspiration to create your songs, melodies, riffs, lirics??
Jerry Cantrell
(5:02 PM)
We've been doing it for a long time and everybody starts emulating their heros. I'm no different than anybody else. Eventually you find your own voice and we did that as the band. It's trial and error, the influences that you grew up on. And I had a lot of classes in school that was music based. I think that had an influence too.
David (Washington)
What was your best draft pick?
Jerry Cantrell
(5:03 PM)
It's tough. Picking in the later rounds, it's always tough. I think I'm glad I grabbed Andre Johnson, even though he's injured. I'm happy with my team. My WR core, I was worried about, but they've come around. Even though the Cowboys are having a bad year, Romo is having a good stat year. My best pick? Probably my waiver wire moves.
Maurício (Brazil)
Hi Jerry, how are you. I'm a fan from Brazil. Do you plan a tour in Latin America with AIC next year? =)
Jerry Cantrell
(5:04 PM)
We were very very close to coming this year and the only thing that kept us from coming was that we couldn't make it work financially. It's a real big effort for us to bring the people we need to make our show. We want to get back there, but it quite didn't make sense for us to get back down there. Being in a band, we're investing in ourselves all the time. Luckily the fans have been there for us, when we've gone to Australia and things.
Phil (Boston)
How much trash talking goes on during the week between you and the guys in the league?
Jerry Cantrell
(5:06 PM)
Not as much as I would like. I'll call a couple of guys out right now. They're wussies. Jay Harris, being one of them. He hasn't said one peep. He hasn't commented on anything and I've been throwing stuff at him. He hasn't been a presence. I'm calling you out Jay Harris. You need to talk, even though you're getting hit around. Meat Loaf, what the hell? Nothing from you either. He's a musician, so maybe he's too good for us. Scott's weighed in. Willig is having a hard time, but he's still talking.
diego alberto arenas (chile )
how much hours were you practising with the guitar when you were in the school???
Jerry Cantrell
(5:07 PM)
Until I passed out, basically. I would spend hours and hours in my room by myself. When I first started playing, my mother and grandmother, who raised me, were very musical. They liked that I was into music. I locked myself in my room with a radio and guitar and after a while they started to get worried about me. They just figured I that I found something I liked and they supported me. I had a guitar with only two strings on it and she took me to the store to get some pegs.
Noah (North Hollywood)
Jerry! Great show the other night at the Gibson Ampetheater! Do you see yourself continuing performing live in the future? You looked pretty comfortable on stage.
Jerry Cantrell
(5:09 PM)
Oh yeah. We've been working only 5 years now. It's been a full time job to get the band back to where we want to see it. It took a lot of work from our end. We had a lot of stuff to work through. It's almost impossible to pull off what we did to move on without losing your identity after losing your best friend. A lot of stuff happened. I'm just really proud of everybody. And grateful.
raul (walla walla,wa.) [via mobile]
Saw u in portland last saturday. Amazing again! Where did u find william duvall? Love his voice. Do all the AIC guys play fantasy? RIP layne
Jerry Cantrell
(5:10 PM)
Mike and I play. The other two don't care about it. Mike and I are heavy into it. I met William in LA in 2000. I was working on a record for 2002 and we did some jamming together. I kind of absorbed his band into mine. We went out on tour, so we have a history together. When we started hanging out more as a band, I thought he would be a guy to have around.
Brenno (Brazil)
Does Alice in Chains plan to record a new album or it's too early to say something?
Jerry Cantrell
(5:12 PM)
I think it's too early to say. I wouldn't say that we wouldn't. That definitely would happen more than it wouldn't. But I know from experience that it's better not to say something until there's something to say. But a lot of work has been done. It's been 5 years to get to this point to get to the end of this tour. But it takes it out of you. Anyone would need some time to recoup. We won't talk about it until next year. We deserve some time off.
Noah (North Hollywood)
How is the tour going for you? What's it like to tour with the Deftones?
Jerry Cantrell
(5:13 PM)
The tour couldn't have gone any better than it did. We surpassed all of our expectations and went far beyond them. And we've had two bands we really admire with us. We wanted to do this final leg of the tour with some friends of ours and have three different musical flavors. It's a pleasure touring with them.
Gaël (pronounced 'Gail') (Brussels, Belgium)
How big a role do you have in the writing of vocal lines and lyrics? Do (most of) your songs have a vocal line when you present them to the band? Thanks
Jerry Cantrell
(5:14 PM)
We've always credited our writings, so it's all there in the records. Being in a band is a really interesting thing. There are talented individuals and how they work together as a team can change. I've been lucky enough to have been one of the main song writers in the band for many years. I take pride in that. It's a team.
Carl Roberts III (Nashville, TN)
Hi Jerry, I'm a huge fan of your solo work. Any chance of seeing any new solo material in the future?
Jerry Cantrell
(5:15 PM)
Not for a while. My first and foremost love has been this band and always has been. THe only reason I did those two records is because we weren't working as a band. But being a part of this band is a full time job. Some guys can do multiple things and maybe when I was younger I could do that, but not now.
Gaël (pronounced 'Gail') (Brussels, Belgium)
Hey Jerry, could you tell us some funny Layne stories, I'm sure we'd all like to hear some! Thanks
Jerry Cantrell
(5:17 PM)
There's too many to pick from. I think a lot of people miss, and unfortunately a lot of people only know him because of how it ended for him and that tag gets put on him. What doesn't get written is that he was a sweatheart of a person. He was really sharp and witty. He was always up for a good joke.
John-linkous (France)
Hello Jerry , when the DVD of the Seattle performance will be released ?
Jerry Cantrell
(5:18 PM)
We filmed the show, so I imagined something will happen with that. I haven't seen the footage yet, and it was cool to do it in our hometown. They wanted to do something with the band. They talked to us about doing it and we did it on the tour. I'm looking forward to seeing it myself.
john (Florida)
How will you celebrate it? (if you win this year)?)
Jerry Cantrell
(5:20 PM)
I will call everybody and rub it in their face until we play the next season. I will gloat endlessly. It's fun. I've been playing fantasy football for 5 years. It's been something cool to do on the road. Having your slingbox hooked up so you can see the games when you're in Europe. It gives you something to concentrate on during the travel. The shows are great, but the time inbetween can be mindnumbing. I've only won one year. I would love to be the champ again. More importantly, it's pretty much about playing. I just missed the playoffs last year. The cool thing about the league is we get to have fun, we get to have our friends together and raise money for charity.
Jerry Cantrell
(5:21 PM)
We've had a really good tour. It's been great having you guys out there supporting us. Seeing you in every town all over the world has been great. The future looks bright and the world is what you make of it. Just because you take some losses in life, doesn't mean it's over.
Buzzmaster
(5:21 PM)
Thanks Jerry!