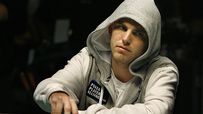 Dolan is one of three players from Florida in the November Nine.
Welcome to SportsNation! On Wednesday, professional poker player John Dolan, and member of the November Nine, stops by to chat about the upcoming final table at the 2010 World Series of Poker (Nov. 8, 10 p.m. ET, ESPN).
Dolan, 24, enters the final table in second place with 46,250,000 in chips. He is one of three players with more than 20,000,000 in chips. Dolan now has six WSOP cashes. This is his second WSOP final table of the year, with his first coming in a massive 3,102-player field in a $1,000 buy-in event. During the break, Dolan played online and traveled overseas, where he made the money in the EPT London main event.
Send your questions now and join Dolan Wednesday at 4 p.m. ET!
More Poker: Index | November Nine
Buzzmaster
(4:07 PM)
John will be here in a few minutes to take your questions!
Buzzmaster
(4:13 PM)
We've got John!
Derek (Duluth,MN)
What are you most looking forward to about the final table?
John Dolan
(4:13 PM)
I guess honestly, I'm looking forward the most to playing after four months away. I just want to know what place I'll get.
Rubes (Miami)
Have you had a chance to play in Florida since the laws have changed? If so, what do you think of the state of poker in Florida?
John Dolan
(4:14 PM)
I got to play one tournament and one cash game session, right after the main event session. The game was pretty good. I will definitely be playing down there some more.
doug (california)
are you going to play any differently on the final table then you did during the tourney?
John Dolan
(4:15 PM)
I don't have a set game plan as I go in I'm just going to try and take it hand by hand and react to how everyone else is playing.
jon (los angeles)
how much is luck and how much is skill? soi nguyen has openly admitted he's an amateur and doesn't understand basic poker terms.
John Dolan
(4:15 PM)
In any one poker tournament, there's a bunch of luck in it. As someone who plays for a living, it's just playing the best you can and making the right decision over and over and it will work out over time.
Mark (Oklahoma)
Watching the WSOP main event it seems that some player just get worn down and make bad decisions. How do you keep alert and focused over the long grind?
John Dolan
(4:16 PM)
I pretty much just try to let my emotions or how tired I am get the better of me. That's easier said that done. Every night of the tournament, I never did anything more than eat, sleep and play poker. I would grab some food on the way home and relax for a few hours and go to bed. That was the best way I know how to stay fresh.
Tony (Chicago)
Are there any key lessons you think you learned about large-field tournaments from your two final table runs this year? And anything tangible you can take into this final table?
John Dolan
(4:17 PM)
The biggest thing for me was so many people give up in a tournament if they lose a big pot. I had a good mindset this summer. I never gave up.
jon (Los Angeles)
Are there certain players at the November Nine table you feel you will be able to exploit and make certain moves on that will extract their chips?
John Dolan
(4:18 PM)
I think the final table is actually one of the better final tables we've seen at the main event, even though they aren't household names. Everyone there is pretty good. No one is too exploitable. I'll just go in and try to play pretty solid.
Billy (Madison, WI)
Do you drink Red Bull or anything to keep yourself going during the long days at the WSOP?
John Dolan
(4:19 PM)
I don't drink any energy drink. I don't Red Bull at all. I literally just try to eat before the day starts and don't eat until dinner break. Nothing else. Nothing to enhance my energy.
John (LA)
Have you bet on yourself to win and do you have a backer?
John Dolan
(4:20 PM)
No, I haven't bet on myself to win, but I do have three people that split me through the poker tournaments. I am backed.
Brian Fanzo (Arizona)
Did you do any unique simulations of the final table playing position and the stacks that your going to deal with at Nov 9?
John Dolan
(4:21 PM)
No, I haven't and I don't plan on doing anything like that. I feel I have a decent feel for the table and a feel for how everyone will play their stack sizes.
Justin (Indy)
Are you more of a "read" or "math" type player?
John Dolan
(4:21 PM)
I guess I don't really think of poker as one way or the other.
Paul (Cheshire, CT)
If you don't win the main event, who would you want to win? Who deserves it?
John Dolan
(4:23 PM)
Yeah. Cheong. I've become pretty good friends with him through this. Similar personalities.
Dan (JAX)
You always seem down to business? Is that just how you approach the game? Are you having any fun?
John Dolan
(4:24 PM)
I have fun, but yeah, when I'm in hands, I pretty much don't say anything. I like to joke around, but I tihnk it's important to keep your emotions in check. If you get emotional, it might make you make a mistake.
Jeff (Minnesota)
What do you think about your seat? Who has the worst seat at the table?
John Dolan
(4:24 PM)
I don't like the fact that the chip leader is to my direct left. But the seats to my right are definitely worse than my seat.
Ronnie (Rancho Cucamonga)
do you prefer playing online or live...? /and do you prefer cash games or tournaments?
John Dolan
(4:25 PM)
I actually like both of them for different reasons. I like live cash a lot, even though it's really slow. There's a huge edge, because the people playing it are no where near as good as the people playing online cash.
Travis (Wisconsin)
John, what is the hardest thing about the Main Event?
John Dolan
(4:26 PM)
I guess the hardest thing is how long it is. As it gets going, Day 5 and on, I started getting less and less sleep, because you start to think about it and get into the money. It gets pretty grueling.
Ronnie (Rancho Cucamonga)
do you think your chances are good to win it all considering your second in chips but have some formitable opponents?
John Dolan
(4:27 PM)
I think I have a good chance of winning. I have a pretty big chip advantage, even though the table is pretty tough. I feel I have a bigger edge due to that.
jon (Los Angeles)
Do you agree with the long delay before the final table? It seems like the lack of continuity would play to the advantage of certain players.
John Dolan
(4:27 PM)
I would prefer that it was not four months. Also, at that point in the tournament, I had a lot of momentum going, so it hurt me more than others. Some will be able to get coaching and can see how others play in other tournaments.
Jeff (Charleston SC)
First thing you buy after tourney over?
John Dolan
(4:28 PM)
If I get a top few places, definitely a house somewhere in south Florida.
Neil (Las Vegas, NV)
Is this life changing money for you?
John Dolan
(4:28 PM)
Yeah, definitely, it is. I have never had anywhere near $800,000. My biggest score before this was around $100,000.
Fred (Dallas, TX)
What are your hobbies outside of poker?
John Dolan
(4:29 PM)
I'm like most normal 24 year old guys. I like to go out, drink, have some fun. And I enjoy sports, football and baseball mostly.
Lenny (Springfield)
Is there one hand that you'll always remember?
John Dolan
(4:31 PM)
Probably when I was all in on Day 8. KQ of hearts. Scott opened and he made a call with 9, 10 of clubs. It became A, Q, 8 hearts. The turn was an off suit jack and the last was a five of hearts. That was with about 24 people left. That was a big one.
jon (los angeles)
Will your strategy against Mizrachi be different than against other players? When I watch him on TV, he seems to have certain noticeable tells.
John Dolan
(4:31 PM)
Yeah, I would play Michael different than I would Joe or Jason, because they have two totally different playing styles.
stu brunson (aria's ivey room)
you've got the chip leader Duhamel to your direct left. are you looking to mix it up with him in an attempt to go big or go home... or are you looking to first chip up the money ladder before getting into big pots with the French Canadian?
John Dolan
(4:32 PM)
I'm not going to plan the tournament out like that either way. I'll just take it hand by hand and if the spot arises that I need to mix it up with the chip leader than that's the case.
Jason (Atlanta)
Which has cause more heart aches, AKs or QQ?
John Dolan
(4:32 PM)
I guess AK.
Tim (Boston, MA)
Why should people root for you at the final table? What makes you stand out above the rest?
John Dolan
(4:33 PM)
I guess just the fact that I started out from the bottom, just playing online and worked my way up. Made some friends that helped me out. Managed to get to this point.
Jamie (Colchester)
What are your favorite sports teams?
John Dolan
(4:34 PM)
Jets, football. Mets, baseball. And I went to Florida State, so the 'Noles.
Shawn (Hellabama)
How do you feel you have been portrayed on ESPN? Anything shown been in a different context than shown, like with earlier action not shown on the broadcast?
John Dolan
(4:35 PM)
Nothing out of the ordinary, really. The river against Racener on the one hand. They made it looked like I snap folded.
doug (california)
are you going to start out tight or aggressive?
John Dolan
(4:36 PM)
I don't really have a gameplan. Poker is all about seeing what everyone else is going to do and react.
John Dolan
(4:36 PM)
Thanks for questions.