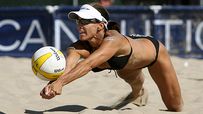 McPeak won a bronze medal in the 2004 Olympic Games.
Welcome to SportsNation! On Wednesday, ESPN volleyball analyst Holly McPeak stops by to chat about the college season.
McPeak is a three-time Olympian and will be a part of Wednesday night's women's college volleyball doubleheader on ESPNU. She will be at the Pepperdine at St. Mary's match that starts at 10 p.m. ET. The first game of the night pits No. 21 Tennessee against No. 1 Florida at 8 p.m. ET.
McPeak won the national freshman of the year in 1987 while at Cal, before transferring to UCLA in 1990. In her first season at UCLA, she helped the UCLA Bruins to a national championship.
Send your questions now and join McPeak Wednesday at 2 p.m. ET!
More Special Guests: Previous chats | SportsNation
Buzzmaster
(2:03 PM)
We've got Holly!
Phil (FL)
Who would you think is the favorite in the Pepperdine-St. Mary's?
Holly McPeak
(2:04 PM)
That's a tough question. They're pretty evenly matched, but St. Mary's has a few more votes in the coaches' poll, so I think they would be the favorite. But I think it will be a very good match. They're close.
Peter (CA)
What's the key to the St. Mary's win tonight?
Holly McPeak
(2:05 PM)
It sounds cliche, but it's always the serve and pass battle. These two teams are so evenly matched, that whoever can serve and pass better will come out victorious.
Cary (Memphis)
Any chance for an upset of Florida by Tennessee?
Holly McPeak
(2:06 PM)
I don't think so. But the way this season is going, anything can happen. We saw No. 12 or 13 UCLA beat No. 1 Stanford just a few weeks ago, so anything's possible. But Florida is playing with a lot of confidence.
Carly (LA)
How does St. Mary's compare with some of the national powerhouse teams?
Holly McPeak
(2:06 PM)
I've just seen them on tape and this will be the first match of theirs that I will cover. But they're getting votes in the top 25. They have a chance to do well this season, but I personally won't know until I see them play Pepperdine.
Kevin (VA)
Not just a big top 25 matchup tonight, but a big SEC match as well. How intense will the Tennessee-Florida game be tonight?
Holly McPeak
(2:08 PM)
There's no easy wins and that's a big one for those teams. Both are good teams. Like I said, anything can happen. Florida is the team to beat and a lot of times teams rise to the occasion. Tennessee is a good team.
kevin (la)
if you could do it all over again, would you have switched to the sand from the court?
Holly McPeak
(2:08 PM)
Absolutely! I loved playing indoor volleyball, but when my indoor career was over, the beach was a great transition. It provided me great opportunities. I was able to play and travel all over the world. But I do love both, indoor and beach.
David (SF)
What are you looking forward to the most about the match you're covering tonight?
Holly McPeak
(2:09 PM)
Well, it's two of the best teams in the conference battling it out. They matchup pretty well on paper, so it's always interesting to see how it plays out on the court.
everett (dallas)
What's the best venue for a college volleyball game?
Holly McPeak
(2:10 PM)
The best venue, in terms of is women's volleyball is in Omaha, Nebraska, where they can get up to 18,000 fans. It's fantastic to see that many people packed into an arena for a women's volleyball game is fantastic. I think Hawaii gets a good crowd too, so that would be my second choice.
Disco (Chicago)
What's happened to Penn State? Long winning streak now several losses
Holly McPeak
(2:11 PM)
Anybody knows that in college sports you can have a certain time of domination and PSU had a special one. But you graduate people Penn State is building. It will take them a little bit of time to figure it out. If they don't figure it out this year, they will figure it out next year.
greg (ri)
after tonight, what's your next game you're covering?
Holly McPeak
(2:12 PM)
Well, for ESPNU, I have a big match next Wednesday night, Nebraska at Texas. Prior to that, I'm covering another match Oregon-USC on Friday.
Penny (San Jose)
Do you think a team like Pepperdine or St. Mary's can ever develop into a player on the national stage?
Holly McPeak
(2:13 PM)
Absolutely. I think there are a lot of talented players that play at smaller schools that for various reasons develop into good players. I don't think it matters where you play, just if you're a good player.
Nick (Albuquerque)
Does Florida or Stanford deserve to be #1, and who is your pick to win the National Championship?
Holly McPeak
(2:14 PM)
That's a tough question. Florida and Stanford are both great teams, but I don't think they're the clearcut No. 1 this year. There have been injuries that have effected things this year. Stanford was playing a 6-2, with 2 setters, but one got hurt. Florida, Stanford, Nebraska, Hawaii, California all have a chance to win it. Texas, PSU, Washington and others are longer shots, but I think this is a year where anything can happen.
Disco (Chicago)
Who's the best Big 10 team now that Penn State has lost a few matches?
Holly McPeak
(2:16 PM)
Michigan, Illinois I would say are the two next best teams. But for the Big 10, it's a big statement, because there are 4-5 of their teams in the top 25 and that's a big statement for their conference.
kevin (ct)
best part of the country for volleyball?
Holly McPeak
(2:17 PM)
Well, I think the beautiful thing about that is there is parity across the country. Florida is No. 1 now. PSU dominated for a few years. Stanford has played well. Hawaii has a great tradition, as does Texas and Nebraska. It's spread across the country. That's the great thing about this sport.
Perry (AZ)
Can Florida hold on to its No. 1 ranking?
Holly McPeak
(2:18 PM)
I think it's hard to go through an entire season undefeated or with just one loss. It's definitely possible. Students go through midterms and different injuries. It's hard. And because there isn't one dominant team, they could stumble more than once. But they have a good team and a great chance for this to be their year to win it all.
jeff (md)
your title winner prediction?
Holly McPeak
(2:19 PM)
I would think, if everybody's healthy, Stanford is probably my favorite. But Florida is a close second. Nebraska and Hawaii are right there too. It's anybody's year, but Stanford has the best chance.
Holly McPeak
(2:20 PM)
Tune in tonight. We'll have two great matches on ESPNU. Then next week, I'm really looking forward to Nebraska-Texas on ESPNU.