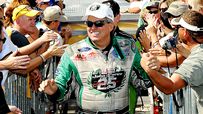 Force was the first driver to earn 1,000 elimination round wins.
Welcome to SportsNation! On Friday, NHRA legendary driver, and 14-time Funny Car world champion, John Force stops by to chat about next weekend's Las Vegas Nationals, the fifth event in NHRA's six-part Countdown to the Championship. ESPN.com's Ryan McGee recently spoke with Force about why he's still racing.
Force is in second place in the Funny Car standings, 64 points behind leader Matt Hagan. Force's teammates, and members of his John Force Racing, Ashley Force Hood (his daughter who is in fourth place) and Robert Hight (John's son-in-law who is in sixth place) are also close behind.
Send your questions now and join Force Friday at 2 p.m. ET!
John Force online: JohnForceRacing.com | Facebook | @jfr_racing
More Special Guests: Previous chats | SportsNation
John Force
(1:58 PM)
Happy to be here to chat with you guys. Thanks for the support over the years especially after my accident. Let's get this thing started!
Big Jim (Dallas, TX)
John Force is a hero to millions. Who are John's heroes?
John Force
(2:03 PM)
We all have the ones that we look up to. There are two that really come to mind and they are Tom McEwen and Don Prudhomme. They showed me the ropes. Richard Petty and Dale Earnhardt are at the top of my list too. But my inspiration in life are really my mom and dad. They taught me to always to work hard and earn the dollar that you are paid which is something that I try to show my kids. I'm also inspired by Brett Favre. He's a 40 year old man still at the helm of a NFL team and I'm a 60 year old man in the running for a 15th national title.
Donna Rapoza` (Massachussetts)
What is the first thing your going to do in November when you win the championship???
John Force
(2:08 PM)
The first thing I'll do is thank my crew. There are so many people that are a part of my team that I need to give thanks to. From the folks that run the business side of things to the people who are down on the track with me day in and day out. I also have to give thanks to the Lord and my family who have been there with me through everything. Through all the ups and downs. But first we have to get to the championship; Matt Hagan is a tough guy. Vince Lombardi once said "winning is everything" but he's never lost a man on the playing field. After losing Eric Medlen, I believe winning and safety go hand-in-hand. Ford has spent millions of dollars to make sure that we are as safe as we can be and that our safety turns into wins.
Brittany Sanders (D.C. )
What is your favorite moment of your racing career?
John Force
(2:12 PM)
My first championship was in 1990, I've won Indy many times as well as the bonus race. Winning 10 straight was probably my biggest accomplishment. The Yankees haven't even won 10 straight. Winning 14 titles is a big thing too. Another huge accomplishment not only me but for my family as well is watching Ashley win NHRA's Indy race two years in a row. I've never even won it twice. To see my own child win takes me to the next level. The first woman to win in a Fuel Funny Car.
Jenni (San Dimas)
What goes through your mind when you compete against Ashley?
John Force
(2:13 PM)
As the boss I want her to do well. Yet as a father, along with her mother we have that pride mixed with fear factor. But it was her choice after the loss for Eric to stay on.
Mark (CA)
Do you have any pre race rituals, like chewing mint chocolate chip gum?
John Force
(2:16 PM)
No, if anything I play a lot. You may hear me on the race track getting lout and noisy like at a football game.
Curt Hanna (San Jose, Ca.)
Hi John, best of luck on #15, Can you give me a hint of when we might see Courtney in a Funny Car ?
John Force
(2:22 PM)
Thank you because we need all the positive energy we can get to fight this kind Hagan. I've been teaching my little ones Courtney and Brittany. Brittany got side tracked a little bit with school. She just graduated and now has her teaching certificate and is teaching. After Courtney graduates from Fullerton University this December, she's coming on the road with me. We have a car built for her and we're going to bring her along. She's going to be testing over the winter with us and we'll go from here. My wife and I are very proud of all out kids and their accomplishments. One and off the track.
Bruce (Wayne New Jersey)
John, what do you do to relax?
John Force
(2:25 PM)
You know the other day I was having a talk with my wife and she told me that I need a hobby. I have a car museum with plenty of different cars and motorcycles but my problem in her eyes is that I don't have a hobby. I have an office over looking my museum but I use Ford pickup instead. I go park somewhere and do my work. As far as a hobbies go, I can't golf and I don't like gambling but one thing I do like is movies. I just saw Social Network. Movies are my hobby and racing is my job. Thank God! When you look at my career and lifestyle, I get to travel around the world. I get to be on ESPN and other TV shows. It's because people learn about me from newspapers and the internet. Nothing makes me prouder than my fans showing love and allowing me to show my appreciation back to them. I don't really have time for a hobby. If ESPN calls and says they need me, I'm there. If someone wants to do any interview with me, I'm there. And the best thing about it is that I get the raise my kid's right in the middle of that.
PAT REESE (Apple River, IL)
John, what is the toughest part about being a car owner/driver?
John Force
(2:33 PM)
The hardest part, what I learned in school by playing football (I was the quarterback) is to delegate to my generals. I can't do everything and I need help from the people on my team. I love driving and I don't see myself stopping any time soon. Gathering sponsorships is also tough in this economy. Castrol and I have been together for 25 years and we are still going strong. We still have a couple of more years before we are out of this recession. And like my dad said, to get of the depression we had to entertain and that's somewhat that John Force Racing does. We entertain.
John Force
(2:40 PM)
Since my crash, I've only won one race in '07 and '08 and didn't win any in '09. Now I stay in the gym as I travel around the country to keep in shape and my body prepared. The roar of the crowd on race day always keeps me up and ready to roll each and every time. I'm going to give everything I have to win the championship. It looks like we're going to go down to the wire in Pomona. I would like to thank everyone out there for their support over the years. Thanks for the questions and taking the time out to chat with me. Hopefully we can do this again soon. See you in Vegas!