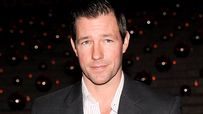 "Johnny" had a $25,000 budget, with the actors wearing their own clothes and doing their own hair and makeup.
Welcome to SportsNation! On Friday, veteran actor, director, writer and producer Ed Burns stops by as his latest project "Nice Guy Johnny" released Tuesday on DVD, iTunes Movies and Movies on Demand.
"Nice Guy Johnny," which Burns wrote, directed and acted in, features Johnny Rizzo, who is about to trade his dream job for a boring gig that will pay enough to please his fiancee. Enter Uncle Terry (Burns), a womanizer who wants to turn a weeked in New York into a fling for his nephew. Johnny's not interested, at first, but then he meets Brooke.
Burns now owns over 10 credits as a writer, producer and director. He made a big splash with his first feature "The Brothers McMullen," which won the 1995 Sundance Film Festival. He also had a part in Steven Spielberg's successful film "Saving Private Ryan."
Send your questions now and join Burns Friday at 2 p.m. ET!
Ed Burns online: Facebook | @edward_burns
More Special Guests: Previous chats | SportsNation