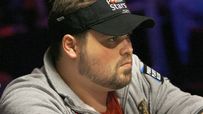 Senti is the only American November Nine player not from California or Florida.
Welcome to SportsNation! On Monday, professional poker player Jason Senti, and member of the November Nine, stops by to chat about the upcoming final table at the 2010 World Series of Poker (Nov. 8, 10 p.m. ET, ESPN).
Senti, 29, enters the 2010 WSOP final event with the table's short stack with 7,625,000 in chips. The Minnesota native has been playing professionally for three years and makes the final table in just his second WSOP main event. His one WSOP cash came in 2009 when he fell short in the round of 32 in the $10,000 heads-up event. Online "PBJaxx" is an instructor at poker training site, Bluefire Poker. He is a professional online poker players, after leaving his job as an electrical engineer.
Send your questions now and join Senti Monday at 2:30 p.m. ET!
Jason Senti online: @pbjaxx | BlueFirePoker.com
More Poker: Index | November Nine
Buzzmaster
(2:14 PM)
November Nine's Jason Senti will be here at 2:30 p.m. ET to take your questions!
Chris [via mobile]
What's your take on the waiting time between the WSOP events and the final table?
Jason Senti
(2:42 PM)
I thought since the whole November Nine thing was first proposed. Realistically, it's not that much of an advantage for the professionals, but the bad players can get better. However, it's good for the game. I think it's the right thing for us to be doing as a sport and as a game.
Miguel (Phoenix)
Are you requiring all your fans to have mustaches at the November Nine?
Jason Senti
(2:43 PM)
I am not doing that. But I have a number of my friends on their own came up with the idea to grow mustaches for the final table. It's my understanding that a lot of my friends will have a mustache or beard.
Matt (Sicklerville, NJ)
The overall goal has to be to win the main event. But just reaching the final table must be so rewarding for any poker player. How has this accomplishment changed your approach to the game and your outlook for your future in poker?
Jason Senti
(2:44 PM)
More than anything, it's just given me some more notoriety and visibility. Because of htat, I have had to change my approach, giving more interviews, as opposed to just playing poker. With that said, I am very excited to getting back to play cash game poker.
Steven (Iowa)
With two guys having big leads over the rest of hte table, do you see the possibility of the rest of the table trying to join together to go against Dolan and Duhammel?
Jason Senti
(2:45 PM)
No, I don't. Basically, anything like that would be considered collusion. That said, we are all going to try and win and do whatever we can, but we won't be targeting specific players.
Chops (Vegas)
Chops here. Saw a thread about needing help with your intro song to the November Nine(TM) final table. Really only one choice: You're The Best (Around) from Joe Esposito/Karate Kid.
Jason Senti
(2:46 PM)
What up Chops? That's awesome. I am still trying to decide what song to use.
Kyle (LA)
Do you feel like you might be targeted by the other guys because you have the fewest chips?
Jason Senti
(2:46 PM)
In general, no, but people will be less scared of calling me off than others that can knock them out of the tournament.
Phil (Seattle)
with only so many blinds left in your stack, have you come up with a predetermined way you're going to play?
Jason Senti
(2:47 PM)
No, not as of right now. And I never really believe in 100% predetermined play. That said, because of my strategy, I will be limited in the moves that I can make.
Will (SF)
How have you stayed sharp during the layoff?
Jason Senti
(2:48 PM)
One way, I went out and played a number of tournaments. WSOP Europe main event. World Tour. Plus, I've played some No Limit games. And I've made some videos at BlueFirePoker.com and discussed strategies with friends.
Kevin (VA)
Are you satisfied with how you've been portrayed during the TV coverage of the WSOP?
Jason Senti
(2:49 PM)
Well, what I have seen of myself, I have been happy with. I have found that if I wanted to get more coverage, I should be screaming more.
Derek (Chicago)
I've heard a lot of the other guys, during the layoff, just kept up a normal playing schedule, going to other tournaments and are treating this final table just like another tournament, not hte continuation of the WSOP. Is that how you look at it?
Jason Senti
(2:50 PM)
Honestly, not really. The final table of the WSOP is just a different experience. Maybe not considering it a continuation, I understand, but considering it just like another event, I'm not sure.
Rick Knox (NoDak)
Do you have a different strategy playing live versus online?
Jason Senti
(2:51 PM)
Only against juicebags named Rick.
Matt (New Joisey)
How will you use your 'Poker Ambassador' role to good use if you win it all?
Jason Senti
(2:52 PM)
If I manage to win it all, I plan to do any interview opportunity I can get. Try to get into any mainstream publications and TV shows. Just do everything I can to spread the game and expand to new players out there.
Chris (Detroit)
I have yet to pick someone to root for at the final table. So, tell me what separates you from the other guys and why I should root for you.
Jason Senti
(2:53 PM)
I'm the underdog in this situation, yet I think I have the ability and the skill set to do it. And I think I'm a pretty nice person.
Bob Cobb (New York)
Being the SS going into the final table are you feeling pressure to double up quickly or at ease, because you've already got a big pay day and recognition under your belt for making it that far?
Jason Senti
(2:55 PM)
The fact is that making it to the November Nine is huge for me. That said, I am not content with going out at No. 9. I feel like I can make a run in this tournament.
Steve (Chicago)
Who is the best celebrity poker player you have played?
Jason Senti
(2:55 PM)
Probably Daniel Negraneau.
Matt (Sicklerville, NJ)
How many people are going to be in your rooting section on November 6th?
Jason Senti
(2:56 PM)
That I know are coming out specifically for me, probably somewhere in the 75-100 range. Beyond that, I hope to pick up some fans out there to root me along even if we weren't friends beforehand.
Mike (NY)
Have you bought yourself anything nice with the final table winnings thus far?
Jason Senti
(2:57 PM)
Not really, actually. More than anything, I would like to see where I am going to stand after the final table. Also, I care more about the freedom that playing poker for a living provides. It's more important for me to be able to play poker and not worry about the swings or the material things. That said, I would like to buy a nice home and a new car.
Jason Senti
(2:58 PM)
Thanks to anybody who came to chat. I appreciate the quesitons. And hi to Rick Knox.