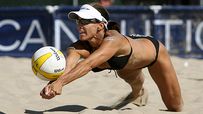 McPeak won a bronze medal in the 2004 Olympic Games.
Welcome to SportsNation! On Wednesday, ESPN volleyball analyst Holly McPeak stops by to chat about the college season.
McPeak is a three-time Olympian and will be a part of Wednesday night's women's college volleyball doubleheader on ESPNU. She will be at the No. 3 Nebraska at No. 10 Texas match that starts at 9 p.m. ET. The first game of the night pits South Carolina against No. 1 Florida at 7 p.m. ET.
McPeak won the national freshman of the year in 1987 while at Cal, before transferring to UCLA in 1990. In her first season at UCLA, she helped the UCLA Bruins to a national championship.
Send your questions now and join McPeak Wednesday at 2:30 p.m. ET!
More Special Guests: Previous chats | SportsNation
Buzzmaster
(2:32 PM)
We've got Holly!
Penny (Fort Worth)
What does texas have to do to pull out a win tonight?
Holly McPeak
(2:32 PM)
Texas and Nebraska are two of the best volleyball programs in the country. Both are very talented, but it will come down to the serve and pass. Texas will have to slow down the offense of Nebraska.
Kevin (VA)
Could tonight's match be a preview of a potential Final Four or championship game?
Holly McPeak
(2:33 PM)
Absolutely. I would say at worst, possibly a Final Four game. Both of these teams, especially Nebraska, could challenge for the title at the end of the season.
Wilson (LA)
How much of a match can South Carolina give Florida tonight?
Holly McPeak
(2:34 PM)
It's going to be tough. At 1-8, South Carolina doesn't have a great chance against Florida tonight. Underdogs have pulled upsets, but I'm not expecting it. Florida is capable of playing excellent volleyball.
Kyl (Houston)
What's the feeling like when you're on the court as your team wins a national championship?
Holly McPeak
(2:35 PM)
Well, there's nothing better. There are so many great women's volleyball players and teams across the country, to be the last one standing at the end of the season is great. It's a feeling that no one can take away from you.
Rachel (Cal)
Have you talked with Texas or Nebraska before the game? How are they feeling?
Holly McPeak
(2:36 PM)
We talked to both teams, both coaches. Right now, I'm watching Nebraska practice. Both teams are confident. I would say Nebraska is extra confident after winning the last 18 in a row. Texas has two middle blockers that are playing phenomenal.
Crystal (San Diego)
What are the keys for a Nebraska win tongiht?
Holly McPeak
(2:37 PM)
After watching them play earlier in the season, they have offensive weapons at every location. So, passing is the key for them. And Nebraska said that slowing down Adams from Texas is a big key for them as well.
Peter (Dallas)
how big would it be for Texas to knock off Nebraska tonight?
Holly McPeak
(2:38 PM)
It would be a giant win for Texas. They're very capable. THey have a lot of talent. When you're No. 10 in the country, physically, you match up. It's all about executing your offense and that all starts with a good pass.
vblove (California)
Who are your predictions for the Final Four? Also, how are your predictions for the Top 8 seeds?
Holly McPeak
(2:39 PM)
There is so much parity this year that I think this is one of the most difficult years to predict a Final Four. Stanford and Cal both look fantastic. Florida, Nebraska look good. I think it's a year where anything can happen. Hawaii is very good, but they're just not tested in league play like all of these other teams are.
David (Boston)
What's the key to a good pass?
Holly McPeak
(2:40 PM)
Well, communication between the primary passers. That's usually the three main players who pass the ball. And then seeing the ball and passing the ball up to the net so your center is able to run the offense.
TJ (Destin, FL)
How you liking the Gators chances of heading to the Final Four this year? you think they can go even further? Kelly Murphy is a beast!
Holly McPeak
(2:41 PM)
I agree. Kelly Murphy is one of the best players in the country. She's up for national player of the year. I think this is one of their best chances in years to win the title. Probably best chance ever. They've been ranked No. 1 the last three weeks.
victor (monroe)
Holly Does nebraska deserbe to win a naeional championship this year?and are you still playing beach volleyball?
Holly McPeak
(2:41 PM)
Oh, I think whoever wins it will deserve it. I think Nebraska has the personnel and the depth to win it this year.
Greg (RI)
What are teams going over at practice prior to a big game?
Holly McPeak
(2:43 PM)
Well, it differs from team to team. Basic passes and touches in an opponents gym. Also, game plan. How they're going to defend each rotation from the other team. What they want to do. Where they want to hit. How they'll defend each play. It's all about strategy and execution.
Fred (AL)
How much do you enjoy being back in the college setting covering these big games?
Holly McPeak
(2:44 PM)
I really enjoy being around the sport again. When I started playing beach and was traveling around so much, I lost touch with the court game some. The last five years, I've been able to get back into it, see the teams and get to know the players. I really enjoy it.
Paul (Boston)
What's a big strategy difference with beach and court?
Holly McPeak
(2:45 PM)
There are just so many differences between indoor and outdoor. The basic skills are the same, pass, set, hit, but working with six people on the court as opposed to two, everything changes. It takes a good two years of training to really learn the beach game. And that's if you're on the fast track.
Ashley (Lincoln)
Is there a national defensive player of the year award? If so, who are the front runners and does Nebraska's Banworth have shot at it?
Holly McPeak
(2:46 PM)
Banworth is definitely one of the best in the country. They do give an award and she has a chance at it. She's one of the top defensive players.
will (sf)
what will the stadium be like tonight?
Holly McPeak
(2:47 PM)
Well, as far as I know Texas and Nebraska are heated rivals. So I'm expecting a very very loud gym tonight, hoping for the home team to pull an upset.
Beau (State College, PA)
What are your thoughts on PSU right now (they did hand Florida its only loss)? What are they're chances of an unprecedented 4-peat??
Holly McPeak
(2:48 PM)
Well, I think this is an interesting season for Penn State. They've reloaded this season. It depends on how they develop as a team the rest of this season. I would say they're a little bit of a long shot to win it again this season.
Chris Fiegler (Latham,NY)
Who are the Best Players in Mens & Womens College Volleyball?
Holly McPeak
(2:49 PM)
Well, let me give you some of the player of the year candidates, Murphy from Florida, Murray from Cal, Licht from Nebraska, Adams from Texas.
Ryan (San Diego)
what's the schedule like for the players on a game like this?
Holly McPeak
(2:50 PM)
It varies from team to team, but most teams practice have some down time before coming back before the pre-game preparation. Tonight, Texas is not coming in until 5, so they'll probably rest for most of the day, get a pre-game meal in at 3:30 or 4 and then get ready for the match.
Holly McPeak
(2:51 PM)
Tune in tonight. I think it will be a fantastic match. The first one you'll see Florida, the No. 1 team in the country, then you'll see two of the best teams with Nebraska and Texas. Two great games.