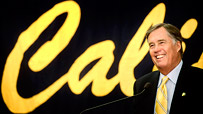 Mike Montgomery's Cal squad won the Pac-10 regular season last year. Can they do it again?
Welcome to SportsNation! On Thursday, we will be chatting some Pac-10 hoops with some of the coaches from the league as our ESPN offices in Los Angeles host Pac-10 media day.
The coaches' schedule: (All times ET)
11a: Mike Montgomery, Cal
11:20a: Craig Robinson, Oregon State
11:40a: Johnny Dawkins, Stanford
Noon: Dana Altman, Oregon
12:20p: Ken Bone, Washington State
12:40p: Herb Sendek, Arizona State
Send your questions now and join the Pac-10 chat starting at 11 a.m. ET!
More Special Guests: Previous chats | SportsNation
Buzzmaster
(10:55 AM)
Basketball is in the air and today we have coaches from the Pac-10 stopping by to chat about the upcoming season.
Mike Montgomery
(11:07 AM)
I'm excited about another year ...let's start!
Ann (Seattle)
Starting next year are you going to miss the true round robin conference season format?
Mike Montgomery
(11:09 AM)
I'm not sure how that will affect us right now. I have to reserve my judgment until next year. I've been in the Pac-10 for a long time and next year's changes will be an adjustment but I'm not sure if it will be a positive or negative one.
Terry (Bristol, TN)
What are your goals for your young squad?
Mike Montgomery
(11:10 AM)
I think this season will be a real learning process because we lost a lot from last year. I think the talent is there but we will have to be patient because young players will make mistakes. We will have to improve consistently and try to make sure we are bringing them along slowly and making sure that they are understanding the game.
Sammy (Mexico)
How good does Jorge Gutierrez have to be in order for the Bears to have a good season?
Mike Montgomery
(11:12 AM)
Jorge has been the glue for us in some ways over the last couple of seasons. He will have to have a bigger role offensively and he has to be smarter on the court. He's a key ingredient of our basketball team. In order for us to win, he has to play harder and smarter in terms of keeping himself on the floor.
Michael (Los Angeles, CA)
With only four upper classman, can Cal repeat as regular season Pac-10 champs?
Mike Montgomery
(11:13 AM)
Sure we can, that's why we play the game. But I don't think that is the expectation starting the season. We have a young talented team and hopefully by January we'll be a much improved team.
Ray (CA)
Doug Gottlieb's predicts Cal to finish sixth in the Pac-10. Where do you see Cal finishing?
Mike Montgomery
(11:15 AM)
I don't want to put us into any type of box that says we won't finish in the top three. We have to be careful about staying healthy with our veteran players. We have to compete hard, learn and get better throughout the season and go from there.
Lee (Compton, CA)
You start out the regular season on the road in Orlando. How do you think your young squad will handle playing on the road so early in the season againt a tough team like Temple and possibly UGA or ND?
Mike Montgomery
(11:17 AM)
That might not be a great job of scheduling on our part. The Orlando tournament has grown with teams that are very good. Having back-to-back games 3,000 miles away from home will be a challenge but it's a challenge that we welcome.
Mike Montgomery
(11:19 AM)
This is going to be a great group of kids to coach. Like most young players, they don't know what they don't know and I'm here to teach them. I'm looking forward to seeing what we can do out there on the court.
Buzzmaster
(11:20 AM)
Thanks coach. Even tough Cal is a young team, they have a great leader in Jorge Gutierrez so they should be alright this season.
Buzzmaster
(11:21 AM)
Next up, Oregon State's Craig Robinson.
Craig Robinson
(11:23 AM)
I'm looking forward to the season. Let's start!
Anthony (Long Beach, CA)
How will new comer Eric Moreland help this team?
Craig Robinson
(11:25 AM)
Eric will add a couple of things. He has elite athleticism and he's a skilled big man. He went into high school standing 6'2 and now he stands 6'10. He brings a length and inside presence that we need.
Sarah (Corvallis, OR)
Who do you see as the leader of this young Oregon State team?
Craig Robinson
(11:27 AM)
We have four seniors and one junior and I see them as the leaders on and off the court. But I'll say that Calvin Haynes is a guy that on the court will lead in the way he plays. He didn't have a great season last year but looks to have a breakout senior season.
Leo (Seattle, WA)
With two straight postseason tournaments under your belt, what is your goal for this year's Beaver team?
Craig Robinson
(11:28 AM)
We would like to finish with a record that will get us into the NIT or NCAA tournaments with the NCAA tournament as our main goal. I think our guys are ready to step up and play in a bigger postseason tournament.
Thomas (Corvallis, OR)
Coach Robinson, you have a very young team. What do you tell your seven freshman as you prepare them for their first college basketball season?
Craig Robinson
(11:29 AM)
I start off telling them to work hard and be prepared. Preparation is the biggest thing as far as easing their nerves. In these early practices we are working hard so that they can feel ready to be college basketball players.
Zach (Fall Creek, OR)
What kind of improvement to you expect to see from your sophomores this year?
Craig Robinson
(11:30 AM)
I expect our sophomores to avoid the so-called sophomore slump. I think they will be big time contributors. They played a lot last season and they know what to expect from a college basketball season.
Craig Robinson
(11:32 AM)
I think the Pac-10 will be hugely completive after a down season last year. There are a couple of teams that are going to be picked at the top but after that it's anybody's league. I look forward to getting Oregon State to the top of the league and into the postseason.
Buzzmaster
(11:33 AM)
Thanks Coach Robinson. The Pac-10 is young but full of potential.
Buzzmaster
(11:34 AM)
Next up, Stanford's Johnny Dawkins.
Buzzmaster
(11:36 AM)
Coach is here!
Tito ((CA))
Coach Dawkins, besides Jeremy Green where will the scoring come from? You have such a young team
Johnny Dawkins
(11:37 AM)
We have to score by committee. We had some big losses, but what we hope to find that as the season progresses that some of our younger players help us out. Jeremy Green was a good player for us last year and as he goes into his junior year, we hope he can be even more consistent.
Paul (Dallas)
Coach, you started at a great academic instituion with Duke and you moved to another great academic institution in Stanford. How does that change your recruiting?
Johnny Dawkins
(11:38 AM)
I think when you recruit at a place like Stanford or Duke, of course your pool of potential candidates is smaller. But there are a lot of interested people. Guys who had the mix of academics and athletics, they're intrigued by a school of that caliber.
Kevin (LA)
Coach, you have a ton of freshmen on the roster this year. How long do you think before they're all playing up to speed?
Johnny Dawkins
(11:39 AM)
It's a process. It's always tough to guage when players will get up to stride and they become the players you can see in their potential. I've learned from past experience that you need to give them time to mature into the players they are capable of becoming.
Matt (IN)
Coach Dawkins, you were a fantastic player. What was it like playing for Coach K and what have you taken from him that you use in your own coaching?
Johnny Dawkins
(11:40 AM)
It was amazing playing for him. He was an unbelievable coach and more importantly an unbelievable person. Some fond memories that we shared both playing for him and as a coach with him. I feel fortunate to have played for him.
Darryl (Houston)
Is there one thing that you tried to take with you from Coach K and bring to Stanford?
Johnny Dawkins
(11:41 AM)
One of the things I learned from Coach is watching him every day and seeing him be prepared for every moment that we faced. And he has a true passion for what he does. Those are two things that show in his eyes and his emotions every day.
David (Boston)
Coach, you won a game in the Pac-10 tournament last year. How important was that for the team coming into this year?
Johnny Dawkins
(11:42 AM)
That was important, for us to see that we could go to the tournament and compete and win. Coming into this season now, our kids that are returning that were part of that, it gives us confidence that we can compete in the conference. And for the older guys, it will give them some confidence later in the year.
Dwight (Stanford campus)
Do you think free membership to the Sixth Man Club help the basketball club? A strong and spirited student section can only help right?
Johnny Dawkins
(11:43 AM)
Absolutely. We're excited about it. That's something that we think is really good for our student body. We have some of the best students in the country. They're very excited and very passionate. They can come in without being charged and be a part of a great atmosphere.
Matt (IN)
Do you ever give Jay Bilas grief about being better at talking about basketball than he was playing it? (Hahaha)
Johnny Dawkins
(11:44 AM)
You know me well. Of course I do! Jay and I are very close. We came to Duke at the same time. He's one of my closest friends. We do give each other hard times from time to time, as friends do. But he does a great job on ESPN and I'm sure he's excited about the things we're doing here as well.
Paul (Dallas)
team to beat this year in the pac 10?
Johnny Dawkins
(11:45 AM)
There are several teams that are expected to be very competitive. I think Washington will be the odds on favorite in terms of who they return. Arizona will be factoring into that as well. Along with Washington State. They return their scoring. I think those three will be looked on as the teams in our conference.
Brian (Dayton)
Coach, what are the biggest obstacles your team is working to overcome right now?
Johnny Dawkins
(11:46 AM)
The biggest obstacles that we're working at the moment is that we have so much to teach. Better execution in every aspect. When putting in a new system for the kids, it takes time. Execution on offense and defense will be important for us.
Kevin (Ky)
Coach, do you have extra pepto for all the freshmen mistakes you'll see?
Johnny Dawkins
(11:47 AM)
Actually, I'm really excited. I know they'll make mistakes, but I know they'll play well. There will be growing pains, but it's a process. I think the finished product at the end will be one that we can be proud of.
pete (ri)
do you listen to preseason predictions?
Johnny Dawkins
(11:48 AM)
Of course we read them and see them, but we don't put much stock in them. Everyone starts off 0-0. You just go out and compete and try to do the best you can.
ryan (ri)
do you feel like you have your team yet?
Johnny Dawkins
(11:49 AM)
Absolutely. I always look at every year that I coach, I'm coaching my team and my players. I don't look at it like these are my guys or aren't my guys. We have to grow as a group and go out there and compete and win. I feel comfortable with this group and I feel like we can win.
will (la)
best player in conference, non stanford guy?
Johnny Dawkins
(11:50 AM)
I guess one of the best players in the conference is Thompson from Washington State. And Williams from Arizona. He's a nice player. Those two guys I would think are two of the better players in our conference.
Johnny Dawkins
(11:51 AM)
I just really appreciate the fans' passion and support. Hopefully you'll continue to follow us and root us on to victory.
Buzzmaster
(11:51 AM)
Next up is Oregon's Dana Altman!
Buzzmaster
(11:55 AM)
Coach is here!
Dallas (Eugene, OR)
What can we expect from Joevan Catron after coming off a season ending injury?
Dana Altman
(11:57 AM)
Joevan has been battling some injuries again this year. His back has been giving him some problems and he's been having some issues with his hamstring. He's going to have to battle and get himself in shape. He's spent a lot of time in the training room. With that said, he's working really hard and I hope by Dec. 1 that he's back to normal and healthy and ready to go.
James (Cleveland, OH)
Hey coach, this season looks to be a transition year for Oregon. What can we expect from the team in a tough Pac-10 conference?
Dana Altman
(11:58 AM)
It will be a little bit of a transition year, for the guys and the coaching staff. Our numbers are not what we'd want them to be. We do have some obstacles to overcome. I like how the guys have worked. We have some injuries to overcome, but I hope by Dec. 1 that we'll be ready to go. It will be a matter of working through the early part of the season and then getting into the Pac-10 part of our schedule in January.
Kevin (Seattle)
how great is the new arena?
Dana Altman
(12:00 PM)
Well, it's a wonderful facility. The fans will notice how fan friendly it is. They really worked hard at making it a college arena, with no suites to take the fans away from the action. All 12,000-plus seats are right on the court and they're very close. And it's very athlete friendly. The lockerrooms are really nice. The training facility is great. We have two practice facilities, which is great for the student-athletes. I think it's going to be a wonderful facility, not just for the university but for the state, with all kinds of activities.
Kev (FL)
You come into a conference with a rich basketball history. How are you going to go about making a niche for yourself?
Dana Altman
(12:01 PM)
I think Oregon has had some success. I look at the success of those teams and I think we really have to recruit our area well. We have to get on the West Coast and get some players. If we're going to find our niche, we need to carve out a spot for us, recruiting. With the new facility and our new football team and other sports teams are doing very well, we have a number of athletic programs that have done well. We hope that strength will help us as a basketball program. We have a lot of things to sell at Oregon.
Tina (WSU)
IS Klay Thompson the best player in the league?
Dana Altman
(12:02 PM)
I don't know. You're asking the wrong guy. This is my first year in the league. Without being able to go through and see all the players, it's hard to make that decision. He's a great player, but as a first year guy, it's hard for me to make a determination.
Abby (NE)
Coach - after being the veteran in a league for the last 16 years, what's it like to be the new guy on the block?
Dana Altman
(12:04 PM)
Well, first of all, the coaches in the league are very professional and easy to work with. I've known most of them for a while. I've spent the majority of my career in the Midwest, so the location is different. The transition isn't as tough as it might of been because of the national attention we received at Creighton.
Randy (Orlando, FL)
Are you nervous about your first season as Oregon's head coach?
Dana Altman
(12:05 PM)
Oh, I don't know if nervous is the right word. I'm excited. This is a different conference for myself and our assistants. We're excited about the challenges that lie ahead. It will be different for us in the arenas. The guys have been working awfully hard and gives us reason for hope. It will be exciting and a new challenge. We're going to go out and play as hard as we can and make some things happen.
Jeff (LA)
how much of a homecourt advantage do you think the new arena will give you?
Dana Altman
(12:06 PM)
Well, if we can get it anywhere close to Mac Court, it would be great. Watching some film of some old games, the film starts to shake because the building was so loud. The building is set up really well. We'll have the students courtside on one side and in the endzone on another side. We'll be able to build that advantage. Will it be Mac Court? That's tough, because that building was old and noisy by nature. But I think this new building, if we produce the types of teams we're used to, we'll have a homecourt advantage also.
Brian (Dayton)
Coach, have you had to adjust your system at all as you have taken over a new program?
Dana Altman
(12:08 PM)
We want to give our teams an opportunity to be successful. We're going to try and do some things that we've done over the course of our career. We're going to play a spread offense and drive to the basket. We'll press like we've always done. We're going to run a system that I'm most comfortable with, which is a lot of pressing and changing defenses. We don't have the numbers we've had in the past, but I think we'll be OK.
Peter (Los Angeles)
You lost 10 of 12 games down the stretch last season. What has to happen this year so that won't happen again?
Dana Altman
(12:09 PM)
Well, first of all, we've got a lot of new players and a lot of players from the previous years are not with us. I think it will be important for our team to establish itself. Put our culture in. Win games down the stretch. But first of all we have to put ourselves in that situation. We have to play as a team. We have a lot of learning to do. It will be a growing process for our team and our coaching staff.
Matt (IN)
Coach, what kind of a transition is it for you to come to the Pac 10 after being in the MVC?
Dana Altman
(12:11 PM)
The MVC has had some pretty good years here. Supposedly the Pac-10 was down last year. We have a lot of young players in our system and in those systems. The playing schedule will be a little different. We had more time to prepare for some games. But I think conference basketball is conference basketball. When you get into the league, everyone knows everyone a little bit better. The second time you play a team, you really get familiar with them. No matter what league you're in, there are adjustments made between the first and second games. All of those details become important.
Dana Altman
(12:12 PM)
I appreciate the support we've received so far. Hopefully our recruiting efforts will continue to go well and we'll have success in the future.
Tim (New York)
You lost 10 of 12 games down the stretch last season. What has to happen this year so that won't happen again?
Ken Bone
(12:15 PM)
We had a young squad last year, 12 of our 13 players were under classman. I think the maturity of our guys will make a difference this year. They know what went wrong last season and I'm sure they want to finish the regular season with a better record.
Hugh (Pullman, WA)
Doug Gottlieb has you finishing second in the preseason Pac-10 standings with Washington finishing first. Is this the year of Washington state basktball?
Ken Bone
(12:17 PM)
I sure hope so. That's quite an honor to be recognized like that. I hope that we can be in the upper half of the Pac-10. Even though we haven't played a game yet, Washington is the top team in our league but any thing is possible. There is a lot or parity in the Pac-10. No body knows just how good or bad a team will be until we hit the court. Hopefully at the end of the season, Washington State will be on top.
Lewis (Utah)
How good is Klay Thompson?
Ken Bone
(12:18 PM)
When I first arrived a year and a half ago, he was a great outside shooter but now he can shoot from anywhere. He's worked on his pull-up jumper and is now a threat off the dribble. I also like his defensive game. I think he will be in the NBA in the next couple of years.
toby (eugene)
Whats your thoughts on playing at oregon's new arena, do you think i will still be as hard as playing at McAurthur court?
Ken Bone
(12:20 PM)
I think it will be a totally different environment. A totally different experience. It's a beautiful arena and I know the kids will love to play there. I think there was something so great about playing at McAurthur Court and I know it will be missed.
Paul (Boston)
Coach, Coach Dawkins from Stanford in this chat just listed your team as one of the best in the conference this year. How will you guys manage such expectations?
Ken Bone
(12:21 PM)
We will go out and do the best we can every single night and hopefully at the end of the year we will have more wins than losses. I don't think this year's expectations will play a part in our mind set. We still have to go out and play our game and get some wins.
Wes (Gilbert)
What do you think Brock Motums contribution will be this year?
Ken Bone
(12:22 PM)
Brock will see the floor quite a bit. I'm not sure if he will be a starter as of now but he will be an important part of the team.
Dan (Pullman)
Out of the returning players, is there anyone in particular that you see having a breakout year?
Ken Bone
(12:23 PM)
Marcus Capers definitely capable of having a breakout season. He's done a great job of preparing himself during the offseason for this upcoming season. You can expect great things from this kid.
David (Mass.)
There are some new coaches coming into the league the last few years. Do you feel like the conference could be taking a new shape with some of these coaches?
Ken Bone
(12:24 PM)
I guess it could be but I'm not sure what direction it's going in at this point. I do think more teams are more defensively oriented than a few seasons ago.
Tyler (Seattle)
do you feel your team is kind of under the radar going into the Season and could you suprise some people in the Pac 10?
Ken Bone
(12:26 PM)
We very well might be under the radar but Klay Thompson, Reggie Moore and DeAngelo Casto are no secert.
Max (New York)
What games do you guys have circled on your schedule this season?
Ken Bone
(12:28 PM)
We really don't have any games circled on our schedule but I think we are looking forward to playing Kansas State in the Big 12-Pac-10 Hardwood Classic. They are a top-10 team and it's always fun to matchup against teams of that caliber.
Gregory (DC)
What's your biggest hurdle this season?
Ken Bone
(12:29 PM)
I would say being able to defend in interior and rebound within Pac-10 play.
Ken Bone
(12:30 PM)
We are looking forward to the season. We are hoping for a better finish in Pac-10 play this season than we had last season. Thanks for the questions!
Buzzmaster
(12:32 PM)
Thanks coach, up next to finish the Pac-10 chat off is Coach Herb Sendek of Arizona State.
Paul (Austin)
Just how good can Ty be for you guys this year?
Herb Sendek
(12:36 PM)
I think Ty Abbott is in position to have a great season. He's coming off an All Pac-10 First team selection and he has dedicated himself this offseason to improving his game. I think he will have a terrific senior year.
Daniel (Arizona)
What returning players are you expecting to have a break out year?
Herb Sendek
(12:38 PM)
We only have five returning players. Three seniors - Ty, Will and Jamelle and two sophomores in Ruslan and Trent. I think all these guys will step up and have great seasons.
Jeremy (kirkland)
Which Freshman are going to see serious playing time this year?
Herb Sendek
(12:39 PM)
We are only in out second week of practice and are still working on our rotation right now. I do think our freshman will be a big part or our rotation. They can help out of overall athleticism of our team.
Stephon (NYC)
Coach Sendek, you guys had a successful season last year, winning over 20 games. How can you improve on that for this season?
Herb Sendek
(12:41 PM)
It will be challenging for us. We have a great non-conference schedule and I think the Pac-10 has a lot of parity and balance. Our young guys will have to step up and play well but I think we can improve on our 20-win season from a year ago.
Frank (Dallas)
There are a lot of new coaching faces in the league over the last few years. How have you seen it change just in the short time you've been at AZ State?
Herb Sendek
(12:42 PM)
There's actually been almost wholesale changes in the Pac-10 since I've been here. I think the only two schools that have the same coaches from when I started are Washington (Lorenzo Romar) and USC (Kevin O'Neill). We have some great coaches in this league and we are going to be challenged night in and night out.
Doug C (Scottsdale, Az)
For Herb Sendek--Coach, I just renewed my season tickets for SunDevil Basketball. What will be the same and what will be different this year compared to last year.
Herb Sendek
(12:44 PM)
The great thing about college basketball is that each year is a new beginning. Each season is a new journey. We will have to make up for the three seniors that we lost from last season but I think you will see our returning players step up and have a great season.
Ryan (SD)
You guys have a lot of young players on the roster. How has it been trying to get everyone to gel together?
Herb Sendek
(12:45 PM)
We still remain a work in progress. We try to become a more cohesive unit everyday in practice. I think our upper classman are setting a great example with their play in practice as well as with their words or encouragement.
Wally (NYC)
What's the difference between east coast basketball in the ACC and west coast basketball in the Pac-10?
Herb Sendek
(12:47 PM)
I think basketball is now an international game. Players are exposed to each other all year long while in high schoole so I don't think we are separated by regions anymore. One league might be slightly better than other but overall the game is the same.
Dave (New Orleans)
Other than the obvious in-state rivalry games, are there any other conference or non-conference games you and the team are looking forward to?
Herb Sendek
(12:48 PM)
I think as a competitor, we have to look forward to your next game. You have to give that one game all that you have and not worry about other games until it's time to play that specific team.
Herb Sendek
(12:48 PM)
Thank you very much for chatting with me.
Buzzmaster
(12:49 PM)
Thanks to all the coached that took time out of their busy schedule to chat with us. I see better days this season in the Pac-10 after a down season last year.