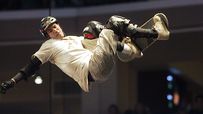 Burnquist has competed at every X Games since the event started.
On Tuesday, skateboarder Bob Burnquist stops by to chat with ESPN's skateboard editor, Adam Salo.
Burnquist has been skating competitively since 1995 and his career highlights include 17 X Games medals.
In September, Burnquist landed skateboarding's first MegaRamp 900 and did it fakie to fakie no less and in October, he ended up eighth overall on the Dew Cup standings in skate vert.
Send your questions now and join Burnquist Tuesday at 3 p.m. ET!
More Special Guests: Previous chats
ESPN
(2:59 PM)
Bob Burnquist is ready to roll answering your questions in just a bit.
des (cali)
What's the next addition to the Vista farm?
Bob Burnquist
(3:07 PM)
I have so many ideas man... Mega ideas are Mega expensive so it's tough to keep building. Have some Mega hip ideas and Danny has all kinds of ideas too.
Joey Gianguzzo (Cleveland,OH)
How comfortable do you feel trying a 1080.
Bob Burnquist
(3:08 PM)
I feel really comfortable trying it. Landing it is the problem....
Julien Stranger (SF)
What do you tell people about your Anti Hero tattoo?
Bob Burnquist
(3:12 PM)
People don't really ask me about it that much but I guess you just did. Anti Hero is where it started... I'm stoked on my tat. I got a few other ones too. But that one keeps it all in check. It's been a long road and that part of my life was a fun and important part of the skateboarder I am now. Anti-Hero.
Rick Howard (Torrance)
What's with the high top shoes?
Bob Burnquist
(3:14 PM)
It's all about function. I have ankles I like to keep for a long time and the type of skateboarding I do on a daily basis demands a high top. Feels good and solid on the board and safe when I fall off and bail.
Rob Merkin (Atlanta GA)
How do you split time between parenting and your skate career? Is your daughter interested in skating at all?
Bob Burnquist
(3:19 PM)
I just live and juggle my reality as best as I can. Main thing is having family there to support. My Wife Veronica is Brazilian and a physical therapist, so that makes a huge difference in that juggle. As far as the girls. The oldest one Lotus, goes to school and is a Dancer and likes horses. The young one Jasmyn likes everything 3 year old girls like. And Vitoria, the middle one is more of a doll.
Gill Theelander (Burbank, CA)
If you could eradicate one company in the industry, what would it be?
Bob Burnquist
(3:21 PM)
Flip Skateboards. Cause we're BAD!
Piper Smith (California)
You've been competing in X Games since it started. What's the biggest thing that's changed in skate competition since then?
Bob Burnquist
(3:21 PM)
The Ramps
Bob Drummer (New Jersey)
You just made it into the skateboarding hall of fame. Can you retire happy now?
Bob Burnquist
(3:24 PM)
Oh Man... That was so cool. That's a big deal for sure and as a Brasileiro it's such an honor. That word is hard to swallow though, How do you say it? Re.... Re.... Reti.. Give up, I can't do it. I'm gonna just keep Skateboarding.
Ryan Jasper (Colorado)
I heard you trademarked the term MegaRamp. Is that true? How does one go about trademarking a term like that?
Bob Burnquist
(3:28 PM)
Megaramp is a company, and both Danny and myself and a few other guys are a part of it and it's the business behind all things Mega. The ramps, contests, Mini Mega additions. Events are a big part of MegaRamp so that's what that is all about. We are also getting into some different products with the brand name.
Bob (San Diego)
Have you thrown more cab 900s on the vert ramp since that first one in September?
Bob Burnquist
(3:30 PM)
I haven't done that one on the Vert yet and haven't done another one on the Mega yet. Can't wait to try it again. I want to do regular 900s too. And 720s on the vert more consistently. Gotta stay on it...
bill (sd)
hawk seems to think you'll have a 1080 before the tomato. any truth to that?
Bob Burnquist
(3:36 PM)
That's rad. No pressure. Tony Hawk believes in me and that makes me want to go try it right now! Seriously though. I confess that I have really thought about going for it for real after the cab 9. I'm thinking it would be a great time to do it. My birthday this year was on 10.10.10 What better year to land the 10 ! I have a month and a half to find a day and really go for it. I would try it forward to fakie though. I think... I don't know...I'll just close my eyes and hope for the best.
Jesse (Seattle)
Who do you think is going to be the next big name in skateboarding?
Bob Burnquist
(3:42 PM)
ntonio Aguia .... hahaha...... I don't know. That's like asking what the lotto numbers are going to be. If I knew... There are great skateboarders out there right now and If Dylan Rieder comes to mind, he's already a big name. Or if I say Pedro Barros, you've heard of him, so that doesn't count. I'm seeing skateboarding progress out there and these kids are ripping. All over the world. No names. It's all skateboarding.
Art Vandalay (Vista, Calif)
When you think about later in life, do you see yourself here in the States or back in Brazil?
Bob Burnquist
(3:44 PM)
I don't know... that's so , in the future.... I'll decide when that day comes. Right now, it feels good to be where I am. Wherever I am.
Matthew Motush (California)
Whats your newest trick that you are working on?
Bob Burnquist
(3:47 PM)
I just kind of go and If I'm going to film something, I'll try what comes to mind. But I'll make a brief list of hopefuls: 1080. Consistent , 720s on the Vert ramp. , Switch kflip krooked Grind Mega rail , Heel flip 720s mega.... I know. It's a tall list. Gotta dream big.
Boris Yavern (White Bear Lake, Minnesota)
Will you ever film an all street video part again?
Bob Burnquist
(3:49 PM)
Sure, it just won't be that good.... hahaha.... or I'll do it as a skit comedy for skateboarders. Like, I'm not even trying to be funny and everyone's laughing. It will be great. Great idea...
Stan (Philly)
Have you ever gapped your MegaRamp on something other than a skateboard?
Bob Burnquist
(3:53 PM)
Travis Pastrana Backflipped the 70 foot gap on a pink big wheel... Then I jumped the 50' gap on the same little bike and rolled my ankle. Boohoo. Skateboarding is safer.
Sam Herkin (Groton, Connecticut)
What's your favorite memory from filming for the Anti Hero video (the one with the Cow on it)?
Bob Burnquist
(3:54 PM)
That's a blurry memory lane... let me see... Australia parks. Epic. Tasmania...
Brian Remers (San Luis Obispo)
Do you think the Big Air contest at X Game has gotten stale? What would it take to improve it?
Bob Burnquist
(4:00 PM)
The skateboarding itself is progressing so much. What we have to realize is that competition is a box. And you get stuck in there with certain formats. There are ways to improve and we are already talking about it and X Games is always open to changing things up a bit. We need to have more of an all around score. Where the 50' gap , the Rail and the 70' gap are all counted in the final score. We did something similar at the Mega competition in Brazil last year and it worked out pretty cool.
Dr. Von Nostrand (Manhattan)
What is your most significant injury to date? And if the right magazine paid you, would you wax your chest hair to get the cover photo, shirtless?
Bob Burnquist
(4:03 PM)
Hahaha... that's a different type of mag. What you reading? LOL I've been pretty healthy lately actually and it feels great. skateboarding a lot and taking photos. Covers just happen. You don't make them happen. A good photo is tough to come around.
Joe (Venice Beach)
What's your favorite spot to travel to and skate?
Bob Burnquist
(4:05 PM)
I love traveling to my house and skating my backyard. Seems like I'm always in and out of town. I love going to Brasil and checking out all the old stuff and new stuff to skate. Rawness. China was pretty fun too. Crazy food though.
Mark Kim (Korea)
Hey Bob. What would you say has been the hardest struggle you've had to overcome in skateboarding?
Bob Burnquist
(4:09 PM)
Wow... Korea huh? Thanks for sending the question... I would say the injuries are tough. Gotta deal with pain. The pain of staying away from your skateboard... that's the hardest pain to handle. Other than that, having to handle the business side of skateboarding. And juggling life as a parent and everything else that goes along with it. Those are all tough... it's all part of the journey though. Gotta experience the pain to grow.
Will Tritter (West Chester, Pennsylvania)
In your opinion, what pushes vert skating further progressively: Shaun's quest for the 1080 or PLG's continuing effort to make it as tech as possible? Which do you like to watch better?
Bob Burnquist
(4:14 PM)
It all pushes skateboarding. I love to watch the power in Shaun White's aerial skateboarding. I think PLG is more of a complete Vert Skateboarder. He has it all and is clean when he skates. The air, the flips, the tech, the spins. Whatever man. I just watch in awe all the combinations I've seen them both put together. They got Happy feet or something.
Gus Homer (Lancaster, Pennsylvania)
On an ideal, mellow skate day what's the preferred terrain and who would be on the session?
Bob Burnquist
(4:17 PM)
I've had a few mellow days on the Mega believe it or not. Just trying something on the manual pad or a tech lip trick on the quarter... as far as skating bros, I love to skate with Lincoln Ueda. He's been hitting the Mega with me on those mellow days.
Haley Jones (Bear, Delaware)
What's the ideal pre-session meal?
Bob Burnquist
(4:20 PM)
That's a great question... There are two things I like, either an Sambazon Acai bowl. Or a Green Salad with some Chicken or Tofu. Not much though. Just enough to get you through. Then you chomp down some more when your done skating.
Kelly Smith (Brooklyn, New York)
Do you think skating should be in the Olympics? Would you try to compete if it was?
Bob Burnquist
(4:25 PM)
I don't think it should be in there but who am I? I feel It's a bit premature and unnecessary and at this point I wouldn't compete in it. It just really depends what aspect of skateboarding is in it, what format. Who the organizers are. Is skateboarding being well represented or just used? Who knows these things... Not trying to force the issue. There are bigger things to focus on than the olympics.
Darrel Jergin (Omaha, Nebraska)
As someone interested in the preservation of the environment, what do you think skateboarding as a whole should do to cut down on waste and be a more conscious movement?
Bob Burnquist
(4:28 PM)
Keep progressing on the business side to more sustainable practices and to continue R&D in different raw materials for board construction. All aspects of the board... And also, Clothing, Footwear... Skateparks. If we progress at the rate skateboarding progresses tricks. We are gonna be ok.
ESPN
(4:29 PM)
That wraps it up. Thanks for all the questions out there. And thank you Bob Burnquist for taking the time to answer so many questions!