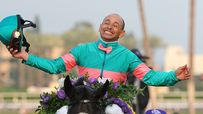 Welcome to SportsNation! On Monday, horse jockey Mike Smith stops by to chat about his undefeated horse Zenyatta as the two get set to ride in the Breeders' Cup (Nov. 5-6, ESPN, ESPN2, ABC).
Smith has ridden Zenyatta, a 6-year-old mare, in 16 of her 19 starts. She has earned over $6 million in winnings, including $2 million for her 2008 Breeders' Cup Ladies' Classic victory.
Smith, who got his jockey liscense at 16 in 1982, has been one of the top riders since the early 1990s. He has won all three parts of the Triple Crown: Preakness Stakes (1993), Kentucky Derby (2005), Belmont Stakes (2010). He was inducted into the National Museum of Racing and Hall of Fame in 2003.
Send your questions now and join Smith Monday at 2:30 p.m. ET!
More Special Guests: Previous chats | SportsNation
Buzzmaster
(2:16 PM)
Zenyatta jockey Mike Smith will be here at 2:30 p.m. ET to take your questions!
Buzzmaster
(2:31 PM)
Mike is here!
Susanne Kahler (Round Hill, VA)
Do you ever worry about her getting hurt, like Ruffian or Barbaro?
Mike Smith
(2:32 PM)
No, we have never been in a situation where I thought she could have. It can happen to anyone. But in the moment, you're in the heat of the race. As long as she feels good, I feel good.
Ryan (Auburn, AL)
Does the long stretch at Churchill change your strategy on Zenyatta at all?
Mike Smith
(2:32 PM)
I wouldn't say that it will change it. I think it's to our advantage. That's a plus for us.
Debbie (New York)
What do you think are the challenges for Zenyatta in Saturday's race?
Mike Smith
(2:33 PM)
It's always getting through traffic. She'll probably come from last. That's always a thing. And how she'll handle the dirt from the kickback. Those are the two main things.
Matt Zlotkowski (Enfield, Ct)
Mike, With Zenyatta's come from behind running style, the depth of the field for the Classic and what happened in the final furlong in the Lady's Serecet, are you worried Zenyatta will not be the first horse at the end of 1.25 miles?
Mike Smith
(2:33 PM)
I believe given the opportunity to run the race, I think we could see her do something really special. I really do. Anything can happen in a horse race, but I really think she can do something incredible.
Cathleen (Florida)
How do you thing racing under the lights will effect Zenyatta? Or is it not a factor?
Mike Smith
(2:34 PM)
It shouldn't bother her. I'm not even sure the lights will be on at that point. If it's a clear sky, they might not be on yet. The lights will be on Friday, not sure about Saturday.
Mike (Springboro, OH)
Mike, given all the anticipation, pressure, and ultra talented field, how will you know when to let her loose down the stretch, not firing too early? We're pulling for you!!!
Mike Smith
(2:35 PM)
We won't know that until the race is being run, until we see what pace is being set. It should be a really honest pace up front, I do imagine that.
Cheryl (Littleton, CO)
I notice in racing clips of Zenyatta, that in the beginning of a race, she seems to have an attitude of "having fun" and not paying attention, but towards the end of the race when she puts it into gear and gains ground, her ears are not pinned down like the other horses. Her hears seem to be signaling she is still not focused (even though she is). They are moving "this way and that" and it still looks like that although she is working, there is another part of her that is still in tune to something else...am I being too analytical? (I thought that how a horse's ears were positioned were indicative of what is going on with them...sort of like a dog's tail!)
Mike Smith
(2:36 PM)
You're good. You're right on. Look at the Sports Illustrated, it has a good look at her last race and who is having to really try and who's not.
Dan Peters (Minnesota)
Mike, good luck on Zenyatta! I was wondering, early in your career, how did you like riding at Canterbury Park (formally Canterbury Downs) in Shakopee Minnesota? Also what was your favorite restraunt there?
Mike Smith
(2:37 PM)
I loved it! It was a great, great experience. I had great times in Minnesota. One day I will make it back there to visit. All I have are good memories of Minnesota.
Steven (Del Mar)
Hey Mike, If you were not riding Zenyatta, and instead another horse in the field, what you would to try and stop her?
Mike Smith
(2:37 PM)
That's a tough question. I just don't know if she's stoppable.
Dave (REno)
Hey Mike, I know that you have been on Zenyatta for all 16 of her starts, but my question is when and where did you first realize that you had one of the greatest race horses in the last 20+ years?
Mike Smith
(2:39 PM)
Well, the first time I rode her. But I kind of realized it before. I got a chance to work her. After watching the three races that Dave rode her on, I already knew that she was something extremely special. She's not from here. I often tell people that she was sent from heaven.
Susanne Kahler (Round Hill, VA)
Are Zenyatta's owners going to retire her after the Breeder's Cup?
Mike Smith
(2:40 PM)
It's a good possibility that it's going to happen. But they haven't said and I haven't asked. They said that they'd wait until after the race to make their minds up.
Sue (Virginia)
Whats the real difference between running on synthetics versus dirt?
Mike Smith
(2:40 PM)
It's hard to explain. Synthetics don't have much slide to them. Horses don't really grip it and roll over the top of it, you just roll over it. I think she'll really like Churchill. We hope.
Mary (Buffalo, NY)
Since Zenyatta hasn't traveled much, do you have any concerns about her getting acclimated to new surroundings etc.? Also, how do you and she keep focused when there is so much pressure and media. It seems like there it's more pressure then going into the Belmont after winning the first two legs of the triple crown! Good luck!!
Mike Smith
(2:41 PM)
No, she's travelled three times. She's been at Churchill before though she didn't run. She travels very well.
sue (virginia)
Do you think they'll try to block you out from a huge stretch run?
Mike Smith
(2:42 PM)
If they have horse that they think they can beat me, I'm sure they'll try. It's my job to put us in a position where that's not going to happen. If it does, I'm also blessed with her size. She can move things easy, if need be. Hopefully that doesn't come down to that. We'll pick our spots carefully.
Sue (Virginia)
Mike...she seems to get really excited when see sees you. Is this unusual ...I mean it appears as if the's focused on really running and gets tuned in regardless of the situation.
Mike Smith
(2:43 PM)
I believe she gets excited when she sees me. I make it a point to not see her all the time, so that she knows that when she does see me, it's time to work or time to race. She knows when she sees me she's going to do something fun, so she gets excited.
Chris Fiegler (Latham,NY)
What is your favorite Horse race Track that you visit every year?
Mike Smith
(2:44 PM)
Woah, I have several. In New York, of course, it's Belmont. I love Lexington and Churchill.
Ryan (Auburn, AL)
Zenyatta likes to wait until line like no horse I have seen. However, she has won impressively on the dirt both times. What do you think accounts for that?
Mike Smith
(2:45 PM)
I actually think she gets over the dirt better. She'll get over anything, but I think dirt would be her favorite. It's certainly been her largest margin of victory. Has to count for something.
Sue (Virginia)
Mike...how do YOU handle all the commotion that surrounds her races. She has those cotton ear plugs...how to you keep focused?
Mike Smith
(2:45 PM)
I pray a lot.
Mike Smith
(2:46 PM)
Just say a prayer. Let's do it one more time. One more time.