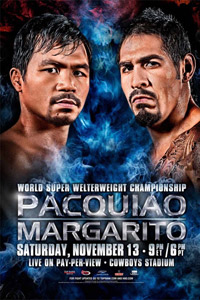 Welcome to SportsNation! On Thursday, we'll go inside the ring when legendary boxing writer Bert Sugar stops by to chat about this weekend's Manny Pacquiao-Antonio Margarito fight for the vacant WBC junior middleweight title, where Sugar will be ringside.
Pacquiao (51-3-2, 38 KO) takes on Margarito (38-6, 27 KO) in the title fight live from Cowboys Stadium in Arlington, Saturday at 9 p.m. ET/6 p.m. PT on HBO PPV.
Sugar has written over 80 books and from 1979-83 he served as editor-in-chief of The Ring. Sugar also, according to his bio on HBO.com, founded Fight Game magazine in 1998. Sugar has also appeared in a few movies, including recently in "Rocky Balboa," the final chapter of Sylvester Stallone's Rocky boxing movies.
Send your questions and join Sugar Thursday at 2 p.m. ET!
More Bert Sugar: Chats | Search | Boxing index
Bert Sugar
(2:05 PM)
Welcome to Dallas, Texas where, if Manny wins Saturday night, he will have two more wins at Cowboys Stadium than the Cowboys. With that said, this fight (according to ticket sales) will be the biggest indoor fight ever. Let's get this thing started!
Chris (texas)
Where do you rank manny in history among the P4P list?
Bert Sugar
(2:08 PM)
My tendency is to judge a boxers entire career, with an emphasis on their prime. I don't know where Manny is right now. Is he in his prime, is he past his prime or has he not reached his prime yet? I don't know. His legend is made with seven division titles and he can only add to it and not subtract from it. Although I think he's one of the best left handed fighters in history and defiantly the best Asian fighter in history. I can't judge him until is entire career is done.
Danny (San Francisco)
Hi Bert. Do you agree with me that this fight is an extremely dangerous one for the Pacman? I have a gut feeling that Margarito is going to pull one out of the hat.
Bert Sugar
(2:13 PM)
I like your reference to the hat. Antonio can win but I don't know if he will. I think he has all the tools. He has the reach advantage, height advantage and weight advantage. However, this man with the greater reach and height doesn't fight tall. He fights inside and that's Manny's province. He swings wide and it will go over Manny's head. I just don't think he really utilizes his tools and that's why I think Manny will get to him. But, as I said before, I'm not always right. I had Japan in WW II.
Greg D (Raleigh, NC)
Good afternoon Bert, plain and simple, who is going to win this fight and why? I have Pacquiao winning it by a decision.
Bert Sugar
(2:16 PM)
I covered a couple of reasons in the previous question but I can add some more. Manny is the more skilled fighter and Antonio doesn't seem to use his skills to his advantage. Manny is too fast and too good at throwing punches and getting away as Antonio throws punches and just stands there. I will say this, Margarito is one tough hombre but he swings too wide and he holds his hands too low. His left uppercut might go over Manny's head and he has no foot movement. He's a good fighter but this isn't his fight.
bee (bethlehem, pa) [via mobile]
Will mayweather ever stop running scared and fight pacquiao?
Bert Sugar
(2:19 PM)
I would like to believe that they will get it on. It is the most anticipated fight since Sugar Ray Leonard and Tommy Hearns. I don't think Floyd is scared of Manny, but I think he feels he can lose. Talk to Floyd for 10 seconds or less, and he'll tell you he's the greatest fighter and has never loss. Ali, Ray Lenard, Ray Robinson all loss but Floyd never has. And at 40-0 he's right. Pacquiao is a guy that was hoisted on him. I have him winning but in his eyes he thinks he might lose. After that, there is one "minor" problem, he's under investigation in Nevada and it will be hard moving around the ring with an ankle bracelet on.
pat (arizona)
Bert, your book the 100 greatest boxers of all time was given to me as a kid and I was hooked ever since. Did you ever write a sequal to that book with an updated list?
Bert Sugar
(2:22 PM)
Pat, I redid it as "Boxing's Greatest Fighters" two-three years ago. I changed some fighters around and added some recent fighters. If I did it for a third time, I would have to try to squeeze in Manny but I don't know where. Like I said before, he's good my I can't judge his career until it all over and done with.
Pauly (Denver)
How do boxers refrain from crying when they get punched in the nose?
Bert Sugar
(2:24 PM)
There's no crying in boxing! Usually, and I've suffered it a couple of times, your face goes numb but you don't cry. Sometimes you will tear up- not cry! But usually you're numb. You know it, and your opponent knows it but your eye ducts doesn't know it. Take it from someone who has had his nose broken double digit number of times.
Patrick (nyc)
Hey Bert! Who wins a dream matchup in both their primes: Manny Pacquiao or Aaron Pryor?
Bert Sugar
(2:27 PM)
I love these questions because no matter what I say I can't be wrong. Since nobody will know what the real answer is, I'm going to go with Pacquaio. It will be a fight with a lot of action and a lot of punches. The only think that Pryor would bring to the table is his strength. In a fight like this, nobody would be able to blink. It would be action, action and more action. The fans would love it and so would I.
john (Philly)
Do u think that Margarito used those illegal wraps his whole career?
Bert Sugar
(2:29 PM)
We'll never know. I can not quite believe that he didn't know what was going on with his hands. Every fighter knows. But it's up to his opponent's room and boxing officials to over see the hand wraps. The trainer for Sugar Shane Mosley was the first one to call him out on the wraps. No matter what, the skepticism will always be there but we will never know.
Bert Sugar
(2:32 PM)
I appreciate these, what I consider to be excellent questions. I like to thank these hard core boxing fans, which I think you are. Don't miss the fight Saturday night, it's sure to be a good one. If you have any friends in Manila, don't call them. They're all here!