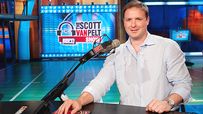 Welcome to SportsNation! On Wednesday, ESPN Radio's Ryen Russillo will be stopping by to chat.
Russillo is co-host of The Scott Van Pelt Show on ESPN Radio, which runs 1-4 p.m. ET. Listen live

He also hosts the NBA Today podcast on ESPN.com. He has covered the NBA draft since 2003 and prior to joining ESPN, he was a TV studio analyst for Boston Celtics games.
Send your questions now and join Russillo on Wednesday at 4 p.m. ET!
More Ryen Russillo: ESPNRadio.com | Chats | Search | SportsNation index
ESPNRadio.com
(4:01 PM)
Ryen is here. Chat activated.
Keith (UK)
Hedo Turkoglu - aside from eating pizza and sweating profusely after 2 minutes of action, could he not be best used on the pick and pop with Nash? How have the Suns overlooked this so far? Cheers
Ryen Russillo
(4:02 PM)
It hasn't looked good so far. Crazy when basically everyone can play with Nash. I imagine he'll start hitting shots, but he's not getting a ton of minutes, either.
Scott (South Dakota)
OK - Ryen - I'm throwing it out there. ATL should try to bring Carmelo down to "The Dirty." Any chance that happens? Pair him and Joe Johnson together? Whaddya think?
Ryen Russillo
(4:02 PM)
I would give up a lot for Melo. What is Atlanta giving up? Horford and Crawford? Now you're even smaller and not sure Denver would even do that.
habvib (san diego ca)
is the Heat overated
Ryen Russillo
(4:03 PM)
Overrated if you thought they were going to go 72-10. Still think they'll be a top-two seed in the East, win close to 60 games and struggle with their bigs. Gave up a ton of points in the paint, second-worst offensive rebounding team in the NBA. Not that those stats mean that they can't win, just something to pay attention to.
Gentleman Frank (here, there )
I was perusing through my music collection & realized The Cult have a song called "Red Jesus."
Ryen Russillo
(4:03 PM)
Did not know that. Haven't listened to The Cult a lot lately. One epic song.
saps (wa)
Ryen you guys need to have Les Miles on every week; that is pure entertainment!
Ryen Russillo
(4:04 PM)
How great is Les Miles? I guess he really likes the show. I don't even want to ask him normal football questions. I'd like to make him a life coach.
Jared (Charleston, SC)
Hey Russillo, decent show as always...do you give fantasy advice or take fantasy advice?
Ryen Russillo
(4:05 PM)
We try every day to at least be decent. I don't give out fantasy advice. Feel free to offer up some.
Damir (Hilo hi)
Hey Ryen, i see Cousins got benched after some initial ups and downs. What does he need to do differently or improve? And what is he doing right, if anything?
Ryen Russillo
(4:06 PM)
Needs to grow up. They hired his high school coach to be on the NBA staff, which is funny. When I talked to somebody about this this week, they were like 'Why is that going to work? He was a jerk in high school.' So until he decides he wants to be a good teammate, there are always going to be problems. Great talent, though.
Ryan (Stillwater)
I watched the entire Wolves-Lakers game and now believe Kevin Love is the smartest and most efficient player in the NBA. I guess Rambis found out if you play your best player, you will compete.
Ryen Russillo
(4:07 PM)
He was awesome last night. After that game was over, I wanted to call somebody, but most of my friends are married, and I just wanted to talk about Kevin Love, but they just wanted to go to bed. Now, against Odom it wasn't a great matchup defensively, but at this point, who cares?
Kevin Edwards (Tampa)
What happened to Russillo on the Road?
Ryen Russillo
(4:07 PM)
It is in final production. We are going to get a two-part effort published by the end of this week. It will be both Mizzou and Utah. Topics will include famous people, weight loss, flying without a government ID, the homeless and fighting three men in an elevator.
Nick [via mobile]
Ryen, can you honestly see lebrons style fitting with wade when lebron doesnt really play well of the ball and wade is a little bit better off the ball but needs the ball in his hands a lot as well to be effective?
Ryen Russillo
(4:08 PM)
I can see it working, but last night, they had to play Wade off of the ball and they got really good looks, whether it was Wade on a three or cutting baseline on Ronny Price. Offense is not their problem.
Zach (Greenville, NC)
You know you're big time when you're competing with WNBA player on the chat boards.
Ryen Russillo
(4:09 PM)
I knew traffic was light.
Michael C. (Westport, CT)
Are you auditioning for a late-night talk show, ala Conan? Seems like you're more interested in one-liners here and on your podcasts, instead of concentrating on basketball. Your thoughts?
Ryen Russillo
(4:09 PM)
Staples sucks.
Keith (UK)
Why was Vince Vaughan's wife not impressed with you?
Ryen Russillo
(4:10 PM)
Can you imagine being married to that guy? Every dude wants to go up and talk to him, so it must be hard for them to be out in public. He was nice, though.
Chris Fiegler (Latham,NY)
What is the Coldest Sporting Event that you have ever been to?
Ryen Russillo
(4:10 PM)
Harvard at UVM lacrosse in '94.
Chris A (Columbus, Ga)
Did Skip Bayless Imtemidate you?
Ryen Russillo
(4:10 PM)
I would say he intermediated me.
Birdman (Minnesota)
Ey Ryan, Bill Simmons called the Thunder a legit NBA Finals team, isnt that ridiculous?!
Ryen Russillo
(4:11 PM)
I wouldn't agree with that. Their bigs won't match LA's. Not now, not ever. They also had crazy health last year. Top nine players averaged 79 games. I'll keep bringing it up.
Karl (Hartford)
How much would it cost for you to do a speak at a college? My college is in Hartford and has some money to throw around
Ryen Russillo
(4:12 PM)
I need a signed game-worn Vin Baker jersey.
Carlos (Los Angeles)
More realistically close to 72 wins Los Angeles Lakers or Miami WEAK
Ryen Russillo
(4:12 PM)
Neither. Forced to pick, clearly L.A.
Chad (CoMo)
I was at the Mizzou game and help carry the goalpost. Did you make it to Harpo's?
Ryen Russillo
(4:12 PM)
I unfortunately was on I-70. Only the second game I've left early out of 22 in the last three years.
Randy (NJ)
What's your take on Sumo wrestling? would you watch it live?
Ryen Russillo
(4:13 PM)
Yes. Very corrupt, though.
Jake (NM)
Who would win at one on one? You or Van Pelt?
Ryen Russillo
(4:14 PM)
He thinks he would beat me. I disagree. If he can shoot half as good as he says he can, he's going to be tough to guard. He's 6-7.
Eddie (Hoboken, NJ)
Bigger problem right now: The economy or that James Dolan might seriously rehire Isiah Thomas to run the Knicks?
Ryen Russillo
(4:14 PM)
Isiah to the Knicks. I feel like that's the sequel to '2012,' called '2011.'
Zach (Greenville, NC)
What is the number one hygiene tip for dudes?
Ryen Russillo
(4:15 PM)
Girls don't like dirty ears.
Jed (Charleston,WV)
Do you have an issue with ESPN giving these "allegations" against Cam Newton more weight even without having any factual evidence
Ryen Russillo
(4:16 PM)
I don't have an issue with it because I know these reporters and I know they aren't just making stuff up. They have more than one source on the story, they're not reporting it as fact, it is being presented as allegations and just remember that when you read it.
Huff (Columbia, MO)
I feel like only a small amount of my boys and SVP are the only people who are aware of the brilliance that is 'Chopped'. Any thoughts?
Ryen Russillo
(4:17 PM)
Love 'Chopped.' Dessert ingredients are stupid, though.
james (hartford)
Ryen: Has Erick Dampier signed with anyone? I thought I saw reports saying the Rockets had picked him up. If not, how might he fit in Miami?
Ryen Russillo
(4:17 PM)
He and Houston agreed to not do the deal once the Rockets kept losing every game. I had read he wanted to go to Toronto, but picked Houston because they had a chance at the playoffs. So we'll see.
Steve (WA)
You've put your dues in when are they changing the shows name to Van Pelt & Russillo? Scott got bumped up to name sharing title with Mike Tricio after a few months.
Ryen Russillo
(4:18 PM)
My name isn't on the show?
MC Welk (SLC, UT)
If Duke figured out the flop, Derek Fisher was a visiting professor. Nice 'colliding rhino' visual from the couch.
Ryen Russillo
(4:18 PM)
I cannot believe Derek Fisher continues to get away with falling down. Do people feel bad for him? The best thing last night was Fisher getting the call for flopping and then yelling at Wes Johnson, who had been called for the charge. Who are you mad at?
Kyle (Sydney, Australia)
I listened to your podcast the other day with Thorpe, great show!That being said, I really disagree that Rose is some sort of an exclusive scorer who can't pass. He is averaging 9 assists per game for crying out loud, on a team without great shooters and in an offensive system where the ball is constantly moving. Please watch more Bulls games and you'll notice that Rose's passing and decision making has improve greatly.
Ryen Russillo
(4:19 PM)
I didn't say he can't pass. Thorpe did. He made two great passes in the last couple of minutes of the game against Denver. The biggest knock on Rose is his defense.
Dave (Southern Utah)
How good are the Jazz? D-Will best point guard in the NBA?
Ryen Russillo
(4:20 PM)
Should be top six in the West. D-Will is #2. Their offense is lost at times with all of the new personnel. First half last night, not decisive, too much passing. Much more assertive in the second half.
Monta Ellis (Oakland)
What's up Ryan ? Just letting you know I'm going to take my team to the playoffs and lead the league in scoring. That's it G.
Ryen Russillo
(4:20 PM)
John Hollinger called you the most overrated player in the NBA. You seem to have taken it personally.
Zach (Greenville, NC)
Noted. That Cleveland girl thought my hook (provided by you about delonte and promiscuity) was well conceived.
Ryen Russillo
(4:21 PM)
Some guys want to hate, some guys want to listen. You are welcome.
Jack (The Island)
You've seen TCU in person, if you had to predict a record for them if they played Auburns schedule what would it be?
Ryen Russillo
(4:21 PM)
One loss, two at most. Boise State three losses, Utah 8-4.
Jazzfan (Philly)
If Auburn loses to Alabama, who plays in the title game?
Ryen Russillo
(4:22 PM)
Auburn still plays if it's their only loss in the SEC.
Chris Fiegler (Latham,NY)
What is the Hottest Sporting Event That you have been to?
Ryen Russillo
(4:22 PM)
That's good. The sauna championships in Finland.
William (Portland,OR)
Ryan, what do you think the biggest problem is for the Wizards and their early season struggles
Ryen Russillo
(4:23 PM)
Blatche. He has no concept of what he's supposed to do and he's talented. I've liked him since high school, but he can't take 17-footers all night.
Erik (Missoula)
What is wrong with Brandon Roy? And how long is it going to be before he publicly admits to some sort of injury? Yes, I'm sipping Crazy-Ron Artest's Hennessy
Ryen Russillo
(4:23 PM)
I agree something is wrong with him. They are so long with Camby, Aldridge and Batum, they will still win games without Roy at 100%. And Miller has been more aggressive with his offense, so they can get by for a little while.
Daniel (Baton Rouge)
Do you think that Gary Neal can continue to be a solid spark off the bench for the Spurs (I remember him lighting it up at Towson a few years back). Also is there anyway this guy stays with them being that already have Parker and Hill?
Ryen Russillo
(4:24 PM)
I think he hit 5-7 threes the other night. It's crazy the Spurs can plug in a guy who wasn't in the league and he gets productive minutes backing up Parker with Hill out. I need to watch him more. My guess is these guys usually don't last.
Dave (Columbia, MO)
Share Colin's feeling on D. Rose not being a true winnner,? stemming from a supposed freeze out of LBJ
Ryen Russillo
(4:24 PM)
Normally I disagree with Colin before I hear what he says. After hearing this, I will continue to disagree.
Ryan (Stillwater)
My roommate's girlfriend is staying with us for a week. She smokes cigs in the house and drinks all my sunkist. Do I say anything to her or my roommate?
Ryen Russillo
(4:25 PM)
Tell her you're diabetic and Sunkist is your emergency juice. And if that doesn't work, tell her you and her boyfriend have secretly been seeing one another since last semester. She will probably leave and that will eliminate the cigarette smoke.
Chris A (Columbus, Ga)
When will you bring back Who Made More Scrilla
Ryen Russillo
(4:25 PM)
Never.
Jack (The Island)
Do you get paid to do these chats? Are they optional or are they included in your contract with ESPN?
Ryen Russillo
(4:26 PM)
Optional.
Evan (Tuscaloosa)
How "on fire" would the Pacers have been in old school NBA Hang Time last night?
Ryen Russillo
(4:27 PM)
They would have been playing shirts and skins from their uniforms being burnt off their bodies.
Zack (Milwaukee)
Who dougies better, you or svp?
Ryen Russillo
(4:27 PM)
That is a strong neither.
Alan (Baltimore)
Thoughts on the Cavs so far? Can JJ Hickson be the best player on a playoff team?
Ryen Russillo
(4:27 PM)
No. I think they're in the 35-40 win group. Mo Williams has got to play better and not just assume he gets to take a million shots. The offense consists of Sessions drives and Sessions drives and kicks. Jamison doesn't seem real involved. Gibson has been really good.
Oregon Dance Team (Autzen Stadium)
We loved your appareance on ESPN First Take Trevor! Come back to visit sometime
Ryen Russillo
(4:28 PM)
Eugene has a great memory.
Pete (Denver)
How many flights to get to Berkeley tomorrow?
Ryen Russillo
(4:28 PM)
I haven't looked yet. I think it's just two.
Jay (Detroit)
Huge argument between me and my buds...is Skip Bayless' hair real??
Ryen Russillo
(4:29 PM)
Nah. He put it on right before TV. Kind of like Darth Vader.
Jack (The Island)
Do you or do you know anyone at ESPN that is an avid bettor on sports?
Ryen Russillo
(4:29 PM)
One guy I know for sure.
Karl (Hartford)
What is the one stadium in sports you have not been to and most want to go to?
Ryen Russillo
(4:29 PM)
The Grove in Ole Miss and the Rose Bowl.
Andy (Des Moines)
will gameday be in Iowa city for IowavOhio St?
Ryen Russillo
(4:30 PM)
TV maybe, radio no.
Alan (NYC)
Does Eddy Curry sign with another team after this season?
Ryen Russillo
(4:30 PM)
100% yes.
Jack (The Island)
If ESPN was having a pick up game of Basketball, who gets picked first, and who gets picked last?
Ryen Russillo
(4:30 PM)
Bob Ley gets picked first, Vinny in the caf gets picked last.
Chris A (Columbus, Ga)
How happy were ypu when Lil Wayne was released from jail
Ryen Russillo
(4:31 PM)
Real happy. Three years of no booze, though.
Daniel (Baton Rouge)
If you and SVP had to star in a "buddy cop" TV series what the would be the name of the show?
Ryen Russillo
(4:32 PM)
Sgt. SVP and His Buddy OROfficer Longjeans and Lt. Hurt
Spalding Q. Jones (Columbia, MO)
Rank the Following sports to cover in order of what you enjoy most: CFB, NFL, NBA, CBB
Ryen Russillo
(4:32 PM)
NBA, CFB, CBB, NFL.
Pete (Denver)
Brian Wilson vs Les Miles who wins in a battle?
Ryen Russillo
(4:32 PM)
Same guy. Would never happen.
Aaron (Utah)
This long into the chat and we have yet to mention the name "Millsap" or the amazing win for the Jazz last night? For shame.
Ryen Russillo
(4:33 PM)
Except for the two times when we did earlier. He was great. So many of his shots look liked they were bad shots and they all went in.
Clay (Athens, GA)
Nice MC Hammer reference on the podcast yesterday, Rick Ross...Who says no to a Bogut for Josh Smith deal?
Ryen Russillo
(4:34 PM)
I'm conflicted on Rick Ross. I don't think he's a great rapper but I find myself liking him more and more.
Steve (Utah)
Saw you over weekend at the great campus of Utah..... fully expecting that will be last time I see you in Utah
Ryen Russillo
(4:34 PM)
That's a very good guess.
Ryen Russillo
(4:35 PM)
Milwaukee says no, gets mad and then makes fun of Atlanta for even calling.
Mike Fiore ((boston))
hey rayan many people are talking about blake griffen and of course john wall i am a crazy huge celtics fan but i do watch all nba when they aren't on, am i wrong to be overly impressed with rookie eric bledsoe i mean the guy has been killing teams is he really going to be the second option at pg when davis comes back and do think similar to me that if he gets the starting nod he could surprise the leauge and asert himself enough to be named rookie of the year
Ryen Russillo
(4:36 PM)
In short bursts, a lot of players look great. Bledsoe didn't look great last night. I hope you're not saying you would take him over Wall or Blake. He's athletic enough to play in the league a long time, but his instincts don't always look like a PG.
Tim (Texas)
Thoughts on the pistons? Why is a team with this much talent so bad down the stretch? Throw me a bone!
Ryen Russillo
(4:37 PM)
No center, no PG on roster. That matters. They should just let Monroe play and make mistakes.
Evan (Tuscaloosa)
Oregon's O this year vs. Bama's D from last year... Who wins?
Ryen Russillo
(4:37 PM)
Oregon.
Eddie (Hoboken, NJ)
Dave Kahn vs Isiah Thomas in the new reality show "How To Destroy A Team and Alienate An Entire Fanbase", who wins?
Ryen Russillo
(4:37 PM)
The viewers.
Connor (Boston)
Got spit on at TC's Lounge a few days ago. Whats the worst bar in Boston?
Ryen Russillo
(4:39 PM)
I could play this game all day. The best bar, which some have called the worst, is the Can Tab in Cambridge. I urge everyone to go and ask for Donnie. They used to let me setup in the back with a table and play quarters while they were open. Great music, weird crowd. Harvard professors, college kids, homeless people. TC's a good one. I only used to go to a few spots where I knew people because none of my friends went out anymore, so I was just old and would talk to somebody who worked there.
Spalding Q. Jones (Columbia, MO)
Any advice for a college grad (in 5 weeks) looking to get into sports related work?
Ryen Russillo
(4:39 PM)
Marry rich. Or decide nothing is going to stop you from doing this, because if you're going to be talked out of it, don't bother.
Tim (Texas)
Does milsap go back to the bench once memo is back? Or is al jeff the odd man out?
Ryen Russillo
(4:40 PM)
Al was the odd man out last night. Sloan won't care. It could be a matchup thing, but crunch time minutes are no lock for Al.
Daniel (Baton Rouge)
If you could make any 3 moves to change the Timberwolves what would they be?
Ryen Russillo
(4:41 PM)
I'd try to trade for Biendris, pair him with Love, tell Rubio Minnesota has moved to Florida, and then once he shows up, just go 'Sorry!,' and ask Rambis to loosen the system offensively.
Chris A (Columbus, Ga)
Have you heard Lse Miles say Arkansas
Ryen Russillo
(4:42 PM)
Are-KANSAS.
Pete (Denver)
Colorado's record next year? do you see game day coming to Boulder?
Ryen Russillo
(4:42 PM)
Maybe if we're off that week.
Ryen Russillo
(4:43 PM)
I hope you guys like the chat. People get mad if it's not all NBA or all college football. This is the way we're going to do it: a little bit of everything. So thanks for stopping by. Off to San Fran. Russillo on the Road will be up this week.
ESPNRadio.com
(4:43 PM)
That's all, folks. Have a ballin' week.