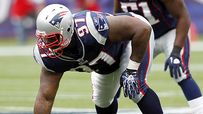 Brace has played his high school (Worcester), college (Boston College) and pro (Patriots) football in Massachusetts.
Welcome to SportsNation! On Tuesday, New England Patriots defensive lineman Ron Brace stops by to chat as his team prepares for a key Sunday night matchup with the Pittsburgh Steelers.
The Patriots selected Brace, in his second year in the NFL, in the second round (40th overall) of the 2009 draft. With a 6-2 record, the Patriots are tied for the best record in the NFL.
Send your questions now and join Brace Tuesday at 1:15 p.m. ET!
Ron Brace online: @RonBrace
More Special Guests: Previous chats | SportsNation
Buzzmaster
(1:17 PM)
Ron is here!
Ricky (Buffalo)
you're a huge guy, how much do you bench press?
Ron Brace
(1:18 PM)
Anywhere between 480 and 500-and something.
Matt (Tallahassee FL)
Hey Ron, in recent weeks there has been a lot of talk about Merriweather. What is he like as a teammate. Is he a leader on the field and in the locker room?
Ron Brace
(1:18 PM)
I see him as a leader. He tries to keep people in the right mind. He doesn't pound you over the little stuff. Works hard. I wouldn't ask for anybody else.
pats55 (worcester)
do you still keep tabs on your hs alma, burncoat?
Ron Brace
(1:18 PM)
I hear they're not doing so well right now.
Ron Brace
(1:19 PM)
I heard all of the teams in the area have no wins until they played against each other. That area is not looking so good right now as far as recruiting.
kareem (attleboro)
do you think playing all of your football in mass is going to become a distinct advantage once the cold hits?
Ron Brace
(1:19 PM)
Yeah, I think it is. This is the weather that I learned football in.
Daniel (Bristol)
Hey Ron, keep up the good work. After last week game do you guys still believe that you can stop the run? And what is worse, losing a game or have to deal with Bill after?
Ron Brace
(1:20 PM)
I definitely think that we can bounce back from this one. It's just a fact of minding our P's and Q's. We should be doing fine. I think a loss is worse.
Prasad (Boston)
What do you and the rest of the line communicate about the most pre-snap? Or do you let the linebackers and opposing linemen/QB do all the talking?
Ron Brace
(1:21 PM)
I know we just look at our reads and keys. I'm looking at everything. If you're in my eyesight, I'm looking at you. The periphs too.
NO (Boston)
What changes in your game have earned you more playing time with the Pats in the past few weeks?
Ron Brace
(1:21 PM)
Brushing up and working harder on my focus in practice. I would credit that in my increase in playing time.
Rob (Burbank)
Ron Brace thanks for taking the time for this chat. My question pertains to the run defense on Hillis compared to the other RBs you have faced this year. What made stopping Hillis so much more difficult? Hopefully we can do what we did with Wes Welker and if you can't beat them you try to get them! Good luck with the rest of the season.
Ron Brace
(1:22 PM)
Basically, he's just a downhill runner. Those are known for being hard to tackle, especially if you're arm tackling. You can't dive at his legs, you have to wrap him up chest to chest.
Phil (Northeastern)
Hey Ron, during your time at B.C., what was your favorite place to go eat? I have heard really good things about Eagle Deli.
Ron Brace
(1:23 PM)
You answered the question. Actually, no. Jim's Deli is the place.
Kyle D. (Brookline,MA)
Hey there Ron, aside of your football career with the Patriots....I heard you like to cook and are a cartoonist in your free time? Please elaborate more, Thanks
Ron Brace
(1:24 PM)
Yes I am into those things. I'm just glad they didn't pull out a stove today.
MarkJ (Japan)
Ron, what do you think is the biggest difference between college and pro football?
Ron Brace
(1:24 PM)
I would say the amount of work that goes into scouting another team. Film study and that playbook.
NO (Boston)
Which do you like playing better in the 3-4 - DE or NT?
Ron Brace
(1:25 PM)
Either position doesn't matter to me, as long as I'm on the field making plays.
Eric (GA)
After the game this week which game do you think will be the most challenging for the team the rest of the season
Ron Brace
(1:25 PM)
I will tell you right now, Pittsburgh.
Mike (Wakefield)
Ron, great job the past few weeks, looking good. Myself and I'm sure many others are curious, what do the linemen do for a post game meal? Are there steak and rib challenges etc?
Ron Brace
(1:26 PM)
Everybody has their own different things. Somebody will have a protein shake. I like a couple of uncrustables and a Gatorade. After, that's where we kick it in.
Prasad (Boston)
Do you have any superstitions or rituals you do before the game?
Ron Brace
(1:27 PM)
I have to watch New Jack City.
Tony (Tunkhannock)
Where do you see the Patriots at the end of the season? AFC Champs? Division Champs?
Ron Brace
(1:28 PM)
To tell you the truth, it's way too early to make a prediction like that. The only thing I see is us standing on Heinz Field.
Pete (Oxford)
Ron, you were a stud at Burncoat High and I keep up with you in the T&G. Do you make it back to Worcester much?
Ron Brace
(1:28 PM)
Not as much as I would want to. The last time I was out there was in the offseason.
Prasad (Boston)
Hi Ron, which of the Patriots' O-linemen is the toughest to go against in practice?
Ron Brace
(1:29 PM)
All of them.
Shaun (NJ)
What are your thoughts on Tom Brady's new hair style?
Ron Brace
(1:29 PM)
I would say that he needs a new conditioner. It's not as bouncy as I would think. Like Polamalu.
Mike (Worcester ma)
how complicated is the defense of the patriots defense to learn? How long do you think it took you to fully get it down?
Ron Brace
(1:30 PM)
It's about the same amount of time to get down calculus. I'm still learning....just kidding. But it takes a while. A long time.
Ron Brace
(1:30 PM)
I love all the fans!
Ron Brace
(1:31 PM)
Follow me on Twitter: @ronbrace.