Chat with Collin Balester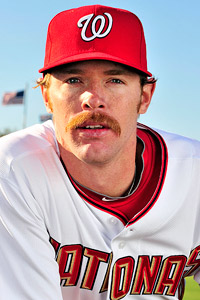 After starting the first two years of his career, Balester successfully transitioned to the bullpen in 2010.
Welcome to SportsNation! On Tuesday, we call to the bullpen for Washington Nationals relief pitcher Collin Balester to chat MLB and his thick, burly mustache.
Coming off a career-best 2.57 ERA in 2010, Balester consulted with the American Mustache Institute and recently sacrificed his glorious lip sweater on behalf of the Movember charitable mustache growing campaign to raise funds for the Prostate Cancer Foundation and LIVESTRONG. Check out, and join, his Movember team.
So, join the chat, whether it be to ask him about his mouth curtain, his thoughts on the Nationals in 2011, his teammate Stephen Strasburg (for the 8 billionth time) or his favorite pickled sausage in an NL city.
Send your questions now and join Balester Tuesday at 3 p.m. ET!
Colling Balester online: @ballystar40 | CollinBalester.com | Movember Team
More Special Guests: Previous chats | SportsNation
Brad (Gadsden,Alabama)
Colin, Do you have any pre-game rituals?
Collin Balester
(3:00 PM)
I used to have a lot as far as eating and other things. Now, being in the bullpen I don't have too many. I just pound my Mona Vie and get ready to pitch
Chris Fiegler (Latham,NY)
Do you think that P Stephen Strasburg will be the 2011 N.L. Cy Young Award Winner?
Collin Balester
(3:01 PM)
If he was healthy I'd say he'd have a chance. But he won't pitch until September. But he'd have to have an amazing month. I wouldn't rule anything out in this game.
Ryan (Reynoldsburg,Ohio)
Best current mustace
Collin Balester
(3:03 PM)
I'll stick with the best sports mustache, and George Parros has the best in sports - no doubt.
Crazy Nats Fan (USA)
Do you think your career mirrors the career of Cliff Lee? Will the Nats make a mistake if they trade you this off season?
Collin Balester
(3:05 PM)
Cliff's a starter and I'm a reliever, so it's a bit different. But I'm getting ready to start my 8th season with the Nationals and that's all I can control.
Matthew (Columbia, NJ)
Hey Colin, what cities are your favorite to visit?
Collin Balester
(3:06 PM)
I love the California cities because I get to go back home. But I also like Milwaukee. It's my favorite because I get to see a mustached Mascot slide down a slide.
sweetpea (dc)
hi, ballystarz! on a scale of one to shut up, how sick are you of the mustache questions?
Collin Balester
(3:07 PM)
I love the mustache questions. I wouldn't be trying to raise money for Movember if I didn't enjoy doing it. It's fun, answering questions about it and growing a new one for charity are things I don't mind doing at all.
Joel (Huntington Beach, CA)
What is your favorite thing about playing in the big leagues? Is it what you thought it was going to be?
Collin Balester
(3:09 PM)
I watched the Angels growing up. And being able to play on the same level of these amazing players that I saw and idolized as a kid makes me thankful every day for being able to suit up in a big league uniform.
Ron Jeremy (LA)
Why are you not a finalist for the American Mustache Institute's "Robert Goulet Memorial Mustached American of the Year" award?
Collin Balester
(3:10 PM)
In speaking with the American Mustache Institute, I'm told I was not nominated and have debated this as I believe my mustache is indeed an award winning lip sweater.
Abraham Jonas Froman (St. Louis)
Will you be coming to 'Stache Bash 2010?
Collin Balester
(3:11 PM)
Looking for a cheap flight to St. Louis right now, and if I do, I'll be the first one in the building on December 4th at 'Stache Bash.
Section138 (Rockville, MD)
You hit two batters in the head in the span of a few games last year. How did that affect you, and can you do it to Chase Utley this year?
Collin Balester
(3:12 PM)
I wish it were remotely amusing, but those were my two worst moments in the big leauges for me to date. It's not something I would ever want to do ever again.
Mike Schmidt (Philadelphia)
Would you ever consider accentuating your mustache with a perm?
Collin Balester
(3:13 PM)
I think a gheri curl would look better on me but I would never rule anything out.
Roger Clemens (Houston)
What are your thoughts on performance enhancing drugs in baseball?
Collin Balester
(3:15 PM)
I think MLB is doing a really good job. The testing is fair and no one should be able to get away with doing that so we have a fair game for everyone. Clearly, performance enhancing drugs have no place in baseball.
Alicia (Washington)
The Nationals bullpen seems to have an unhealthy relationship with sugar-free Red Bull. Care to elaborate on why this may be?
Collin Balester
(3:17 PM)
I'm a Mona Vie man myself. Being in the bullpen sometimes gets tiring and you need a little kick. But at least baseball is going healthy, hence the sugar free!
nick johnson (arizona)
Love the stache. How the nationals looking for next year. Do u throw harder out of the pen?if yes.how fast is ur gas???
Collin Balester
(3:19 PM)
We finished pretty strong and have some guys who've come up and really helped up. Our pen is looking better and so are the starters. If we can add one more quality starter and our young guys continue to prove the system is producing quality players -- we should be in good shape. As far as my gas, as a starter I top out at 92 - 93 but out of the pen it's 95 - 96 so I do throw harder out of the pen since I don't have to throw as many innings.
Mr. Sterling (Florida)
Do you feel you need to add another pitch to your fastball, curveball and changeup? BTW, your curveball is nasty! One of the best on the Nationals!
Collin Balester
(3:21 PM)
As a reliever, those 3 pitches are enough. If I end up back in the rotation, I'd have to add another pitch.
Scott (SD)
Better facial hair: You or Brian Wilson?
Collin Balester
(3:22 PM)
He's clearly got a better beard and I have a superior mustache. But if you dyed my facial hair, I'd win out.
Joe Smith (Paw Paw, IL)
When you were growing up, who did you try to pitch like?
Collin Balester
(3:23 PM)
I didn't really idolize any pitchers growing up. I just liked watching the Angels play. Never had any lessons and simply did what my dad told me to do. I did like watching Bartolo Colon and Aaron Sele when they were with the Angels.
Jason Snelling (Huntington Beach)
Do you agree or disagree with your old high school coach's decision to ride a Moped around and trying to become a TV chef?
Collin Balester
(3:26 PM)
I had advised him to spend a few bucks extra and buy a high quality moped, but he didn't listen, and therefore bought a very unsafe model that I disapprove of. I have actually safety tested this myself last year.
Spinman (Florida)
Collin, out of the bullpen, would you like to be a set up guy, mid reliever or possibly a closer?
Collin Balester
(3:27 PM)
I want to do anything I can to help the bullpen. I have preferences, but will just pitch the best I can and see you for Christmas dinner Gail.
J. Welderson (Chicago, IL)
Did you know that an advanced pitching stat has you as the second-best pitcher on the Nationals this year, behind Strasburg? Should you demand a raise?
Collin Balester
(3:29 PM)
Yes, I've advised my agent to request a year's supply of mustache wax for my locker. That amounts to 2 cans.
James (Ohio)
After logging nearly 700 plus innings in the Minors, what is the biggest thing you can take away from your minor league experience as you transition to a full season in the Bigs in 2011?
Collin Balester
(3:30 PM)
For me it's all about getting a little bit of comfort. I wouldn't say I'm completely comfortable yet, but I think I've learned how to pitch and will be ready for a full season.
J.B. (PA)
Since you play in DC, which president do you feel had the best mustache?
Collin Balester
(3:31 PM)
Shamefully, the last president with a lip sweater was William Howard Taft. That means we have not had a Mustached American president in nearly 100 years. This is unsettling.
Dave (Boston)
What got you into growing a mustache?
Collin Balester
(3:32 PM)
It was last year -- Movember -- me and my buddy Anthony Flama did it on a bet and I kept it the entire season. Now, I'm an avid Mustached American and the Southern California Bureau Chief of the American Mustache Institute.
Collin Balester
(3:33 PM)
Check that. Anthony Slama. My moderator does not have a mustache and therefore lacks intellectual capacity.
Bundy12345 (Virginia)
What is the biggest difference in the managing of the Nationals between Riggs and Manny Acta?
Collin Balester
(3:35 PM)
They are actually pretty similar. Both good leaders and understand how to prepare a team to play on a daily basis. I think the difference was that our team was growing up during the season and we really began to gel as Riggs took over the helm.
Jim the Photog (Syracuse NY)
What are a couple of the things you actually like about the smaller cities (ie; Syracuse) you've been in?
Collin Balester
(3:37 PM)
I like both big and small cities. I'm not really famous so I don't often get noticed. But I liked Syracuse a lot. I actually didn't think of it as a small city. Good town.
Bundy12345 (Virginia)
How would you say pitching coach Steve McCatty has helped you the most?
Collin Balester
(3:40 PM)
Every coach I've had has really helped me out. McCatty helped me grow up a lot in the minors as well as the majors, and Greg Booker coached me in the minors as well and was a big help. But they are both great coaches who have positively influenced my career.
Nats Fan (MD)
Playing for the Nationals at 5 million a year or Playing for the Yankees, Winning a World Series ring at $425,00 a year. Which one do you pick?
Collin Balester
(3:42 PM)
I'm in this game to play in the playoffs and win championships. Money is not what I play this game for and I hope to win a championship someday with the Nationals. If I was guaranteed to play in the playoffs every year but only at the MLB minimum - I'd be happy. You play to win championships.
Jeremy (Bristol, CT)
What makes your 'stache better than that Dr. Perlut of the American Mustache Institute who thinks he knows everything about mustaches?
Collin Balester
(3:44 PM)
He and I plan to have our mustache go mano-y-mano at 'Stache Bash 2010. We'll just see who's mustache is better.
hayden (logan, ut)
when will people figure out that there is power in a stache?
Collin Balester
(3:46 PM)
Well, according to studies the mustache makes you 38 percent better looking so at least I have that going for me.
Collin Balester
(3:47 PM)
Thank you so much. Be sure to check out my Movember page. It goes towards a great cause. The link is up top. Go Nats!