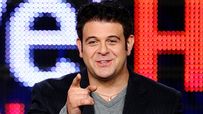 Richman began hosting "Man v. Food" in 2008.
Welcome to SportsNation! On Thursday, we're going to welcome in someone who fits right into our chat land: "Man v. Food" host Adam Richman.
Richman, in addition to traveling the country eating, just released his book "America The Edible: A Hungry History, From Sea to Shining Sea." The book follows Richman around the country in his travels as he explores the ethnic, economic, and cultural factors that shape the way we eat.
In Man v. Food, Richman, a Brooklyn native, travels the country in search of the best places to do some serious indulging. After hunting down the can't-miss flavors that make up each region's unique culinary history, he takes on the city's toughest food challenge.
Send your questions now and join Richman Thursday at 1 p.m. ET!
More Special Guests: Previous chats | SportsNation
Buzzmaster
(12:45 PM)
Our man Adam Richman, host of "Man v. Food," will be here at the top of the hour to take your questions!
Chris (PA)
What are your feelings on sushi at sports stadiums?
Adam Richman
(1:18 PM)
I know they have it at Yankee Stadium now and I understand it's quite good and I appreciate a healthy alternative, but it's a ball game, and at a ball game I think you should have ball game food. But that's just me. Plus, a shady hot dog is kinder on your body than shady sushi.
Dave (Chicago)
Is the book just a log of your travels or is there more to it?
Adam Richman
(1:19 PM)
There is a lot more to it. It's nothing to do with the show. It's a little bit of culinary-anthro, but in a non-deuchy way. It's a little explanation into why we eat, what we eat, where we eat. Some recipes, maps and lists of everything from great food movies to condiments that you don't have in your fridge, but should. Basically, I want it to be a tool to discover eating around the States. Plus, when closed, it makes for a handy coaster for two jumbo sized beverages.
Tom (NJ)
What was the worst thing you had to eat on man vs food but had to pretend it was good?
Adam Richman
(1:20 PM)
The challenge in Denver was hard, because I was extremely sick with a 101 fever, a bronchial and sinus infection. Add to that I hate chunks of ham and green pepper in food and that dish had both. Truly a sucky experience.
Mitch (CT)
How closely do you need to monitor your health given the amount of fatty foods you eat? Are you ever concerned about your diet?
Adam Richman
(1:21 PM)
I would be concerned, if I were not as vigilant as I am. When I started the show before the first episode was filmed, I went to specialists ahead of time because I wanted to start with a baseline of good health, versus correcting bad health down the road. Plus as a single man, I wanted to bring sexy back a little bit. I enjoy seeing my toes in the shower.
Allan (Cleveland)
Great meeting you Tuesday...Seeing as you lived in Cleveland, what are your feelings about LeBron James?
Adam Richman
(1:24 PM)
I can't put myself in his position and imagine that kind of pressure at that age. However, the idea of putting your making your decision a prime time event, I have a hard time with. If he had chosen to stay, he would have needlessly chosen to drag the city for a long time. In choosing to leave, he makes his decision to leave very public. I think Durant did it the right way. He made his decision and went about his business. As someone who is so thorough as LeBron, I Was shocked to see him make his decision is such a public way that humiliated the great city of Cleveland, but you can't keep a great city down. But I haven't walked in his shoes and I certainly haven't done that little chalk thing before a game. And if I could have played with Wade and Bosh, I couldn't have turned it down.
Ken (San Jose Ca)
What Man v. Food challenge is more difficult for you - massive amount of food or smaller postions that are very spicy?Keep up the entertaining shows.
Adam Richman
(1:24 PM)
The spicy are pretty awful. They are all pretty difficult, but the spicy are painful from start to finish. The large ones start bad, but the ingestion of it doesn't start at agony.
J.B. (PA)
When are you coming out with the Man vs Food line of bibs? You're welcome.
Adam Richman
(1:25 PM)
On the 31st of Never-tember. Will eat air cakes and wind pies.
Pete (Canada)
What's the best tailgating experience you've ever had? Ever think of doing a tailgating challenge during college football season?
Adam Richman
(1:27 PM)
I would love to do another tailgating experience, just because it's a chance to meet fans in their element. The drawback is of course that the element has lots and lots of alcohol, with lots and lots of drunks. If you're filming, it's like playing Russian Roulette. I've seen the Deer Hunter and know how that goes. My best experience might be our first episode we shot in Columbus, Ohio. I went to a school inthe UAA and competed against powers like Brandeis. It was nice to see how a big school operates. Calling that bean bag game cornhole. You can't really brag at how good you are at cornholing.
chris (glastonbury ct)
which sport has the best food?
Adam Richman
(1:28 PM)
I'm going to say baseball, because the games are longer, so you have a greater chance to try more things at the ball park, and because of the amazing personality of the minor league stadiums, you get a chance to try regional cuisine. Gilory Garlic fries, if you're going to see Lincecum and the boys out West, but you can see the Charleston River Dogs and get proper southern cooking.
John (Cuse)
I saw that episode where you were in Cuse last night. Pretty impressive win there. Where is your favorite hot dog spot in America?
Adam Richman
(1:29 PM)
The hot dogs I've tried across America are so different from place to place. Joseph P. Riley Jr. Stadium in Charleston, SC, just because they have the biggest variety. If I have to pick just one, I might pick a Kosher deli in New York, because that's what I grew up on.
Adam Richman
(1:31 PM)
Thank you for standing by me for the past three seasons and for your kind words both in person and on the Interwebs. I honestly hope you guys get and enjoy the book, truly because it is a labor of love and it was written with the fan in mind, not because I wanted to pimp some merchandise in your face, because I've been blessed to explore this country one mouthful at a time and I want to give you the tools to have your own adventures. As long as you stand by me, I'll keep doing what I do.