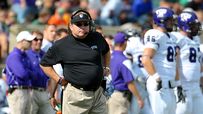 Patterson has led TCU to six 11-win seasons since 2003.
Welcome to SportsNation! On Friday, we're donning the pads for a little college football chat with Gary Patterson, the head coach for the No. 3-ranked TCU Horned Frogs.
Patterson, whose Horned Frogs are 11-0 this year and have a bye this week, has taken his team to a 34-3 record over the last three years. He is 96-28 during his 10 seasons at TCU, winning three conference championships, going to eight bowl games (winning five) and finishing in the top 25 six times, including the last two years in the top 10.
Send your questions now and join Patterson Friday at 4:30 p.m. ET / 3:30 p.m. CT!
More Special Guests: Previous chats | SportsNation
Buzzmaster
(4:12 PM)
I'm here in the Green Room at ESPN with Gary Patterson. He will be joining us at 4:30 p.m. ET to chat. First, he's going to be on ESPN Radio 103.3 FM in Dallas, then on to our chat.
Buzzmaster
(4:28 PM)
We've got coach!
Doug (Houston)
Wouldn't you like just once for the media to ask you to compare yourself with Auburn or Oregon instead of always asking for comparisons with Boise? Seems unfair to me.
Gary Patterson
(4:29 PM)
Yes, that's what I've said today. I would like to be included as one of the top 10 teams in the country. Why is it about Boise and TCU? I totally agree.
Jerry (San Antonio)
Coach: Why do you think a team that beats San Diego State 40-35 drops in the national polls, but a team that beats California 15-13 does not?
Gary Patterson
(4:30 PM)
Good question. That's why I'm here in Bristol today. I believe the body of work that we've done in the last five years deserves the same respect an Oregon team does in the Pac 10.
Eric (Dallas)
Coach, I've seen TCU leave lots of points on the table by taking a knee rather than scoring at the end of most games (Oregon State, Colorado State, Baylor, UNLV, etc.). With so much emphasis on style points for Boise and TCU, do you regret not scoring more?
Gary Patterson
(4:31 PM)
No, not at all. I try to teach my kids to win with class and integrity and doing the right things. When the game is out of hand and we have it handled, I want to see us handle things like we have during my time here.
Blake (Crystal River, FL)
Would you be satisfied to play in a BCS bowl if Boise State played in the National Championship game?
Gary Patterson
(4:32 PM)
I would be disappointed.
Gary Patterson
(4:32 PM)
But like everything else in life, you have to be able to accept things. We'd have to be able to move forward.
Bradford (Boise, ID)
Gary, in your mind what is the difference between Boise State/TCU and the "BCS" conference powers like Oregon, Auburn, etc - if there's any difference at all (besides budgets).
Gary Patterson
(4:33 PM)
I don't think there is a difference in the Boises and TCUs of the world and all the rest of them. We've proven that we can play at a high level with the best teams in the country.
luke urban (Houston, TX)
What is your opinion of a playoff system in college football?
Gary Patterson
(4:34 PM)
I love the Bowl Series because it's the best thing for the student athlete. They get rewarded for a good season. But having been a part of the Division II and III playoff system, there's one winner and everyone else is a loser. Those are the plusses and minuses.
E. Landreth (New York, NY)
Gary, with all the increased exposure over the past two years and continued success of the football program, what are high school students saying when they come visit TCU these days? Is their view of TCU different now that you've broken through the BCS, and are vying for a spot in the NCG this year?
Gary Patterson
(4:36 PM)
They come in with the respect factor at what we've already accomplished. They like what we've done over the last 10 years, not just the athletes but the students.
Nick (Nashville, TN)
What's up with the media blitz today? Is that what's necessary to be successful in college football these days?
Gary Patterson
(4:37 PM)
The Pac 10 came here in the spring as a whole conference. I had an off week. I could either be laying on my couch or here helping TCU. I haven't been to ESPN before so it's a win-win.
JD (Texas)
Your Defense is flat out amazing! Any thoughts on how your style would change if you were playing in another conference?
Gary Patterson
(4:37 PM)
No, because we've already played teams in other conferences.
frog man (Dallas)
Whats most impressive thing about this TCU team?
Gary Patterson
(4:38 PM)
How close they are. How resilient they've been on the road the last two seasons.
Sean (Fort Worth, TX)
Hey GP, ex TCU student here. Ever thought about teaching a Coaching Football class like Jim Tressel does at Ohio State?
Gary Patterson
(4:38 PM)
We used to have a class like that but they took all the coaching classes off the books. There are no more coaching classes at TCU.
Ryan (Seattle, WA)
Gary I am a TCU alumni and was at TCU for your first five seasons as head coach. You have done a terrific job with the TCU football program. What is your vision for the TCU football program going forward? Also what is your expectation for your kids next season with all of the seniors leaving?
Gary Patterson
(4:40 PM)
I'm just trying to get through this season first, then we'll start looking at what next season looks like.
Brett (Dallas)
How many negative questions have you received from the Boise faithful today?
Gary Patterson
(4:41 PM)
The Boise fans I've talked to have actually been pretty good. Whenever I bring up Boise it's always been positive.
Wes (Fort Worth, TX)
Coach though New Mexico is not thought of as a great team, How do you keep the team focused on finishing strong with all the media attention?
Gary Patterson
(4:42 PM)
The game is bigger than New Mexico. It's about an undefeated season. It's about a record number of wins for the seniors and a possibility to play for the national championship.
Randy (Boise)
Why do you hate us coach?
Gary Patterson
(4:43 PM)
I don't hate you. All I've done is speak highly of Boise State all day.
James (Arlington)
National reports always seem to talk about TCUs speed on Defense but seems to me its on both sides of the ball....How much do you recruit or concentrate on your ability to fly? Cant coach speed.
Gary Patterson
(4:45 PM)
We put a premium on speed and we recruit on both sides of the ball. We have Skye, the leadoff runner for our 4x100 relay team and had one of the fastest times in the world.
Cody (Fort Worth)
What is your opinion on Hawaii possibly joining the Mountain West?
Gary Patterson
(4:46 PM)
I just heard about it today and I haven't really had a chance to think about it. All I know is it's a long way away.
Terry (Dallas)
Coach , a number of other schools in recent years have tried your 4-2-5 defensive scheme and have dropped it since they were not suceesful. What makes it so hard to implement?
Gary Patterson
(4:47 PM)
Like anything else, you have to believe in it. You have to handle it against all types of offenses. We've been doing it for 10 years now and we have things that you can do to play against all kinds of offenses.
Gary Patterson
(4:47 PM)
Get ready for next week. We need to win one more ball game. 12-0 and 24-0 in the regular season the last 2 years. Go Frogs!!!!!