Chat with Jonathan Duhamel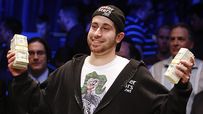 As a Montreal Canadiens fan, Duhamel donated $100,000 to the Montreal Canadiens Children's Foundation.
Welcome to SportsNation! On Monday, 2010 World Series of Poker winner Jonathan Duhamel will be dropping by to chat about his performance that netted him $8.9 million.
Duhamel became the first Canadian poker player to ever win the WSOP Main Event. It was the first career bracelet for the 23-year-old from Boucherville in the Quebec province, giving him three money finishes for his career. The big payday as the WSOP winner moved his career poker earnings to over $9 million.
Send your questions now and join Duhamel Monday at 2:30 p.m. ET!
More Special Guests: Previous chats | SportsNation
Buzzmaster
(2:27 PM)
Jonathan will be here in a few minutes to chat about his World Series of Poker main event win!
Dan (Omaha)
Whats it like to be the world champ and whats next for you?
Jonathan Duhamel
(2:31 PM)
It feels good. It feels very good. It's something that I'm very proud of. It's a very good feeling. I'm living the dream right now.
Robert (Atlanta)
How much more poker do you plan to play now that you have the capability to attend more events? Are you attending any events in the very near future?
Jonathan Duhamel
(2:31 PM)
A lot more. I will be playing the Poker Stars EPT. I will be playing all the time. Hopefully I will win another one.
Brian (Augusta, GA)
Did you work with anyone prior to the final table? If so, can you tell us who?
Jonathan Duhamel
(2:32 PM)
I talked strategy with some friends I have in Montreal. We just talked about the best approach coming to the final table.
Peter (Cubicle)
What is first thing you bought?
Jonathan Duhamel
(2:32 PM)
I haven't bought anything yet. I gave $100,000 to the Montreal Canadiens Childrens Foundation.
Scoop (Tuscaloosa)
Despite winning the Main Event, it has been said before that you are a cash game player. How does your tournament strategy differ from your cash game?
Jonathan Duhamel
(2:33 PM)
The beginning of hte tournament is more like a cash game, because it's very deep. As you get further in the tournament, it's gets less deep and you have to adjust your strategy.
Travis Showalter (Thunder Bay, Ontario)
Johnathan Duhamel you are my hero! What the feeling, on the final hand of the WSOP main event final table, like when you FIRST realized you won the bracelet and the Main Event?
Jonathan Duhamel
(2:34 PM)
It was the craziest feeling ever. I ran to my friends. Everyone was so happy. It was so unbelievable. It took me a while to realize what had happened.
Patrick (Quebec Canada)
HAve you received an invitation by the Montreal Canadiens to drop the puck at the beginning of a game???
Jonathan Duhamel
(2:34 PM)
Yes. It is just a matter of when it will be done.
Carson (DC)
What's next?!
Jonathan Duhamel
(2:35 PM)
Winning it next year.
Jonathan Duhamel
(2:35 PM)
I want to win them all.
Matt R (NJ)
How have the fans treated you along your journey to WSOP main event championship? How have you adjusted to the celebrity status you attended by winning the greatest prize in poker?
Jonathan Duhamel
(2:35 PM)
They were very supportive. THey helped me up. They gave me a boost and made me want to win the Main Event even more.
Ashley Sharp (Stratton, Ontario)
What does it feel like to be a millionaire and what will be the first thing you will buy with your new riches?
Jonathan Duhamel
(2:36 PM)
It's a good feeling. I haven't realized it yet, but I am just really happy now. I just want to play some more poker.
Mike (Chippewa Lake, OH)
Swingers or Rounders?
Jonathan Duhamel
(2:37 PM)
I am a Rounders fan. I have watched that movie at least 150 times, if not more.
Rachel (Hattiesburg)
Hi Jonathan! My boyfriend is really good at TX holdem and wants to go pro. What advice would you give him to get started? Thanks!
Jonathan Duhamel
(2:38 PM)
There are two things: study the game by reading some books and practice a lot. I've been practing a lot by playing on PokerStars.net. That was a big part of my victory. You have to practice if you want to be the best.
Justin (Bristol, CT)
How did you first start in poker? What limits / games helped you build up to where you are now?
Jonathan Duhamel
(2:38 PM)
I started playing with friends, like everybody. I went to play online at PokerStars.net where I was able to play for free for a while. Then I started to play for money when I got better.
Nathan (Kansas City)
How many times has the JJ/AA hand with Affleck repeated in your head?
Jonathan Duhamel
(2:39 PM)
A million times a day.
David (Austin, TX)
Being a fellow pro poker player I couldn't believe the demeanor at the final table. It seemed like everyone was talking and loose, were you at all surprised at the lack of focus? FYI like how you don't get rattled and stay focused.
Jonathan Duhamel
(2:41 PM)
By the lack of focus, no. I think everyone was trying to play their best and was very aggressive. It was a tough one. A lot of aggressive moves. If you make a mistake, you will pay the price.
Chris (Toronto)
When you won the Tournament how much did you spend the night on the town with your friends?
Jonathan Duhamel
(2:41 PM)
We were at the Rio, because they paid us with the big suite. We had a good time with the pressure off and relaxed a little bit.
Anthony Altemari (Rochester, NY)
Is there a hand before early in the tournament, where you remember just out-playing the guy and helped you move up huge in chips?
Jonathan Duhamel
(2:42 PM)
The hand on the beginning of the Day 8 was one that helped me get up there. It was a big one.
Disco (Chicago)
What tournament besides the main event do you want to win most?
Jonathan Duhamel
(2:43 PM)
I would say the PCA in January. The PokerStars PCA.
Disco (Chicago)
Who was the hardest opponent for you to read? Grinder?
Jonathan Duhamel
(2:43 PM)
Grinder was tough.
JamesDaBear (Seattle, WA)
At what point in the Main Event did you believe you had a shot at winning all of it?
Jonathan Duhamel
(2:44 PM)
When we got down to 14 players I guess. After that big hand against Afleck, I said that it was my tournament.
Brad (Boston, MA)
Congrats again Jonathan....word is that you and Racener partied together after the event? Remember much from that night?
Jonathan Duhamel
(2:44 PM)
The day after that, we were all together. We had a great day all together. It was a great gang at the final table. It was easy to get along with all of them.
Ed (Boston)
You were all-in preflop with the worst of it a few times (A10 versus A5) and still came out on top late in the tourney. Do you think most of the results of the Main Event are luck driven, or do you maintain it is also skill?
Jonathan Duhamel
(2:45 PM)
I would say it is both. At some point, I was where I needed to be and I think I played the way I needed to at times. I think I played great.
JamesDaBear (Seattle, WA)
Isn't that amazing to get that deep in such a huge tournament but still not think you have a chance? Such an amazing accomplishment for anybody.
Jonathan Duhamel
(2:46 PM)
Yes, it's a great accomplishment. It's a crazy, crazy feeling. In my mind, any time you're playing poker, anything can happen. It's not over until I had that bracelet.
Ryan Brandt (McAlisterville, PA)
how did you make that call with A9o when Mizrachi shoved you with 3s out of the big blind?
Jonathan Duhamel
(2:47 PM)
It was blind versus blind. He was being very aggressive since he had some chips. I needed to make a call because of Grinder's range out there which was very light.
JamesDaBear (Seattle, WA)
Did you ever feel overmatched or intimidated by anybody you played with during the Main Event?
Jonathan Duhamel
(2:48 PM)
I don't think so. For me, just playing my hands and trying to play the best I can. Even though there were a lot of very great players, if I can play well, I think the chances were there. A lot of the guys were very tough, so I just played the best I could.
Brad (Boston, MA)
Congrats again Jonathan? Now that you have a nice bankroll boost, do you see yourself playing bigger cash games on Stars and along the tournament circuit? Perhaps joining the big game?
Jonathan Duhamel
(2:49 PM)
My main goal over the next few years is to play on the tournament and less cash games. I will probably play in the PokerStars EPT and try to get some big scores out there.
Ben (New York)
When did PokerStars approach you about wanting to put a patch on and can you tell us how that all went down? Us poker fans have always been curious how those things work
Jonathan Duhamel
(2:51 PM)
This was the day just before the start of the tournament, everybody could sign the deal. If you give the money, they will give you a part of your bankage. I've been playing there, so it just made sense for me to do it.
Samuel (Québec)
Hi Jonathan. The biggest tournement i played was 120 persons.... after 5h i kinda lost focus. do you have a good trick to stay focus after so much time ?
Jonathan Duhamel
(2:52 PM)
It's very important to be physically very healthy. Eat well and drink a lot of water. You don't want to be fat on your chair after eating a big hamburger or something. You need a good mindset going into the tournament.
Ed (Boston)
Would you characterize yourself a 'math' player or a 'feel' player? How much does online play influence your tourney style?
Jonathan Duhamel
(2:52 PM)
I would say both. You need both. I play online a lot. When I play, I play 8-10 tables and that practice is very important and it gets you the experience for the bigger tournaments.
Brian (Augusta, GA)
Do you promise not to sell your WSOP ME bracelet on eBay or anywhere else?
Jonathan Duhamel
(2:53 PM)
Yeah, I promise. I'm not going to do that.
Ray (Las Vegas)
It's every poker player's vision to see themselves winning the Main Event, and you've no doubt fullfilled that one for yourself, so big congrats J.D. But before you were on your way, at what point did you just know, you could be at the final table and handle it all?? The fortune, fame, etc...
Jonathan Duhamel
(2:54 PM)
I would say on the sixth when we were in the money. I felt if I could play well and get the cards working for me, I felt I could get to day 8 and then to the end.
brett (south jersey)
Can u put $100 into my pokerstars account?
Jonathan Duhamel
(2:54 PM)
If you want to come play with me, we'll see what happens.
Jonathan Duhamel
(2:55 PM)
I just want to say thank you to everybody for following me. The support you gave me just wants me to play more. Play on PokerStars.net. It should be fun.