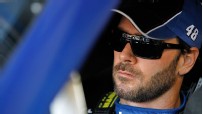 Welcome to SportsNation! On Monday, we'll be joined by greatness when five-time NASCAR champ Jimmie Johnson stops by to chat about his most recent title.
Johnson finished second in Sunday's final race of the NASCAR season in Miami to capture his fifth straight points championship. Prior to Johnson's run, no NASCAR driver had ever won more than three in a row.
Johnson started the day 15 points behind points leader Denny Hamlin and he came from behind to win by 39 points. In doing so, he became the first driver since NASCAR started the Chase in 2004 to win the title by coming from behind in the last race.
Send your questions now and join Johnson Monday at 1 p.m. ET!
More Special Guests: Previous chats | SportsNation
Buzzmaster
(12:51 PM)
We're sitting here with Jimmie as he finishes up his lunch. We'll get started in a few minutes.
Buzzmaster
(12:59 PM)
Let's get started!
Elizabeth Ann Nelson (Farmington Hills, Michigan)
What are you and the family going to do in the off season to celebrate and relax?
Jimmie Johnson
(1:00 PM)
Relax.
Jimmie Johnson
(1:00 PM)
Not much of anything. Before we know it, I will be back in the race car. I will enjoy every second of being home.
Paula (Michigan)
How much does it mean to you to get to celebrate this championship with your daughter?
Jimmie Johnson
(1:00 PM)
She won't remember it, but it means the world to my wife and I. We'll have the photos.
Ray (CT)
Congrats Jimmie! Thank you for this amazing run of 5 in a row. How much did you drink between winning the race and hoisting the trophy? With all the practice I cant believe you almost dropped it.
Jimmie Johnson
(1:01 PM)
Thank you. Zero to drink. They handed me the trophy backwards, so I was trying to spin it around so it was facing correctly. I used my ninja skills to catch it.
Joe (Burlington)
Do you enjoy having a bead and longer hair or do you do it to annoy Knaus?
Jimmie Johnson
(1:02 PM)
Both.
Kevin (Boston)
has it sunk in yet that you have won 5 in a row?
Jimmie Johnson
(1:02 PM)
Not really. The whole experience of things in the past, I understand how letting it will go. I will probably let it all get to me when I retire.
Lindsay (KY)
Congrats "5-time" So which is sweeter winning with the beard or without? Will you keep it? How long are you going with the hair?
Jimmie Johnson
(1:03 PM)
It doesn't make a difference to me with the facial hair. I have no clue what I'll look like in Daytona.
Steve (PA)
I know winning at a road course was important to you. Besides winning number 6 what other goals do you have for 2011? (I know Chad has probably already talked to you about this)
Jimmie Johnson
(1:04 PM)
I would really like to win at the tracks I haven't won at yet. There are four left. I think that would be really cool to win at all of the tracks. THat's my personal goal.
Clayton (Hanahan, SC)
Congrats, Jimmie! Since NASCAR teams use batch parts, did you ever allow yourself to worry about your engine at any point yesterday after Jeff lost his?
Jimmie Johnson
(1:05 PM)
Yeah, without a doubt. When a teammate engine blows, when that happens, you can't help but be concerned. After a period of time went by and no other teammates had issues, I kind of forgot about it.
DonnieLeftTurn (Orange County, CA)
QBs buy their linemen $$$ gifts, not to put you on the spot, but how do drivers show their over-the-wall guys some love?
Jimmie Johnson
(1:06 PM)
I make sure for big wins and championships that teammates get replica rings. And if it's a female employee, there's a pendant option. Hendrick Motorspots takes everyone to the banquet. We all enjoy it.
Elliot (PA)
Congrats Jimmie! Does this championship feel different since you had to come from behind to win it?
Jimmie Johnson
(1:06 PM)
Yeah, without a doubt. Very competitive Chase. To come out on top after being down, it makes it so much sweeter.
Lindsay (KY)
After yesterday is the new nickname "5-peat"?
Jimmie Johnson
(1:07 PM)
A few friends have called me Cinco.
becka (virginia)
was down there to see you win your 5th. congrats. what has been the coolest thing being a 5 time champ
Jimmie Johnson
(1:08 PM)
I would say the text messages and e-mails and voice mails from friends, family, a wide variety of people. Other athletes. Musicians. I think I had 200 text messages and e-mails. I didn't realize I knew that many people. Or that they all had my number.
Emily (NJ)
Originally, Chad said that he didn't pay attention to what Mike Ford had to say about your team. However, did you guys secretly use Ford's comments as motivation?
Jimmie Johnson
(1:09 PM)
Yeah they were definitely used internally as a motivational tool. But at the end of the day we didn't waste a ton of time on it. In sports there's going to be a certain amount of banter and talk. WE didn't spend too much time on it.
Denny (Loserville)
Did you really have to jedi-mind trick me like that all week?
Jimmie Johnson
(1:09 PM)
I guess it worked then.
Aldo S. (Kissimmee, FL)
Jimmie, are you planning to be at Daytona for the Open Test coming up?
Jimmie Johnson
(1:10 PM)
If my team forces me to. I would rather be at home on the couch.
Marty (Texarkana)
When your driving around that track, are you very focused all the time or do you sometimes get bored?
Jimmie Johnson
(1:10 PM)
There's no way you're ever bored or your mind slips. It's pretty intense.
Jason (Pittsburgh)
In a sport that has never had one person dominate the way you have, what is the one thing you feel has kept you on top for 5 straight years?
Jimmie Johnson
(1:12 PM)
Our guys are dedicated. They're so dedicated to the team. We motivate each other to stay focused and we've been able to stay together this long.
Luís (Rio de Janeiro)
Hi Jimmie, congratulations.What kind of racing, besides stock cars, you enjoy watching or would like to try someday if you could?
Jimmie Johnson
(1:13 PM)
I'm a huge fan of all things motorsports. I watch as much F1 as I can find on TV. I really enjoy rally car. I would say motorcross is another thing I try to catch as often as possible.
Paula (MI)
Are you excited to go to Las Vegas this year or did you prefer having champions week in NYC?
Jimmie Johnson
(1:13 PM)
I'm torn. Vegas is much more relaxed for the champion. Without having any morning shows out there, you can actually go out at night and celebrate.
Jeff (Georgia)
Jimmie, congrats on the title! How excited are you to have Kasey Kahne as a teammate in 2012? Are you and Kasey friends off the track? Thanks
Jimmie Johnson
(1:14 PM)
Extremely excited. but at the same time, I'm disappointed to have Mark leave. He's been such an asset to the company. It will be a good day and bad day all at the same time.
Dianna (Minnesota)
since the speed has not been there this year for you, did you feel that your chances of winning the 5th was going to be a challenge for the Hendrick org. and is this the first year that only one car of Hendrick has won.
Jimmie Johnson
(1:15 PM)
I did through the summer months. The halfway point of the Chase, we were leading and I felt good about things. Texas and Phoenix really didn't go our way on speed. But the team had a lot of fight in it and found a way to get it done.
Dustin (Jacksonville)
Congrats Jimmie! Whats one thing that the team can improve on to get better on for next year?
Jimmie Johnson
(1:15 PM)
Truthfully, we need to get better in all areas if we want to stay on top.
Jimmie Johnson
(1:16 PM)
Thank everyone for joining the chat. Thanks for being a fan of our sport. Talk to you soon!