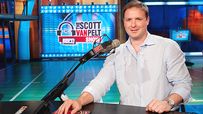 Welcome to SportsNation! On Wednesday, ESPN Radio's Ryen Russillo will be stopping by to chat.
Russillo is co-host of The Scott Van Pelt Show on ESPN Radio, which runs 1-4 p.m. ET. Listen live

He also hosts the NBA Today podcast on ESPN.com. He has covered the NBA draft since 2003 and prior to joining ESPN, he was a TV studio analyst for Boston Celtics games.
Send your questions now and join Russillo on Wednesday at 4 p.m. ET!
More Ryen Russillo: ESPNRadio.com | Chats | Search | SportsNation index
ESPN Radio.com
(4:01 PM)
Ryen will be here momentarily...
ESPN Radio.com
(4:02 PM)
Get your questions in now...
Dante (Gainesville, FL)
Ryen, what do you make of Dwight Howard's offensive developments? Is he starting to show signs that his game is finally going to take that jump towards a "go-to-guy'? Are the Magic still title contenders in your eyes?
Ryen Russillo
(4:05 PM)
He has improved a lot. The hooks shots look good. This topic has become, he's either way better in the post than people give him credit for, or he's terrible in the post. It's neither, he's good, not great. He's never going to look like McHale, but he is still the number 1 pick if you redraft the league
Clarke (Gainesville, GA)
Who would be favored in a Oregon-Auburn Championship game?
Ryen Russillo
(4:06 PM)
Based on Vegas projections from last week, Oregon would be favored by anywhere between 7-9 points.
Jack (The Island)
Ryen, what is your take on this. Nevada beat Boise State, the 4th ranked team in the nation, and their reward? A trip to New Mexico to play an unranked MWC team. Do you think bowl assignments are stupid and bowls should have a draft system to select bowl eligible teams for the best matchups?
Ryen Russillo
(4:08 PM)
The bowl system is already kind of like a draft. It's based on how much money a team can bring to a bowl. There will be a top 10 team that plays in a weak bowl because they may have lost late in the season. The whole system is a business, and Nevada isn't a huge draw.
Kevin (Baton Rouge) [via mobile]
I'll take those points
Ryen Russillo
(4:09 PM)
If it was that many points, you would have to take it.
Ryan (Utah)
More bummed out: Kyle Brotzman or me?
Ryen Russillo
(4:09 PM)
If this is the real Ryan from Utah, I say tie...cheer up
Roger (NC)
When do you plan on shaving? Is that your D-league beard?
Ryen Russillo
(4:10 PM)
Not sure...it is my D-League beard though
Daniel Lusk (Baton Rouge, LA)
Since 86-87 the most 20-20 games in a season for a NBA is 12 with done by Kevin Willis in the 91-92 season, Kevin is on pace for 18, do you think he gets more than 12?
Ryen Russillo
(4:10 PM)
I think he does. Best rebounder in the world
Karl (Hartford)
What would be the top ten draft picks if the league redrafted?
Ryen Russillo
(4:12 PM)
1. Dwight Howard 2. LeBron 3. Kevin Durant 4. Derek Rose 5. Stephen Curry. This is off the top of my head...subject to change
Ryan (Stillwater)
Are you surprised that Tyrus Thomas has the 9th best PER in the league?
Ryen Russillo
(4:13 PM)
no because PER favors high rebound high fg percentage, low shot attempt, PER loves Maurice Speights
Jack (The Island)
What's your Heat/Cavs prediction? Also does LeBron do his patented powder toss?
Ryen Russillo
(4:14 PM)
You mean his patented powder toss that he stole from Jordan and was also stolen by KG? Athletes can be as original as every morning show
J.B. (PA)
Do you think Jon Gruden will break down and take the Miami job or will he either hold out for an NFL job or stick with broadcasting?
Ryen Russillo
(4:17 PM)
I think he'll wait for an NFL job. I think he likes the attention
Ryan (Stillwater)
Would you agree that the most effective thing to do to get back at Lebron is the silent treatment?
Ryen Russillo
(4:18 PM)
that would be great, won't happen, hammered dudes are rarely quiet.
Daniel (Baton Rouge, LA)
What is the retro player comparison to Michael Beasley? Tom Chambers?
Ryen Russillo
(4:19 PM)
Beasley defense is awful. Especially against small forwards.
Clay (Charlotte)
Since nobody asked, how was your turkey day?
Ryen Russillo
(4:19 PM)
I watched a road race.
dan (tc)
Interesting Lakers stat: 3 of 5 losses have come when Kobe has more than 25 FG attempts...doesn't seem like a coincidence does it?
Ryen Russillo
(4:20 PM)
Last night was different because their defense was bad and you could see Kobe was really going to press in a coulpe of different spots. I know the numbers say they lose, but I didn't feel like Kobe shot them into a loss
Roger (NC)
When does Russillo on the Road come out on video?
Ryen Russillo
(4:21 PM)
when I want to get fired. We do have 1 coming out though in text form. Someone stole my phone in Chicago and it's ruined my photo situation.
Marc (Charlotte)
Where does Marvin Williams end up (assuming the Hawks trade him)
Ryen Russillo
(4:22 PM)
They'd love to trade him for a big, I just don't think the market is that great for him. Would you trade him for Biendris?
Mike (San Diego)
Would you say that Russell Westbrook has taken the biggest leap out of anyone this year? Dude's a top 15 player in the league right now.
Ryen Russillo
(4:22 PM)
Not sure...maybe. I don't think he's a top 15 player though
Jack (The Island)
If you could be an NCAA football coach at any school, where would you want to coach?
Ryen Russillo
(4:23 PM)
Texas or Florida. Easy to recruit. Having been to both places I can see how you can fall in love with either one of them
Josh [via mobile]
Iggy and Brand for Vince, Pietrus, Bass and a 1, who says no, Sixers or Magic?
Ryen Russillo
(4:24 PM)
Both at the same time. But forced to answer...Orlando
Ryan (Chicago)
JR Smith would be an upgrade as the starting SG for the Bulls?
Ryen Russillo
(4:25 PM)
It would be, he is a terrific scorer. but he's so inconsistent emotionally that it's tough to project how he would fit in
Jon Gruden (Bristol)
You better not be smiling. Your current chat performance is pitiful.
Ryen Russillo
(4:26 PM)
Who are you interviewing with tomorrow?
Matt Stephenson (San Diego)
Which big man would best compliment Lebron, Wade, and Bosh, since Bosh is really a large 3 or small 4 due to him being a stick figure?
Ryen Russillo
(4:27 PM)
Joakim Noah, Kendrick Perkins, Theo Ratliff (heathly 10 yrs ago)
Zach (Greenville, NC)
What's the worst thing you had to do while pledging?
Ryen Russillo
(4:29 PM)
That I can tell you? I ate a 1 pound block of butter in one sitting. There was worse mental / physical stuff and this doesn't sound bad, but spending 30 minutes expecting to throw up wasn't a good time.
Hayden (Logan, Utah)
is this finally the year of Jazz?
Ryen Russillo
(4:29 PM)
Too small to beat healthy Lakers...still like the team a lot.
Eder (Titusville)
You did an awesome job hosting the shows solo before the Holiday, hats off to you.
Ryen Russillo
(4:29 PM)
thanks
Hayden (Logan, Utah)
what city is the funnest to get drunk in?
Ryen Russillo
(4:30 PM)
I'll always say Burlington, VT...I was above the law
Daniel (Baton Rouge, LA)
If Antoine Walker goes to the D-League how many 3-pters does he average a game 10? 17?
Ryen Russillo
(4:31 PM)
I saw him in Chicago and he's actually in really good shape. He will still take 20 3's per game
Matt Stephenson (San Diego)
Which is a better bar in Burlington, VT - Rasputins, Last Change, or the old Blarney Stone?
Ryen Russillo
(4:31 PM)
Still waking up at 6PM?
ESPNRadio.com
(4:32 PM)
Thanks everyone. Ryen and Scott are back on the radio tomorrow from 1-4PM ET with Bucs HC Raheem and Auburn HC Gene Chizik.