Chat with the Globetrotters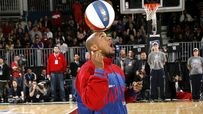 Christensen is Montana's all-time assist leader.
Welcome to SportsNation! On Thursday, we will have two of the newer members of the legendary Harlem Globetrotters, Dizzy Grant and Scooter Christensen, stopping by to chat. Grant, in his fifth season as a Globetrotter, and Christensen, in his sixth season, will be a part of the Globetrotters game that will be aired on Sunday on ESPN2 (7:30 p.m. ET). The game will debut the 4-point shot.
Grant played college basketball at College of New Jersey, winning the New Jersey Athletic Conference player of the year his senior season, and he compares all of the personalities on the Globetrotters with those in "The Office." Christensen, who graduated from Montana in 2002, owns two Guinness World Records. At NBA All-Star Weekend 2010, he spun a ball on his head for 7.9 seconds and spun a ball on his nose for 5.1 seconds.
Send your questions now and join the Globetrotters Thursday at 2:30 p.m. ET!
More Special Guests: Previous chats | SportsNation