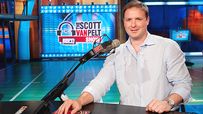 Welcome to SportsNation! On Wednesday, ESPN Radio's Ryen Russillo will be stopping by to chat.
Russillo is co-host of The Scott Van Pelt Show on ESPN Radio, which runs 1-4 p.m. ET. Listen live

He also hosts the NBA Today podcast on ESPN.com. He has covered the NBA draft since 2003 and prior to joining ESPN, he was a TV studio analyst for Boston Celtics games.
Send your questions now and join Russillo on Wednesday at 4:15 p.m. ET!
More Ryen Russillo: ESPNRadio.com | Chats | Search | SportsNation index
ESPNRadio.com
(4:17 PM)
Ryen is here. Fire away.
Mathew (Seattle)
If you could change one thing about the NBA in the new CBA what would it be?
Ryen Russillo
(4:18 PM)
Allow big contract players to be traded for prospects. Stop the dollar trade restrictions.
walt (atlanta)
denver?urban
Ryen Russillo
(4:19 PM)
No. This makes me laugh.
Zach (Greenville, NC)
Any chance I can get Gruden to coach my 3on3 intramural team?
Ryen Russillo
(4:19 PM)
Good chance he'll be rumored to do so.
Matt (Nashvile, TN)
Ryen, even at 9-3 it seems like people are still doubting my boy Cutler and the Bears why do you think that is?
Ryen Russillo
(4:20 PM)
There are more people buying in, but I think the doubt is them being a Super Bowl-caliber team. I like them better. The defense is great. Back of my head, I'm still expecting Cutler to throw two picks in the endzone and lose you a game.
Alan (Baltimore)
Raymond Felton: top 10 point guard. Have had arguments with friends about it, and I say Nelson, Wall and Curry are still better than him to round out the 10. Can you please settle this debate?
Ryen Russillo
(4:20 PM)
Curry is better, Wall will be better, Nelson is in the same group as Felton. He's been great for the Knicks. He loves to push the ball and that's what D'Antoni is doing for him.
Trent Poyner (Virginia Beach, VA)
Hey Ryen, do you think it's not out of this world to think that the Eagles have a legitimate chance of winning the NFC Championship if their defense stays consistently strong and Vick remains healthy, playing at the level he's been playing at.
Ryen Russillo
(4:21 PM)
It's Atlanta, Green Bay, New Orleans, Philly and Chicago. So that's the group in that order for me.
chris (barcelona)
Rank the members of wu-tang. Either your favorite or by skill, your choice.
Ryen Russillo
(4:24 PM)
1) Gza, 2) Raekwon, 3) Method Man, 4) ODB, 5) U-God (should be higher because of Black Shampoo), 6) Rza (love his name and character, but he can't rap), 7) Ghostface, 8) Masta Killa. Inspectah Deck doesn't count.
andy (des moines)
whats your take on cowherds "theories"?
Ryen Russillo
(4:24 PM)
I leave them on the table.
Racheal (OH)
We have a $400 office pool going and need a professional opinion to finish it. If Mel Kiper goes water skiing and wipes out....twice, does his hair move? And if you say yes I'll split my share with you.
Ryen Russillo
(4:24 PM)
Does not move. Been waterskiing with him a lot.
Jack (The Island)
Ryen, what's your take on JaVale McGee? Does he have a chance to be one of the better centers in the NBA in a few years? The kid might be the most athletic big in the NBA.
Ryen Russillo
(4:26 PM)
No. He has great physical tools, but he is very inconsistent. He put up hugh numbers in that game two weeks ago that I watched, but then you check in and see he's getting four or five rebounds in games and not doing anything. The problem with young players is when they don't do much and then every now and then have a big game, people ask if they can do this all of the time. The answer is usually no. The league needs guys to not show up every night to balance out from the superstars.
Chris Fiegler (Latham,NY)
Which College Football Bowl Games are you looking forward Seeing this season?
Ryen Russillo
(4:26 PM)
Arkansas-Ohio State and TCU-Wisconsin.
walt (atlanta)
if u had to pick one coach for flordia who would it be?
Ryen Russillo
(4:27 PM)
Kyle Whittingham.
Steve (Arizona)
Are hang cleans included in your workout regimen?
Ryen Russillo
(4:27 PM)
Only reverses.
andy (des moines)
chip kelly to florida?
Ryen Russillo
(4:27 PM)
No.
Marc (Charlotte)
Chris Petersen to Florida?
Ryen Russillo
(4:27 PM)
He seems to really like his lifestyle and how far the dollar goes in Idaho.
Mike (San Diego)
Why the beard?
Ryen Russillo
(4:28 PM)
Not sure. Just kind of happened. There have been some complaints. Not sure how long it's going to last.
Jack (The Island)
Ryen, do you watch anything else on tv other than sports?
Ryen Russillo
(4:29 PM)
I'll watch The Office, but now it's more out of habit than enjoyment. I've watched Boardwalk Empire. It's okay. If it came out before everything else, we'd think it was great, but The Sopranos and The Wire have raised the bar so high. I will also watch some really bad crap on Bravo to prove to someone that I don't have to watch sports all of the time.
Rickie (Texas)
Oregon or Auburn?
Ryen Russillo
(4:29 PM)
Oregon in a close one.
Jack (The Island)
On the radio today you brought up a good point about coaches winning national championships in their first 3 years on the job. Should Notre Dame hire a new coach every 3 years?
Ryen Russillo
(4:30 PM)
Everyone should. Everyone should get fired after three years.
Rickie (Texas)
Don't you feel bad about Robbie Hummel?
Ryen Russillo
(4:30 PM)
Terrible.
Mike (San Diego)
I hope Urban Meyer and Brett Favre do this every year.
Ryen Russillo
(4:30 PM)
I'll quit. Start swinning a hammer.
Oregon Cheerleaders (Oregon)
The beard proves just how much of a creepy old man you are.
Ryen Russillo
(4:31 PM)
I never liked you cheerleaders. I'm all about the dance team. Don't care what you think of the beard. Learn some moves and maybe we'll respect you better.
Tyler (Ames)
Is it true that Todd Mcshay is kept locked in a 5x5 dungeon full of film year round only to come out to appear on ESPN and get owned by Mel? If so how do I get that job
Ryen Russillo
(4:32 PM)
Be really good at evaluating talent. I don't think Mel owns him, by the way. Todd's track record is terrific. He's one of the best draft guys going. Teams always want to hire him. Less likely he gets fired here.
Nate Marcum (St.Louis)
Ryan, I can't honestly see the Cardinals' brass not re-signing Pujols, but there is a lot of talk about forcing the issue and letting Albert test the market. 1. Does he leave? 2. Who would he possibly go to?Also, you ever see an NBA team in St.Louis?
Ryen Russillo
(4:34 PM)
Now that Boston and New York both are paying a ton to 1b, how many teams are going to be in the market for him at $30 million a year? These deals get signed and then the media writes that it means that the next guy is going to make even more. These rumored contracts, including Crawford's, are so absurd, I don't think any teams can offer these deals. If he's $30 million for seven or eight years, I'd let him leave or trade him. I also wouldn't have signed Holliday for that much. If New Orleans moves, it'll be to Seattle or Sacramento will go Seattle and the Maloofs will take over a team in Vegas.
Jason (Bourbon)
All Day or CJ2K right now?
Ryen Russillo
(4:34 PM)
All Day.
Zach (Greenville, NC)
Is that Bravo thing have to do with the girlfriend?
Ryen Russillo
(4:34 PM)
Yah.
walt (atlanta)
ryan,how many people at espn that talked about boise all year have there head between legs now .
Ryen Russillo
(4:35 PM)
Why would they do that? They missed a FG and the team went 11-1. They make the kick, they're in the Rose Bowl.
Jack (The Island)
The 5 campus you want to go to for gamday that you haven't been to yet?
Ryen Russillo
(4:36 PM)
I think I've done this before. The Grove (Ole Miss), I'd like to go to a game at the Rose Bowl, Iowa, I'd love to do GameDay in Boulder even though I've been there about five times and South Bend.
JD McNugent (Nashville)
do you think mike leach could win at Vanderbilt?
Ryen Russillo
(4:37 PM)
I don't know. He's a quirky guy, so that seems a little buttoned up for him at Vandy. Word is Vandy has a ton of money to throw at a coach. Could be a big name.
Jon (Chicago)
Ryen, what percentage of chatters spell your first name wrong?
Ryen Russillo
(4:37 PM)
Probably a lot. I don't blame them. I never get mad at that.
Ryen Russillo's Future (Bristol)
Where do you see yourself in 10 years?
Ryen Russillo
(4:38 PM)
My own television show once people realize how ridiculously talented I am.
Tyler (Kansas)
you get to make the choice of where i go to college..so where is it?
Ryen Russillo
(4:38 PM)
I need to know what's important to you, Tyler.
Jeff (AC)
Ryen, why did your mom and dad spell your name wrong?
Shane (Los Angeles, CA)
RR: Do you think the NFL players need to ensure a cap on percentage of salary for fines is included in the next CBA? Fining Harrison $75K of a $50M salary is not the same as fining Eric Smith (08 hit on Boldin) $75K ($50K fine, + 1 game suspension of a $450K salarY). Also, do you think there should be an appeals process that involves former players/coaches?
Ryen Russillo
(4:40 PM)
It will definitely be proposed, but think of all the things that are out there: fines, appeal process, hard cap, 18-game schedule, rookie wages, veterans funding, etc. All of these are chips. It all depends on which ones are most important to you, whether it's owners or players. If the players can get an acceptable amount of revenue from the teams, then most players aren't going to fight some of these other things as much.
Zach (Greenville, NC)
You know, here in G-Vegas, the crack daddies drive around on huge jacked up cars with decals and tinted windows and two-tone paint. What did the dudes do in Burlington?
Ryen Russillo
(4:40 PM)
Everyone had tricked-out Pathfinders, Tahoes and Land Rovers toward the end. I drove a monster truck with 36-inch tires and a six-inch lift.
John (Auburn)
Ok, Stick with me on this one Ryen. Dan Mullen to Florida, Gus Malzahn to Mississippi State. What do you think?
Ryen Russillo
(4:41 PM)
It's not a crazy idea. All I know is Mullen is psyched right now because he's going to get a big raise either way.
Tyler (Kansas)
chicks, football, and half way decent academics
Ryen Russillo
(4:41 PM)
Wait to see who Florida's next coach is. Austin wouldn't be a bad trip. I'd say UT or Florida.
JD McNugent (Nashville)
even though alot of people dont agree with Skip Bayless on First Take I actually agree with him 90 percent of the time, are you with me or against me on this?
Ryen Russillo
(4:42 PM)
I'm against you. Maybe even some of your relatives. But after doing two shows with him, I have a new-found respect for his opinion. He's actually a really good dude.
Joel (Mass)
Do you think the Catamounts will take down the Cougars tonight?
Ryen Russillo
(4:43 PM)
Not sure. When we were there, we didn't take down many Cougars.
Clay (Charlotte)
UF is the way to go, Tyler. There are 10s all over that campus.
Ryen Russillo
(4:43 PM)
Clay has solid intel.
Tim (pitt)
Inception...great movie or greatest movie?
Ryen Russillo
(4:43 PM)
Great movie. One of the best I've seen in a theater in years. Excited to watch it again. Leo is so fine. What???
Sam (Chicago)
Ryen, thanks for defending the Cavs when people say that they didn't do enough to keep Lebron happy. The most irritating thing about this past summer is that the team that spent money and tried to win is punished while the Heat (and their fair-weather fanbase) get rewarded for essentially tanking it.
Ryen Russillo
(4:44 PM)
Thank you, Sam, for agreeing. Miami fans are maybe the worst fans in sports. Still love your town, though. Can't wait to come back.
Blake (Abilene, TX)
Did you have the b---- hanging from your monster truck like we do in the south.
Ryen Russillo
(4:44 PM)
No, but I had a gator net.
Zach (Greenville, NC)
was that cage match chick from RotR really a 7?
Ryen Russillo
(4:45 PM)
A Jefferson City seven. She may have been a Jefferson City nine.
andy (des moines)
1-10 rate stantons dougie
Ryen Russillo
(4:45 PM)
I'd say a two and a nine at the same time.
JD McNugent (Nashville)
is Raheem Morris the coach of the year at this point?
Ryen Russillo
(4:45 PM)
That's a good call. Spagnuolo will probably get some love (Frank: Todd Haley, too).
Daniel (Hattiesburg)
10's at UF are 7's at ole miss
Ryen Russillo
(4:46 PM)
Seven wins is a two-year total for your football team.
Tim (pitt)
Are we going to see any more appearances from you on first and 10 soon?
Ryen Russillo
(4:46 PM)
Yes.
Blake (Abilene, TX)
Tyler, Understand that if you go to Austin you will want to move their. Its that great!
Georges (CANADA)
So GSP or Koscheck on Saturday?
Ryen Russillo
(4:46 PM)
GSP.
andy (des moines)
Even though you probably don't care. A lot of iowa fans want coordinator changes at Iowa, thoughts?
Ryen Russillo
(4:48 PM)
That's the thing, though. Did you want them last year? Every bad season, one season, fan bases want changes. The OC at Texas is out a year after going 13-1 and playing for a national title. That's insane. You know the yearly issues better than I do, but from the outside, football people need to be more realistic about who needs to be fired after a disappointing season.
MT (OK)
Have you seen the myth busters where they test the no tail gate, gator net, dropped tail gate, or tail gate up myth to see which one gets better gas mileage? The gator net got the worst mileage..
Ryen Russillo
(4:48 PM)
Yes, I did. This is such a great question. All that gas money wasted driving through the mountains of Vermont. That's when Myth Busters was real, man. We were busting myths.
Erik (La)
My job application asks , "Favorite movie (besides the Hangover)"I figure I can go 2 ways, Tin Cup or 61. Thoughts or suggestions
Ryen Russillo
(4:48 PM)
Must be a pretty serious job.
Ian (Cal)
Does brett start on Sunday?
Matt (IN)
True or false? Kevin Wilson goes to IU and is never heard from again.
Ryen Russillo
(4:50 PM)
More likely true than false. Good offensive coach. Lot of energy. I met him, I liked him. I went over my questions for coach Stoops one night in Norman with him. Pretty funny story. But it's Indiana.
Erik (La)
bartender
Ryen Russillo
(4:50 PM)
My apologies. The most serious of professions. I spent eight years doing that.
Ryen Russillo
(4:50 PM)
Tell them it is Ghost Dad.
andy (des moines)
actually i have never liked our offensive play calls, and with norm parker only being at 2 games this year there needs to be a change there.
Ryen Russillo
(4:51 PM)
You make a good point with Norm. Kind of a tough spot. You were not a five-loss team this year. Shouldn't have lost to Wisconsin, killed Michigan State. Don't know what the hell happened at the end of the year.
Mike (Boston)
How long until Blake Griffin becomes the best power forward in the league?
Ryen Russillo
(4:52 PM)
Middle third year. Seriously, this may actually happen.
Ryen Russillo
(4:53 PM)
Hey, good chat today. Here is the last edition of Russillo on the Road for this season: http://sports.espn.go.com/espnradio/story?page=rotr10mizzouutah It's more of a memoir.
ESPNRadio.com
(4:53 PM)
That's all, folks. Be sure to check back at this time next week for more chatting goodness. Have a good week.