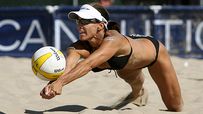 McPeak won a bronze medal in the 2004 Olympic Games.
Welcome to SportsNation! On Wednesday, ESPN volleyball analyst Holly McPeak stops by to chat about the NCAA women's volleyball.
ESPN2 will broadcast the two women's volleyball semifinals Thursday, Dec. 16, starting at 7 p.m. ET. The national championship will be played Saturday, Dec. 18 at 8:30 p.m. ET.
McPeak, a three-time Olympian in beach volleyball, won the national freshman of the year in 1987 while at Cal, before transferring to UCLA in 1990. In her first season at UCLA, she helped the UCLA Bruins to a national championship.
Send your questions now and join McPeak Wednesday at 3:30 p.m. ET!
More Special Guests: Previous chats | SportsNation
Buzzmaster
(3:26 PM)
ESPNU's Holly McPeak will be here at 3:30 p.m. ET to take your questions on the NCAA women's volleyball tournament!
Cary (IL)
Can anyone beat PSU?
Holly McPeak
(3:34 PM)
I think so. I think Penn State has been playing really well lately, but they're not the unbeatable team they have been the last three years.
Holly McPeak
(3:34 PM)
In fact, they just lost to Minnesota in five over Thanksgiving weekend.
Barry (Florida)
Which player should people watch out for in the NCAA tournament?
Holly McPeak
(3:35 PM)
Gosh, there are a good amount of great players in this tournament, starting with Kelly Murphy in Florida. Alex at Stanford. Murray at Cal, White at Nebraska and lots of others.
Peter (RI)
What's been the biggest surprise so far?
Holly McPeak
(3:36 PM)
The biggest surprise. Wow. Well, I think No. 15 Hawaii, they've been in the top five in the coaches poll for most of the season and they got swept in the second round by Washington. I think that was the biggest surprise.
Holly McPeak
(3:36 PM)
UNI was the overall five seed and they lost in the first round. In terms of the seeds, that is the biggest upset.
Kelly (Washington)
Which was the hardest regional? Easiest?
Holly McPeak
(3:37 PM)
That's an easy question for me. I think the PSU region, that part of the bracket, has been the easiest so far. And the Seattle regional has been the toughest.
Holly McPeak
(3:37 PM)
Although, Austin, Texas has looked pretty good with Florida and Texas having a possible matchup to get to the Final Four.
Steve (Chicago)
What's the most important position on the court when you're trying to win a national championship?
Holly McPeak
(3:38 PM)
Good question. I think the setter is kind of the glue on a good court. The setter is usually the leader who is usually able to link everybody together. You want to start with a good setter. She makes the hitters better. But every position is important when you're trying to win a national championship. You need all six players on the court trying to win, helping the team.
Willie (LA)
Can a team from a non-power conference win a national chapmionship?
Holly McPeak
(3:40 PM)
I think there's always a possibility of that, but my guess is right now, no. One of the top conferences will win it. I think either someone from the Pac-10, SEC, Big Ten, Big 12 will win it.
maddie (frederick,maryland)
holly mcpeak, you are a great player and i enjoy watching you play volleyball. i hope to be like you some day! what age did you start playing volleyball??
Holly McPeak
(3:41 PM)
A lot of the girls are starting to play in the 7th and 8th grade. I started on the beach, but started in the 7th grade on an indoor club team. Not all of them, but there are some that are starting in high school.
Kevin (CT)
Is this Florida's year?
Holly McPeak
(3:42 PM)
I think Florida has a great chance. I think there are four teams who have the best chance of winning it: Florida, PSU, Cal, Stanford. Those are my top four favorites. But there are three others that have an outstide chance. It's one of those years that it's really hard to pick a favorite.
Holly McPeak
(3:42 PM)
I would say Nebraska has the deepest amount of talent and has a shot as well.
Bruce A (BFE Indiana)
Holly - how good is USC this year? If they get past IU - do they have a chance against Stanford - assuming Stanford beats Ohio State?
Holly McPeak
(3:43 PM)
Well, USC plays Indiana on Friday night and I think it's going to be a battle. Although USC is young, they have some very nice size and talent. The inexperience could be a weakness, but they have some talent. Stanford has beaten USC twice already this season, so it will be a tough matchup for USC.
Vicki (CT)
Who will make it to the Final Four?
Holly McPeak
(3:43 PM)
I would say Florida, PSU, Cal and Stanford.
Kyle (VA)
Will we ever see anything like PSU's winning streak again?
Holly McPeak
(3:44 PM)
No. I think what Penn State did was remarkable. With this kind of talent spread across the country, it was amazing to see them win three titles in a row. I do not think we'll see that again.
Kerry (Texas)
Which players and teams have stood out in the early rounds?
Holly McPeak
(3:45 PM)
PSU has been dominating, so Brown and Wilson, have looked early on. Florida has struggled a little bit, but Kelly Murphy has always played well for them. Murray from Cal.
Bruce A (indianapolis, in)
Which regional are you most excited to watch this weekend?
Holly McPeak
(3:46 PM)
I'm actually excited to watch the regional I'm working in Seattle. It has the most ranked teams in the coaches poll. Cal-Minnesota and Washington-Nebraska. It will be interesting to see if Texas can challenge Florida in that region.
Dave
What's the most important vball skill?
Holly McPeak
(3:47 PM)
That's a tough question. I guess I would have to say ball control. If you have no control over the volleyball, you won't succeed in the sport. So good basic technique and ball control.
Chris Fiegler (Latham,NY)
Who do you think will be the National Champions in NCAA Womens' College Volleyball?
Holly McPeak
(3:48 PM)
I've been asked that question several times. On a radio show recently I picked Cal. On ESPNU I picked Stanford. And I think Florida has a chance as well. So, from my three different answers, I'm going to pick Florida today.
Holly McPeak
(3:49 PM)
Tune in Saturday on ESPNU, it will be a fantastic volleyball day. That's when the finals of these regionals will be played. This is a year when anything can happen. Tune in to see it!