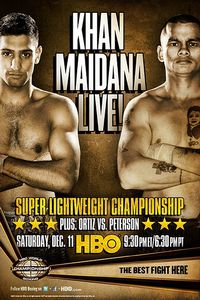 Welcome to SportsNation! On Wednesday, we're going inside the boxing ring when Amir Khan stops by to chat about his junior welterweight title fight this weekend.
Khan (23-1, 17 KO) takes on Marcos Rene Maidana (29-1, 27 KO) for Khan's WBA belt. The fight will be live from the Mandalay Bay Resort & Casino in Las Vegas Saturday at 9:30 p.m. ET/6:30 p.m. PT on HBO. It will be Khan's third title defense.
Khan last fought in May, defeating Paul Malignaggi via TKO in the 11th round of the 12-round fight. Khan, British native, has rebounded since taking his only loss of his career in Sept. 2008, by winning his last five fights, three by KO.
Send your questions now and join Khan Wednesday at 3 p.m. ET!
More Special Guests: Previous chats | SportsNation
Buzzmaster
(2:59 PM)
Amir Khan will be here in a few minutes to chat about his title bout on Saturday!
Buzzmaster
(3:10 PM)
Hang on a second folks. We're getting Amir. He's in his hotel room.
Buzzmaster
(3:12 PM)
He's here!
Steven Guerra (Houston, TX)
I do not know much about your opponent Maidana, what are his strengths that you have prepared for during training?
Amir Khan
(3:12 PM)
We know he's a big puncher and a pressure fighter. We've been working on the angles and using the jab. I have a good boxing style. We're going to stick to that.
alonecloud (Tucson, Az)
Maidana doesn't seem to be a technical fighter as you (punching, footwork, defense)..how do you use that against an aggressive fighter?
Amir Khan
(3:14 PM)
I think the technique will be good by itself. I think it will all fall in place in the ring when he comes forward.
alonecloud (Tucson, Az)
how is Freddie Roach's training different from other programs you have been involved with?
Amir Khan
(3:14 PM)
For this fight we've been working on finding the right shots and the right accurate shots. Being patient. Picking the right punches in this fight. We want to make every shot count and make every shot solid so that it effects him.
Sanchez (California)
What was the hardest part about making your way up in the boxing world and what advice would you give to newcombers?
Amir Khan
(3:15 PM)
I'm not sure. Probably moving around and all of the sacrifices that you make. Changing promotion teams. Changing trainers. Moving from the UK to America and all of the changes. I moved a lot by 21.
Shaz Salim (Los Angeles)
How do you think this fight will play out? Late round KO? Stoppage?
Amir Khan
(3:16 PM)
Yeah, I think this fight the later it goes, I will be more dangerous. We're not looking for a knockout, but I think by boxing him and sticking to the game plan, I don't think he'll be there by the end of the fight. I think we can stop him.
Markos (Chicago)
Your Janjua Rajput bloodline is something to be proud of. Do you grow up knowing you come from a warrior ancestry? Does that pride carry into the ring?
Amir Khan
(3:17 PM)
Yeah, it does. It's in the blood and the body. It shows that we're fighters and have heart. We can go into a fight and not be afraid of anyone.
james (tampa fl.)
will you focus on moving to his left for most of the fight to stay away from his right?
Amir Khan
(3:18 PM)
We've been working on a lot of things. Moving to the right some times, but moving to the left. We've got a great game plan for this fight. We know he's got some big punches.
Hasan (Chicago, IL)
Would you ever fight another muslim in the ring? Thanks for being a good muslim role model, as there aren't any out there.
Amir Khan
(3:18 PM)
Yeah, if there is another fighter out there. Boxing is a business. You have to fight the best.
Koichi (NYC)
Hey Amir, good luck on Saturday. At what weight do you typically walk around at? You're still young so do you see yourself jumping up a couple more weight classes in the future?
Amir Khan
(3:19 PM)
Yeah, definitely, I think I could see that happening.
Mike (Chicago)
Since Feddie Roach trains both you and Manny Pacquiao, would you ever fight Manny?
Amir Khan
(3:20 PM)
No, I would never fight Manny. We train with the same trainer and use the same conditioner. Who would they take? It puts them in awkward position. There are plenty of big fights out there.
jrod (rancho cucamonga , ca)
do you think you can win this fight by simply outboxing maidana? or do you feel that eventually you will have to exchange and if so do you believe you have the power to back maidana up to alleviate some of his pressure?
Amir Khan
(3:21 PM)
Definitely. You have to stand there and take a few shots and give a few shots back. But I don't think he'll be able to take the power that we have. We've been working on strength.
Faisal Iqbal (London)
what do you do to relax yourself a few days before a fight?
Amir Khan
(3:22 PM)
I just chill out and watch a few DVDs with some friends. Spend time with my family. We do some shortened training sessions to stay loose. I stick to the game plan. I don't need to watch any more film of the fighter I'm fighting. Just relax and chill.
Homer (OH)
Any advise for kids trying to make it to the Olympics early like you?
Amir Khan
(3:23 PM)
If you're going to go to the Olympics, it's a great base and experience for you before you turn professional. If you do well at the Olympics, you become a star and a name before you turn professional. And experience wise, you can't go wrong, because you're fighting the best in the world. So, yes, if you have a chance to make it to the Olympics, it's a good route to go.
Greg D (Raleigh, NC)
After destroying Maidana, will you look other opponents, such a Zab Judah for your next test?
Amir Khan
(3:24 PM)
We already spoke about opponents in the future. The division has a lot of big names in it. Any of them will do. I'll fight anyone really. If the fight makes sense, then I'm happy to fight anyone.
Amir Khan
(3:25 PM)
It's going to be a big night on Saturday. My last performance in America was great and I'm sure this one will be the same. Tune in and hopefully I'll do the fans proud.