The Morning Buzz: Monday, Dec. 13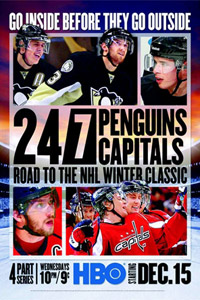 Welcome to SportsNation! In Monday's Morning Buzz, we'll have Pittsburgh Penguins coach Dan Byslma joining us at 10:15 a.m. ET to chat about the upcoming Winter Classic.
Leading into the Classic, HBO will air a four-part series 24/7: Road to the NHL Winter Classic, beginning Wednesday at 10 p.m. ET/PT.
In his first NHL coaching job, Bylsma took over the Penguins 57 games into the 2008-09 season, before leading Pittsburgh to its third Stanley Cup title in team history. Last year, he led the Penguins to a berth in the Eastern Conference semifinals.
It's The Morning Buzz, where you never know what subjects we'll hit.
More SportsNation: Chat Index | SN Index | PollCenter
Buzzmaster
(9:58 AM)
Gooooooooooooooood morning!
Buzzmaster
(9:59 AM)
We'll be talking some puck with first-place Pittsburgh Penguins coach Dan Bylsma at 10:15 a.m. ET. But for now, on to our usual shenanigans.
tom* (parkville, md)
Happy Monday, Buzznation!
Tom (NM)
3 things: Sal Alosi had a "Bartman" moment that he will never live down, the Patriots are good, and when will Desean Jackson learn about karma
Buzzmaster
(10:01 AM)
That was a donkey move.
Eric (Chicago)
Morning Nation...It's ok the Bears lost. At least we didn't lose to the Lions HA HA HA HA HA HA HA
Sal Alosi (via mobile)
The earthquake you felt was me tripping Buzz.
stephanie (cincy)
Buzz, you better not try and trip me. I will snap that leg like a butter bean old man
Buzzmaster
(10:02 AM)
That was just bonkers. I can't believe that even "in the heat of the moment" you would think that's OK.
Matt (IN)
Good morning folks. Another food day today and I am stuffed. I really want to go home and take a nap
J.B. (PA)
Looking forward to Coach Bylsma jumping in today. Good morning, Buzz Nation, and welcome to the last full chat week before Christmas!
Buzzmaster
(10:03 AM)
Oh crap. You're right. Darn, I need to finish that Christmas shopping.
Tom (West Bloomfield, MI)
Starting today's MB listening to my kids. Took an early vacation day just because. Oh, and GO LIONS!
Steve (NJ)
Buzz...hockey chat? First thing in the morning? Did Canada invade?
Buzzmaster
(10:03 AM)
It was part of the deal when we traded Wisconsin.
Woody Hayes (Via Mobile)
That Sal Alosi has a bright future in coaching, mark my words.
Wes (NC)
Down by 16pts I have Ray Rice and Billy Cundiff and he has Shiancoe. Most intense monday of the season for me
tom* (parkville, md)
Methinks if any active play contains an active player running on the wrong side of the out of bounds line, he deserves to be tripped.
Sledge (B'ham, AL)
Good Morning Buzzard. 2 straight days of snow flurries (nothing sticking). Now I know what it feels like to be in Minnesota.*
Matt (IN)
Eric, those Lions put up a better fight against the Pats than the Bears did.
Eric (Chicago)
I don't support injuries, but when will Rodgers learn? Seriously, as soon as I saw that play happen, I knew Rodgers was done. Couple that with a trip to New England next week and the Packers ARE DONE!!!
J.B. (PA)
Aw Wes, FFL? Really?
Steve (NJ)
This morning's SN poll is clownshoes.
Marc (Charlotte)
Finish.. I need to start Christmas shopping.. or as I call it "Calling my brother and telling him what to buy"
Tom (West Bloomfield, MI)
Okay, I don't know what this Alosi thing is. What happened?
Buzzmaster
(10:05 AM)
Jets strength and conditioning coach stuck his knee out to trip one of the Dolphins gunners who had been pushed out of bounds on punt coverage and was running on the Jets sideline.
J.B. (PA)
My wife and I power-shopped Saturday night. Four hours and got just about everything done for the kids. This after three hours in the morning shopping with my daughter.
Buzzmaster
(10:05 AM)
I'm not finished shopping, but I did finish putting up the tree and addressing the Christmas cards.
Norman (H-Town)
Dun, Dun, Dun, Dunnn!! MNF in H-Town tonight! Texans WILL win tonight.
Tom (West Bloomfield, MI)
Expensive office Christmas party was fun. I didn't drink nearly enough to compensate for my crappy bonus. I would classify the $72 steak as "okay."
Sledge (B'ham, AL)
Are you saying that SN poll is too big to be a normal size poll and therefore funny, or is the poll actually about clownshoes?
Renee (Boston)
Good Morning all...Wasn't it the Jets who called out the Pats for the spygate cheating? Pot, Kettle, Black anyone?
john (panama city bch, fl)
Buzz- when you're Christmas shopping, remember- i only need ONE front tooth...
Godish (Chicago)
I left the Bears game when it was 21-0. Just awful.
Steve (NJ)
Christmas shopping? We're talking about Christmas shopping? Christmas shopping?
Sadie Jane (IN)
Watching Morning new s had parents complaining about school being closed and having no child care and other parents complaining other school was open an it was to cold for kids to be waiting for a bus.No wonder no one wants to work in the education field.
Metrodome (MN)
Buzz, we are told that snow collapsed the roof, however, we have reason to believe it collapsed because you stood on it.
Jeff (Chicago)
Godish-your not a true Bears fan!
Steve (NJ)
I'm suggesting that the poll itself is ridiculous, as are its results. Also, I'm a total Indiana homer.
Buzzmaster
(10:08 AM)
I don't think we had figured that out.
Marc (Charlotte)
Flying back home so I've got to have my brother pick up my gifts.
J.B. (PA)
We put the last tree up Friday night. My older daughter wanted an irregular tree so we got her one with a bare spot near the top.
Brian (Madison, WI)
I'm still in disbelief about the Packers loss yesterday.
Eric (Chicago)
How many of the chatters today have already clicked on Carl Crawford's picture and the salary cruncher? I know someone already has.
Steve (NJ)
Jets' strength coach tripped up Nollan Carrol (or whatever his name is) on the sideline. It was horrendous.
Eric (Chicago)
The Lions and Bears scored the same amount of points...the difference is that the Bears didn't care after the 1st quarter.
Marc (Charlotte)
I voted for still important. Yes, they are down but I think Crean is bringing them back.
Godish (Chicago)
Why Jeff? I pay for my tickets, and I'm allowed to leave when it turns into a garbage.
J.B. (PA)
Do they still have a basketball program at Indiana?
Clay (Charlotte)
Goood Morning, God bless whomever decided to bring butterscotch bars to work this morning.
Norman (H-Town)
The collapsed roof was just a ploy to give Farve one more day to rest so he can play.
Neal (Philly)
I ordered from this pizza near my new house over the weekend and it was awesome.
Buzzmaster
(10:09 AM)
I had pizza two nights in a row for dinner this weekend. On the second night, LadyBuzz asked if it was OK or a good idea to have pizze two nights in a row. My response: "I don't even know who you are right now."
Norman (H-Town)
I want to try one of those new cheesey bite pizzas from Pizza Hut
Favre (Minneapolis)
good thing there are no camera's on top of the roof so I can just start a little hole in this air bag
Clay (Charlotte)
Spent most of the day looking for a Kinect for the fiance...nobody had has them. Pulse.
J.B. (PA)
I was also glad to hear the news that 'Melo won't sign an extension unless it means he's going to the Knicks. Take that, Denver!
tom* (parkville, md)
I think the entire Lions' fanbase is in agreement with Brian.
Hayden (Logan, Utah)
I got a christmas tree, wow, even I am surprised
Kevin (Philly)
Suh was an absolute beast yesterday, Detroit still has their issues but that's one hell of a defensive line.
Meto (Chicago)
So who thinks the Bears just won the division because of Rogers going down?
J.B. (PA)
Did the roof cave in over Buzz's cubicle too?
Clay (Charlotte)
Also went Saturday and got a YMCA membership for the two of us, got a great discount because we become founding members of the new one they are building. So to celebrate, gorged ourselves at Golden Corral.
Buzzmaster
(10:13 AM)
Might as well get your money's worth from the gym.
Matt (GA)
the roof collapsing wasn't a ploy to give favre an extra day, but mother nature telling the vikings to man up and play outside. Unfortunately they went to detroit instead......
Buzzmaster
(10:13 AM)
Yeah, well, I think that was the Giants doing more than the Vikings'.
Robbi (Clinton, Ky)
I was screaming YES! The Lions won! The guy is confused. "When did you become a Lions fan?"
john (panama city bch, fl)
What does Sports Nation think about Florida hiring a rookie- a DEFENSIVE specialist, at that?
Buzzmaster
(10:13 AM)
Ummmmm, he was the heir apparent at Texas. I think that's good enough.
Buzzmaster
(10:14 AM)
Two minutes until the Penguins' coach Bylsma!
Robbi (Clinton, Ky)
Oh I love Golden Corral. The closest one to me is in Carbondale.
Logan (ME)
we need a golden corral in maine
Ty (Tx,)
Popularity at the qb position doesn't mean one qb gets flags thrown in their defense oppose to others.
Steve (NJ)
Clay, I was tripping over Kinect's at Game Stop yesterday.
Wes (NC)
Isn't Detroit almost the opposite of a home game for the vikings? Why not somewhere more neutral? They are flying there either way.
Buzzmaster
(10:15 AM)
How is that the opposite of a home game? It's the closest dome stadium.
john (panama city bch, fl)
J.B.- CAREFUL, you'll bait the trap for James(Denver) to switch to this chat- Buzz- James makes Rastall look like Ghandi...btw, where's Colin?
Clay (Charlotte)
Checked gamestop around here, no dice.
Buzzmaster
(10:15 AM)
Shoulda gone to Jersey.
Robbi (Clinton, Ky)
Troy has an outstanding game yesterday. I hope he is OK.
Sledge (B'ham, AL)
Muschamp is going to be a good Head Coach, as long as he gets someone to figure out the offense.
Tom (West Bloomfield, MI)
I'm filing away in my memory that I can't call Robbi a bandwagon Lions fan when they eventually get good. This is all assuming that this happens in our lifetimes, of course.
tom* (parkville, md)
Plenty of room on the Lions' bandwagon, Robbi.
Tom (NM)
Clay, try Amazon, they got everything
Robbi (Clinton, Ky)
UK beat IU. That made me feel better.
Brian (Madison, WI)
I went from looking ahead to the playoffs for the Packers to looking up mock drafts in a span of two days.
Matt (IN)
Detroit had everything to do with the Fox TV equipment already being on hand.
stephanie (cincy)
Was it just me or did the Cowboy's look like they were trying to kill Vick? That is one tough hombre.
J.B. (PA)
How long will we have Coach B around today, Buzz? 15 minutes about right?
Buzzmaster
(10:17 AM)
Yessir.
Clay (Charlotte)
Oh, pulse, my bad. Let me drive 10 hours and spend $45 on turnpike tolls to get to Jersey and buy a $150 electronics item.
Buzzmaster
(10:17 AM)
Yes. Duh.
Forrest (Indy)
I know Minnesota would have been playing in a dome (had they played the game yesterday), but wouldn't it be smarter to hold it at a different stadium in Minnesota? In my opinion, being indoors as opposed to outdoors is not as much of an advantage as the crowd. How many Vikings fans are there going to be at Ford Field, honestly??
Buzzmaster
(10:18 AM)
People. The reports said it had nothing to do with Minnesota. The Giants had equipment for an indoor game, not an outdoor game. That's the reason they're playing indoors.
Nate (Madison)
They can't have it at UM's stadium because it would take a week to setup for a NFL game.
Nate (Madison)
Holy snow Batman. Well the throat scope went well, they found out what "condition" I have. Ugly sweater party, let's just say I don't fully remember the night.
Hayden (Logan, Utah)
bought a game for my sisters family, lego minatourus, looks fun, almost opened and played it
Forrest (Indy)
That makes sense! Thanks for the clarification!
Robbi (Clinton, Ky)
I loved it when Vick autographed the opposing players glove. So, it was for his nephew?
Caleb (Denver)
Game stop will order you one, clay.
Buzzmaster
(10:19 AM)
Here's Coach!
Michael P (New York)
I've been following the East pretty intensely this year, and right now, it seems like (other than the Pens & maybe the Flyers) there really isn't much separation between the teams we all envision in the playoffs. The Bruins, Rangers, Flyers, Canadiens and Thrashers all seem like they can give teams fits. Is this a mirage or do you see the East being a free-for-all the rest of the way?
Dan Bylsma
(10:21 AM)
I think it will be a battle. I think you've seen some surprises in Atlanta in the way they've played and early on in the season Buffalo was not having a great start, but they're starting to get in the mix. Ottawa. There are going to be a lot of these good teams in the mix fighting for the playoffs. I think it will be an interesting race.
John (Charlotte)
Coach, what do you think helped Fleury turn it around after a tough start to the season?
Dan Bylsma
(10:23 AM)
I think first of all, I think it's always a little more the story of him not being on top of his game was magnified by the media. Especially the situation at the beginning of the year and having a losing record and not getting off to the start as a team that we wanted. But Marc has worked on his game, came into camp with focus. He's worked on his fundamentals. I don't think there was as much of a concern about Marc's play and he would get back to form as much as it seemed from the outside. There was a confidence in the room that he would play up to his form. But it was a team thing as well, we weren't playing well as a team. Marc has stayed focused and kept that attention to detail. That's a large part of why he's kept at it and played as well as he has.
Chris (Durham, NC)
Any ETA on Jordan Staal's return to practice and game action?
Dan Bylsma
(10:25 AM)
No, there has not been. And there never has been really. He had a situation here in practice where he was getting ready to come back from his foot issue then had the broken hand and had a pin put in through surgery. He had that done a week ago or so. Once the healing process happens, he'll get back into rehab. That has to happen before we set any sort of time table or dates for him to play again.
J.B. (PA)
Pleasure to have you here today, Coach. Pittsburgh has done very well in getting good, young players in its system (as can be witnessed by the success of the AHL club). Has it made things easier for your transition from the AHL to NHL having some knowledge of the players' abilities?
Dan Bylsma
(10:27 AM)
I certainly think it's been instrumental to the success that we've had here in Pittsburgh, everyone being on the same page. Players coming into the organization and knowing how we do things here. It's a real good carryover when we get called up. Last year and this year is a great example of guys coming up and being able to contribute. Yes, that's been a big help. I've had experience with a lot of players in our system. I've coached them prior, but they also had a great deal of confidence because they knew what was expected of them and how to become good NHL players. That's been a big plus.
tom* (parkville, md)
Coach Bylsma, do you prepare for an outdoor game differently than an indoor game, or do you just let them play?
Dan Bylsma
(10:29 AM)
In terms of preparing to play the Washington Capitals, we will prepare the same way for our team. In terms of adjusting to what an outdoor game might be like, we are going to get one practice this year to adjust to that. Being used to the weather and the conditions, we're going to do our best. We get to do very little preparation for that, other than the practice for some experience. As for the game, we'll prepare like we would normally would. Some of our players might wear some eyeblack.
Steve (Pittsburgh)
Let's have some fun with this... Let's swap you and Bruce having the superstars you have. If you had Alex, how would you utilize him and his talents different than what Bruce has done.
Dan Bylsma
(10:31 AM)
Alex is a great player. How I would utilize him? He certainly has aspects to his game on the power play that they do a good job of using. Using his power shot as a weapon. We have some highly skilled players that we use as well. I don't know Alex all that well, but I would certainly use him on the power play much like they use him now.
Dave (State College)
Coach, what kind of matchups do you try to get for Crosby when you have home ice and the matchup advantage?
Dan Bylsma
(10:33 AM)
This year has been a little bit different than previous years with Jordan not being in the lineup. Some of our best matchups are for Sid to be out there with the other team's best players. Typically, the opposition will try to match up defensive pairings on Sidney and his line. We're always aware of those matchups, so we're always aware of what they're trying to do. We'll try to change things up. In some situations, some teams will leave their pairing out in the defensive zone whether they are tired or not because Crosby's line could be coming out.
Joe (PA)
Disco Dan - Can I start throwing your name out to be the next coach for the US Olympic team?
Dan Bylsma
(10:34 AM)
I have always said and will continue to say, it would be great to coach Team USA. I would love the opportunity to have the chance to do that in the future. Joe, you are more than welcome to say something.
Dan Bylsma
(10:35 AM)
I can't ever say enough about our fans. I've felt since coming to Pittsburgh that we have outstanding fans. They are loud even on the road. Here in Pittsburgh, I know I've never experienced the fans we have here. The way the support our team and players is unbelievable. A lot of props goes out to Penguin Nation. We love 'em.
Buzzmaster
(10:35 AM)
Thanks Coach!
jillinho (norman)
Yeah, thanks, Coach.
Caleb (Denver)
Im shocked Hayden didnt ask coach if he played LOTR risk.
Steve (NJ)
Always nice to have a hockey chat.
J.B. (PA)
Thank you, Buzz, for getting Coach Bylsma. He's done a great job with the Penguins and was great when he was here with our AHL franchise. Seems like a great guy.
Buzzmaster
(10:37 AM)
He sounded like a pretty down to earth guy.
Sadie Jane (IN)
Brave move with Hockey in the MB,Thanks Buzz.
Bob (Lowell)
The hockey game at the U of Mich was pretty wild. Apparently the entire poulation of Canada showed up.
Buzzmaster
(10:38 AM)
Coach Dan said some of his guys are happy that they'll get a chance to wear eyeblack during the game, like the guys in the UM-Michigan State game.
Christian (High Point, NC)
Sorry I'm late.
Clay (Charlotte)
What's that, Bob, like 10,000 people?
Clay (Charlotte)
Conversation with engineer that just happened. Me "What's a snow/rain monitoring system?". Engineer "A high tech bucket."
Ryan (State College,PA)
Thanks coach, Beat Philly!
J.B. (PA)
I love the Winter Classic Game. Best move Bettman ever made.
Buzzmaster
(10:40 AM)
They need to think of ideas that will keep making it fresh, though. They've run through Fenway, Wrigley. They've had Penguins-Red Wings. They're having Sidney-Ovie this year.
Steve (NJ)
I wear eyeblack in court - intimidation factor.
Tom (NM)
back to NFL, did Santonio Holmes get on twitter and blame God for his butterfingers....Hope butterfingers don't make you hungry Buzz
Bob (Lowell)
No, like 113,000+
jillinho (norman)
Did it snow in the Northeast?
Buzzmaster
(10:40 AM)
Not up here.
Curtis (Vancouver)
thats pretty funny, we have had around 400 straight sell out in Vancouver so we are used to full buildings too. But nothing like that.
Angry Colin (Northern VA)
Sorry Im late too. Christian and I carpooled.
Ryan (State College,PA)
There needs to be a winter classic at beaver stadium! Pens vs Flyers would be epic there!
J.B. (PA)
Outdoor hockey in Tampa. Now THAT would be fresh and exciting.
Buzzmaster
(10:41 AM)
I think the first year of the Winter Classic when it snowed during the game was the best part of the outdoor game.
Curtis (Vancouver)
Another great move by Bettman would be to bring back a Canadian team, Manitoba gets better crowds than Atlanta
Brian (Madison, WI)
Speaking of Canadia, Family Guy was pretty funny last night. "Do you have any cash eh?" Stewie: "I'm not sure if my name carries any weight."
chaz (sa tx)
you know when you start smelling a funny smell and you cant put your finger on it.. when you finally find it it makes alot of sense. thats how i felt today when i remembered there is not 1st and 10 chat anymore. no offense 1st and 10'ers.***
Gary Bettman (NYC)
Ugly Sweater hockey game?
J.B. (PA)
FREE RUCKUS!
Bob (Lowell)
They can have outdoor hockey in the Metrodome now.
Caleb (Denver)
Is collin still angry collin rastall?
Buzzmaster
(10:42 AM)
Yes.
Sledge (B'ham, AL)
But there is no money to be made in Manitoba.
Eric (Chicago)
Buzz, they haven't had Pens/Wings...go check again!
Buzzmaster
(10:43 AM)
I melted two together.
J.B. (PA)
Rangers-Islanders at Yankee Stadium or Rangers-Bruins.
Brian (Madison, WI)
Wisco hockey at Lambeau was pretty sweet.
Angry Colin (Northern VA)
Outdoor Hockey in Qatar. They have enough stadiums apparently.
Buzzmaster
(10:43 AM)
Yes Rastall.
Tom (NM)
is there such a thing as throwback sweater day in the NHL? Marketing you know...
mustid (DC)
Doesnt it snow often in Minnesota? Don't they design roofs there to withstand a foot of snow?
Buzzmaster
(10:44 AM)
Yes. But the thing is old. And I'm sure this will be Exhibit A in the Vikings trying to fleece the city out of money for a new stadium.
Christian (High Point, NC)
For the record, I would never share my car with a Rastall.
tom* (parkville, md)
If they keep playing the World Series in November, we may have a new definition of The Winter Classic.
Josh (Lincoln, NE)
I wonder if the real Rastall knows he's gained a new family member.
Brian (Madison, WI)
Watch yourself Buzz, those are fighting words.
Buzzmaster
(10:45 AM)
Refresh your page.
Steve (NJ)
Rangers/Islanders? No. Bruins already played a winter classic. I'd take Rangers/Devils, but I'd love Rangers/Blackhawks.
jillinho (norman)
Divine Intervention? Does Favre think he's Tebow.
The Metrodome (Minneapolis)
Roof on the ground, roof on the ground..I'm lookin like a fool with my roof on the ground
Christian (High Point, NC)
The roof was designed to collapse in that scenario; that's why it's teflon and not solid structure. It is much cheaper to install a new piece of teflon than it is to repair girders, etc.
J.B. (PA)
A parachute roof can only withstand so many heavy snowstorms over 30 years.
Mayor (San Antonio)
We could host the Vikings games for the next 5-10 years.
Sledge (B'ham, AL)
I'm all for an outdoor game in Colorado. As an Avs fan I would love to see what the high altitude did to the players.
Curtis (Vancouver)
Yeah Sledge, but isn't the money made through the sale of tickets and merchendise? Manitoba would sell out every game. I mean the Quebec Nordiques have a 70'000 person booster club and send 22 busloads (over 1100) people down to Long Island this weekend and watched their game. Pretty wicked if you ask me.
Buzzmaster
(10:47 AM)
No, the money isn't made through tickets and merchandise. It's made from sponsorships and luxury boxes. Welcome to professional sports in the 21st century.
Marc (Charlotte)
Buzz, the city will finance the stadium through bonds paid for by the good people of the city of Minneapolis.
Zygi Wilf (Minneapolis)
*crossing Buzzmaster off Christmas card list*
Brian (Madison, WI)
When you go into the Metrodome it takes 3 seconds to realize it's a dump. The roof collapsing was not shocking to anyone familiar with that building.
chaz (sa tx)
i agree with our mayor!!
J.B. (PA)
I will give the two Florida college football programs credit for filling the vacancies so quickly. Of course how hard a sell is it to coach in Florida?
Steve (NJ)
With sadness, I must report the Pop Tarts store in NYC is closed, and I never made it in to see the wonder and glory of it all. I do apologize, Sportsnation.
Buzzmaster
(10:48 AM)
Wha......wh....what?! Was it only supposed to be temporary? Or did it just do poorly?
Sledge (B'ham, AL)
Yes Curtis, Canadians love hockey. But Canadians don't control the Television revenue and a team in Manitoba is worth less when it comes time to renew those National and Local TV contracts than one in Atlanta.
Steve (NJ)
Curtis, the problem with that is the Quebec Nordiques don't exist anymore. They're the Colorado Avalanche, and have been for a decade. Maybe those fans should have been going to games back when Owen Nolan refused to play there.
J.B. (PA)
Had my Vikes jacket on at the grocery store yesterday when some guy said to me, "Hey tell your team to get a new stadium. They messed up my game yesterday." Yes sir! Let me just hit Zygi's private number on my speed dial. Nothing like running into tools at the grocery store.
Steve (NJ)
They did like a 6 month lease or something. It was a stunt.
Brian (Madison, WI)
We were all counting on you Steve!
chaz (sa tx)
2 important notes from this weekend. ruckus broke my sliding glass door, i dont know how but it takes my super human strength to open it now. ANNNNDD i scored sneak peak tkts to TRON this wednesday!!!
Buzzmaster
(10:50 AM)
Maybe you just lost half your strength over night.
Eric (Chicago)
Quebec Nordiques...some of the best uni's ever!
Clay (Charlotte)
I'm lost with the hockey talk, don't get me wrong, I enjoy watching hockey, I just don't know pulse about it.
Tom (NM)
How could a pop tart store close down, must be internal pilfering....BUZZ!!!!!!!
Clay (Charlotte)
Is Ruckus okay?
Sledge (B'ham, AL)
I run into tools at the Hardware store all the time.
Marc (Charlotte)
Why would it matter if a game in Colorado is played outdoors or indoors? Wouldn' the elevation still be the same?
stephanie (cincy)
JB, Gainesville is a dump and nowhere near the beach
Buzzmaster
(10:51 AM)
Yes, but it's Florida.
J.B. (PA)
I'm hoping to win the MB FFL so I can keep the pop tarts for myself.
Steve (NJ)
I think the Avs should pull out the old Colorado Rockies unis from the early 1980s...assuming the Devils will allow it.
Caleb (Denver)
Ruckus tried to free himself.
Steve (NJ)
So, the town of Livingston, NJ has a new billboard up on the lawn of the highschool/library complex. It says 'Future Site of Livingston Community Billboard.' I think they're doing it wrong.
Alex (Littleton, CO)
As the official colorado authority in the morning buzz. The altitude has the same effect indoors or outdoors. Also, the avalanche have been here since the fall of 1995.
Marc (Charlotte)
Fail: The Rockies weren't around in the 80s.
Buzzmaster
(10:53 AM)
Fail: Yes they were.
Neal (Philly)
lunch: cheesesteak and pizza
Brian (Madison, WI)
I'm especially angry about losing out on the MB FFL playoffs. My team went off this week with Vick, Desean, McFadden, etc. I'm almost to 200 points and still have 2 guys going tonight.
Alex (Littleton, CO)
Steve: Agreed, those were awesome unis. Don't know that the devils would let it fly though.
Tom (NM)
ESPN 30 on 30 the SMU story was well repulsive..The SWC was so brazen in their buying of athletes
Clay (Charlotte)
I want a mastiff, I've decided that since I have a 12lb dog that I need a 180lb dog to even it out.
Curtis (Vancouver)
I understand what you guys are saying trust me, I live in China and Nucks game always get pushed ahead or back because of the American TV schedule but I think the rest of the league takes the Canadian teams for granted. I mean as much as I hate them the Maple Leafs are the leagues most valuable team by a lot. The rest of the Canadian teams (even in rebuilds like Edmonton) still sell out. I can agree with your points but can you agree that some of these smaller market teams in the US are not going to last? Won't the owners get tired of the bail out revenue sharing plan?
Buzzmaster
(10:54 AM)
We weren't arguing about the U.S. teams.
Godish (Chicago)
Fail Marc. The Colorado Rockies are now the NJ Devils.
Eric (Chicago)
Someone please call the whambulance for Brian (currently dialing the number for him).
Steve (NJ)
My buddy has a mastiff - she's like a bear. Great dog.
Christian (High Point, NC)
Actually, it depends on whether or not they pressurize the arena (like airplanes) whether the altitude effect is the same. I'm going to guess they don't, or if so, only a little (otherwise people walking in the building would have issues).
Alex (Littleton, CO)
Lunch: The Chicken of one General Tao.
Morgan (Baltimore)
Lunch: the usual, but also have blueberries today!
Brian (Madison, WI)
Lunch: T. Bell or Burger King. Can't wait.
Josh (Lincoln, NE)
I almost fell into the same trap Marc did, but I figured the 1980s Rockies were an actual hockey team.
Angry Colin (Northern VA)
The only people that FAIL, are the people that type FAIL when making a counterargument. That word is played out.
tom* (parkville, md)
Lunch = 7-11 turkey sub.
stephanie (cincy)
So, it's a dump but it's hot, muggy and unbearable in the summer. Who wouldn't like to live there?
Steve (NJ)
Pressurize the ARENA? Talk about throwing money away.
jillinho (norman)
Curtis is in China. Why Vancouver?
Bob (Lowell)
Vancouver is in China?
Steve (NJ)
Shut it, Jalter.
Clay (Charlotte)
Lunch: Left over spicy Italian sausage and spinach stuffed manicotti. It turned out bangin if I do say so myself.
Matt (Spokane, WA)
I think DeSean Jackson just sprinted by the entire Cowboys secondary AGAIN.
Alex (Littleton, CO)
We all live at that altitude all the time. Our houses and stores aren't pressurized, we just get used to it.
Sadie Jane (IN)
Is FAIL more played out than self given nicknames Angry Colin?
Tom (NM)
Burger king employee punched out and killed a 67 yr old man last week. I guess you really can't have it your way.
Christian (High Point, NC)
The Orange Dome in Syracuse is pressurized (to keep the dome up), I'm pretty sure it's just a matter of tuning the air circulation to get the effect you want.
J.B. (PA)
Great chat to start the week. Thanks again for getting coach Bylsma today, Buzz. This Pens fan appreciates it. Have a good one, everybody, and see you back here tomorrow.
Curtis (Vancouver)
haha, I am studying in China but I have spent my whole life minus this last year in Vancouver. I watch all the games online.
Ryan (State College,PA)
Watched Inception for the third time last night, I still dont completely understand it.
jillinho (norman)
It's not that high. 10,000 ft. is high.
Josh (Lincoln, NE)
That Burger King dude died from choking on his dentures. That couldn't have been pleasant.
Sledge (B'ham, AL)
Lunch: Homemade Vegetable Soup (that I actually made. I'm beginning to like this cooking stuff.)
Alex (Littleton, CO)
If you really want to have it your way, go to Five Guys, assuming you're way is that you want it to taste good.
Alex (Littleton, CO)
If you are in China, you should probably be sleeping. Also, happy Tuesday to you.
Matt (IN)
Lunch: Nothing. Enjoy the rest of your Monday. I'm out like a deflated teflon baggy.
Tom (NM)
Peace out MBer's
Christian (High Point, NC)
Lunch chat: going for a haircut (I may have mentioned going for one last week but I didn't) and then I think some lean pockets
Clay (Charlotte)
Actually Christian, it would be balancing the air handlers and outside air dampers to provide enough positive pressure in the building.
Renee (Boston)
Lunch: homemade Mac n Cheese with ham
chaz (sa tx)
ruckus is fine he has a habit of opening the sliding door slightly and squeezing thru it. he had to have bent something..
Jobless Mike (Detroit)
Buzz good chat,More cowbell and less Hayden=Merry Christmas.
tom* (parkville, md)
It is better to die from choking on your dentures than from choking on someone else's.
Buzzmaster
(11:00 AM)
OK everyone. We're done here. We'll be back again tomorrow. Thanks for stopping by. Until then, stay classy SportsNation!
Sledge (B'ham, AL)
Enjoy yourselves MBers. I'm gone like the Quebec Nordiques and the Winnepeg Jets (the 2 best jerseys in hockey history).
tom* (parkville, md)
I think I'm ready for my nap now.
Christian (High Point, NC)
Less Hayden=Less Haley, tho
Curtis (Vancouver)
Thanks, yeah I guess it's midnight so I should get to bed. Good arguing with you guys!
Alex (Littleton, CO)
Hasta la vista, Buzz.