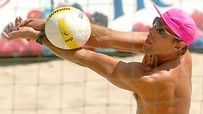 Kiraly won 148 beach volleyball titles and over $3 million.
Welcome to SportsNation! On Tuesday, volleyball great, and ESPNU analyst, Karch Kiraly stops by to chat about the final weekend of the NCAA women's volleyball tournament.
Kiraly is a three-time Olympic gold medalist and the only person to ever to have gold medals in both indoor and beach volleyball. In addition to his gold medals, Kiraly also won three NCAA titles, while at UCLA from 1979-82, with two undefeated seasons and a career record fo 129-5.
Kiraly will be a part of ESPN2's broadcast of the NCAA women's volleyball semifinal and final matches. Starting Thursday at 7 p.m. ET, ESPN2 will broadcast the two semifinals matches, followed by the national championship on Saturday at 8:30 p.m. ET.
Send your questions now and join Kiraly Tuesday at 1:30 p.m. ET!
More Special Guests: Previous chats | SportsNation
Buzzmaster
(1:27 PM)
Karch Kiraly will be here in a few minutes to chat some volleyball!
Vball Fan (On Thursday, KC)
Will it embarrass you if I genuflect if I run into you in KC?
Karch Kiraly
(1:33 PM)
Will it embarrass you if I bow in front of you? Do you have any reccomendations for the weather? This is a thin-skinned California boy coming in.
b (CA)
Do you think the Pac-10's success in this year's tournament establishes it as the strongest volleyball conference?
Karch Kiraly
(1:35 PM)
The Pac-10 had a bit of a down year last year. No Pac-10 teams in the last four teams in the tournament. This is much more typical. It's a good year for the Pac-10. When you say a conference is the best, it changes from year to year. After the tournament, you can have an argument as to which is the best. But of course it will change again next year.
Bryan (Macon, GA)
Breaking down each team, I think it's fair to say that you can argue cases for all four teams to win the National Championship. With the final four teams as balanced as we've seen in quite some time, what do you think will separate the champion from the other three teams when it's all said and done?
Karch Kiraly
(1:37 PM)
I think you're right. It's a very balanced tournament. Of course the last few years have been the opposite, with Penn State being so highly favored. What's going to separate the teams is two things: No. 1, it's a cliche, but coaches talk about it a lot, who wins the serve/receive battle; No. 2, who's strongest on the left side, the attack. All four of those teams have been good at times, but whoever is best in those two areas will win.
jay (State College)
Can Kristen Carpenter, in her first year as a setter, set Penn State to the finals?
Karch Kiraly
(1:39 PM)
I'm impressed with what she's done. She doesn't have a ton of training in the setter department and yet she's helped take her team to the semis. There's no team that looks clearly superior to anyone else. The advantage that she presents is that she makes a lot of bad passes into good plays, because she's so fast. The down side is her inexperience and her being a blocking weakness because she's only 5-6. But Penn State has overcome that so far.
b (CA)
Who's your player of the year?
Karch Kiraly
(1:40 PM)
Wow. That's a tough one. Picking from these four teams, because they have made it the farthest, I might have go with Carli Lloyd, leading her team to its first Pac-10 title. And leading her team deep into the tournament all four years.
Matt (Manhattan Beach, CA)
Karch, huge fan! I have tried for years to get one of your signature hats and have found it basically impossible. It may, in fact, be the single most rare piece of sports memorabilia out there today. Just thought you should know. Anyway, out of your nearly 150 wins on the sand is there one that stands out above the rest? Thanks for your time!
Karch Kiraly
(1:41 PM)
No, I can't pick one. But Manhattan was certainly one of my favorite spots. I got a chance to win many times there.
Steve (NJ)
Is there anything that translates between the sanda nd court?
Karch Kiraly
(1:42 PM)
There is a lot that translates between the two. First of all, the techniques are basically the same. If you're a good passer on either surface, you should be a good passer on the other. On the sand, with only two people out there, you have to learn to read the game and anticipate where you need to be. Reading is the premier skill in volleyball.
Zachary (Chicago)
What are your thoughts on Stanford? Do you think the loss early was due to bad seeding or Stanford not playing up to expectation... or USC playing lights out?
Karch Kiraly
(1:44 PM)
I wouldn't really call it an early loss. When they're the No. 3 and USC is the No. 6, they just lost. They had a match point. That match could have gone either way. Stanford had a great season. In the post game press conference, Stanford's coach said that it was sad they had to play when they did, that both of the teams were semifinal caliber.
Cary (CT)
Should we go back to side out scoring?
Karch Kiraly
(1:46 PM)
Rally scoring indoors has been used full time since 2001, at least at the NCAA level. So it makes sense to stick with that. All through the 90s, rally scoring was used just in the fifth and final set in NCAA volleyball.
Zachary (Chicago)
Karch, thanks for taking the time to chat with us today. Can you tell us who you think, of this years NCAA players, will have an impact on the national team? Many have mentioned Alix Klineman with good reason, but can you comment on her and other players that you'd like to see in the gym training?
Karch Kiraly
(1:47 PM)
You're welcome. No matter how good players are, at this time, they are way behind the curve with the Olympics essentially a year and a half away. Some of them could have an impact down the line, but for this year's class and younger, London is a long shot.
Chris Fiegler (Latham,NY)
Who do you think will be the National Champions in NCAA Women's Volleyball?
Karch Kiraly
(1:48 PM)
I will make the winner of the USC-Cal semifinal a slight favorite. It's a little tough to call that one, because USC beat Cal both times they've played. But I've seen Cal play some good volleyball and they shared the Pac-10 title with Stanford. Maybe it's Cal's time.
Karch Kiraly
(1:49 PM)
Thanks to everyone for sending in questions. Tune into ESPN2 at 7 p.m. ET for the semis on Thursday and the finals at 8:30 p.m. ET on Sunday. It's been a wacky tournament so far, and a great one. There's more to come.