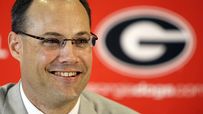 Georgia finished 14-17 in Fox's first season.
Welcome to SportsNation! On Wednesday, Georgia men's basketball coach Mark Fox stops by to chat some hoops.
Fox enters his second season with Georgia, after taking the job in April 2009. He has the Bulldogs off to a strong 6-2 start this year and the team has five more games before conference play begins Jan. 8 against Kentucky.
Prior to Georgia, Fox won four regular season titles in five years at Nevada, three trips to the NCAA tournament and one conference tournament title.
Send your questions now and join Fox Wednesday at 11:30 a.m. ET!
More Special Guests: Previous chats | SportsNation
Buzzmaster
(11:13 AM)
Georgia's Mark Fox will be here at 11:30 a.m. ET to take your questions!
Buzzmaster
(11:16 AM)
We're going to start early!
Josh B (Atlanta)
Coach, really love the job you're doing in Athens since day 1. What is going to be the key this year to get a winning record in SEC play with such a deep and competitive conference, especially in the East?
Mark Fox
(11:18 AM)
The first key is we have to stay healthy. We have a better team and deeper team, but injuries could play a part. It's so balanced. For our returning players to play with a maturity and really help our younger guys adjust. If we can do that and the younger guys can learn from the old, we can be competitive.
Willie (SF)
How has the team played, compared to your expectations coming into the season?
Mark Fox
(11:19 AM)
When Tomkins went down with his injury and missed a month of practice and three games, we were concerned with how we'd respond. He's coming back, but not at 100% yet. With that injury factored in, we've gotten off to a good start. The big thing will be to continue to play off that success.
Jeff (Lilburn, GA)
Jeremy Price has showed tremendous improvement over last season. But from the 4th game and on with Trey back, Price has averaged less than half the number of shots he took in the first 3 games (and as a result, has taken less than half the free throws he took in the first 3 games). Considering he is 4th in the SEC in FG% and almost cracks the top 10 with his 77.8% FT%, is there a plan to work the ball in to him down low more often?
Mark Fox
(11:20 AM)
I thought going into the season that Jeremy and Trey could be a terrific front court. I think that they still can be that. I think there's going to be nights that will take Jeremy away or visa versa. They both appreciate that their post partner can score. I think with that, they might be playing against more one on one defense and fewer traps.
Peter (RI)
What would you say is the team's biggest weakness right now?
Mark Fox
(11:21 AM)
I still don't think that we have defended nearly to my satisfaction. We have improved a little bit over a year ago, but we're not consistent enough on that end. That's an area that we're working on.
Kevin (Chicago)
What are you trying to do to prepare the team for SEC play?
Mark Fox
(11:22 AM)
One of the things that we try to do is play a tough non-league schedule. We've played teams from the Big East, ACC, Big 12. We've tried to get them games similar to what our league games will be like. And we've tried to get some depth and rotation. The league is so long that we're going to need to utilize our depth.
CC (Atlanta)
Great win over Tech! Do we have enough depth to compete with anyone in the SEC this year?
Mark Fox
(11:23 AM)
We are a deeper team than we were a year ago. Our new players are continuing to improve week to week. I'm excited about our new faces and that new depth. That was a major issue for our team last year. If these guys continue to improve, it will certainly help us.
KEvin
What have you done to address the team free throw shooting? Is that a concern?
Mark Fox
(11:24 AM)
It is a concern. I think we've coached free throw shooting poorly this year. We've started over in our approach as coaches and I think we've seen some improvement in practice. It's an area we have not been pleased with.
Ryan (SD)
Best part of being in the SEC?
Mark Fox
(11:25 AM)
You're just challenged every day. Every day that you wake up, you know that you're going up against the best coaches that are committed to winning. Every day that your feet hit the floor you have to rise to the challenge and that's invigorating. Every day is a challenge and it's never boring. That gives you a chance to have some rewarding days down the road.
greg (atlanta)
Team goals for this year?
Mark Fox
(11:27 AM)
We keep our team goals pretty private. These guys, simply put, want to win. Our main goal is to improve every day. If we do that and keep both feet in today and know we'll get better. It we do that, we'll find the wins that we want to achieve. I think there are somethings that they want to accomplish and are committed to, but they prefer to keep them pretty private.
Andrew M (Buford, GA)
Thanks for the big win over Tech - it was great fun to see all the frustrated nerds walking out of their building. My question is this: Sherrard Brantley seems to be really growing in confidence and has his best game against Tech. Do you see him as that zonebuster that Ricky was for us last year, or is he still not ready for that role?
Mark Fox
(11:27 AM)
We felt that Sherrard was a great shooter when we recruited him. He's begun to shoot the ball well for us and he's going to continue to get better and better. He's off to a great start.
steve (nyc)
wat's a successful sesaon this year?
Mark Fox
(11:29 AM)
We'll judge the body of work when it's over. Our program has improved. Our team is better than it was a year ago. I want to see these kids accomplish some things. We'll look at it in the end and really judge how successful we've been. The one thing that I've been happy about is they've learned to be successful people and that was the first thing I wanted to see with this team.
Doug (CA)
Whos the team to beat in SEC?
Mark Fox
(11:30 AM)
I said a year ago that I thought Florida would be the preseason favorite because they return so many pieces. So I think they would have been my pick, but there are so many teams in our division playing well. Kentucky, Tennessee, Vandy are off to great starts. This division is as good as any. But I think Florida would probably be my pick.
Will (FL)
Any games you have circled?
Mark Fox
(11:31 AM)
We really take them one at a time. That's always our focus. We will continue to do that, but we know we have some big SEC games ahead of us.
Mark Fox
(11:31 AM)
Thanks for following us. Go Dawgs!