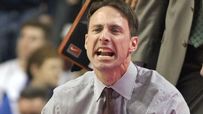 Horn put together the No. 25 recruiting class this past summer.
Welcome to SportsNation! On Wednesday, South Carolina men's basketball coach Darrin Horn stops by to chat some hoops.
In his third season in South Carolina, Horn has his Gamecocks off to a 7-1 start. The team opens SEC play Jan. 8 against Vanderbilt.
Horn arrived in Columbia following five seasons at Western Kentucky, his alma mater. He led WKU to one conference tournament title and one regular season title.
Send your questions now and join Horn Wednesday at 11:50 a.m. ET!
More Special Guests: Previous chats | SportsNation
Buzzmaster
(11:33 AM)
South Carolina coach Darrin Horn is up next! We might be starting a few minutes early.
Isabelle K (Columbia, SC)
What has been the message to the team in preparation for no. 2 Ohio State?
Darrin Horn
(11:36 AM)
One is the reason we play the schedule that we have. We can look back at Michigan State now and say that we've already been to one No. 2 team in the nation. The things that have given us a chance to 7 wins right now are the same things that will get us a win on Saturday. Guys playing their roles, rebounding and defending.
FTM (Philadelphia)
Hey coach, congratulations on your success thus far this season. Are you surprised at the kind of impact Brian Richardson has had so far this year?
Darrin Horn
(11:36 AM)
Brian has been a pleasant surprise. We knew he would be able to do the things he's doing for us now, but to do them as early and as well as he has has been great for him and great for our team.
Bryan (Columbia)
What is the most challenging thing about coaching at South Carolina?
Darrin Horn
(11:38 AM)
I think building a culture of winning, where it's expected. Like we've seen most recently with football, like we saw with our baseball team. Those two things were possible because of coaches committed to building the program. The daily grind of building winning program in every area. Sometimes, though it's crucial, it's made out to be as simple as recruiting and coaching, but there's a lot more going into it. It's building a work ethic, it's being committed to a style of play, building team camaraderie.
Darrin Horn
(11:38 AM)
It's a daily process.
Ritchie (Richmond,VA)
How do you fully eliminate the perception that people in South Carolina do not care about Basketball, to get them to believe that basketball season is more than just entertainment between Football and Baseball season?
Darrin Horn
(11:39 AM)
I would say we don't have that problem in Columbia. We've had 6 sellouts in my first two years, we've been in the top half of the league in attendance. We have a passionate fan base. We have to do our part and be exciting to watch and to win.
Jackie (Norfolk, Va.:)
Can you talk a little bit about how difficult it was to lose a guy like Devan Downey?
Darrin Horn
(11:41 AM)
Devan was a terrific individual talent. You don't replace the things he did individually. He averaged more points in SEC play since Shaq. How about that? We haven't tried to replace him. We've tried to do what we do have and that's tremendous depth. The strength of our team is our team, and not one or two individuals.
Channing Carmon (Columbia SC)
How does Bruce Ellington compare to Devan Downey as a PG? Not so much in a scoring sense but more of being an all around PG and being able to manage the game and see the court?
Darrin Horn
(11:42 AM)
I think they're totally different players. I think it would be unfair to Devan and what he accomplished and unfair to Bruce in just getting started and trying to compare them at all. Bruce is doing a good job and the exciting part is he's going to continue to get better, without question.
Chaz Waldo (Gastonia, NC)
Coach Horn, do you think this can be the year you guys finally make it to the big dance?
Darrin Horn
(11:43 AM)
I think that every year. Obviously we have to continue to get better. As I've said so many times before, you have to win in league play. Quality wins help and make a difference, but you look at the SEC East alone, we're going to have 10 games against NCAA tournament teams. You have to win in league play and win at home. If we do that, I think we can put ourselves in good position, with the OOC schedule we've played.
Brian (charleston sc)
I think you are doing a fantastic job. Do you think the football team gaining national recognition this year can help promote your basketball program to the next level ie. steal some big time recruits from the likes of Kentucky, Tenn. And Florida? This question is not to down play the great recruits you brought in this year...ellington,richardson, cooke, slawson etc. Once they mature they are going to be big time players.
Darrin Horn
(11:44 AM)
I think any time a South Carolina team, whether it's baseball, our men's and women's soccer or what football did, any time those teams do well and receive exposure, national or otherwise, it's a positive. There's no question we can benefit from it.
Joseph (Charleston:)
Bruce Ellington has been amazing so far as freshman. Did you expect him to be this good?
Darrin Horn
(11:46 AM)
We knew he was an impact player, because of his athleticism, his ability to make plays and we knew he was a winner. I'm honestly not surprised at all that he's doing well. I'm excited that there is so much room for growth as a player.
Chris (Greenville, sc)
How is the development of C. Geathers coming along? He seems to have the height/weight to be effective on the low block.
Darrin Horn
(11:46 AM)
We think Carlton is going to be a guy that can help us in the future as his body and conditioning continue to develop. His best basketball is ahead of him. We're excited about him.
Brian (SC)
Some writers have talked about how the SEC East could get as many as five teams into the tournament. Realistic? What about all six?
Darrin Horn
(11:48 AM)
I think that our division is as strong as there is in college basketball. If all six teams are worthy, based on their performance, then I think they deserve to get in. I don't think it should be a situation where we shouldn't be taking all six, just because. If we're all deserving, then we should get in.
Steve
Goals for this season?
Darrin Horn
(11:49 AM)
Our goals are basically the same every year, we want to beat our in-state rival and win the SEC. We think that if we're good enough to win the SEC or compete for the SEC championship, then we're good enough to be very relevant nationally.
John C. (Greenville, SC)
Hey coach, would Bruce Ellington ever want to play football at USC and basketball at the same time?
Darrin Horn
(11:50 AM)
He has not expressed an interest in that at all. When we recruited him, we told him that we'd love for him to play basketball or football or both, whatever he wanted to do. We told him that he was good enough to be a good basketball player in the SEC. That's what he's doing right now and he's having a huge impact on our program.
Darrin Horn
(11:52 AM)
The Gamecock Nation is the best in the country. We need you more than ever when SEC play rolls around in January. This is a fun team that you're going to love to watch and be excited about supporting. We need to make sure to own the Colonial Life Arena this year. Go Cocks!