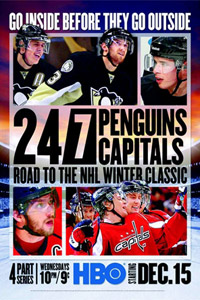 Welcome to SportsNation! On Monday, we'll be joined by Pittsburgh Penguins' winger Mike Rupp to chat about the upcoming Winter Classic
Leading into the Classic, HBO will air a four-part series 24/7: Road to the NHL Winter Classic, beginning Wednesday at 10 p.m. ET/PT.
After playing three seasons with the New Jersey Devils, Rupp is in his second year with the Penguins. Last season, he set career highs in goals scored with 13 and points with 19. This year, he has 3 goals and 4 assists.
Rupp entered the NHL after being the 76th overall pick in the 2000 draft by the New Jersey Devils. He won the Stanley Cup with the Devils in his rookie season in 2002-03.
Send your questions now and join Rupp Monday at 1 p.m. ET!
More Special Guests: Previous chats | SportsNation
Buzzmaster
(12:49 PM)
Pittsburgh Penguins' Mike Rupp will be here at the top of the hour to take your questions!
Buzzmaster
(1:01 PM)
Mike is here!
Chris (Pittsburgh)
Mike, couple tough losses last week, albeit to quality opponents. What has the focus been over the four-day layoff going into tonights game against Pheonix?
Mike Rupp
(1:03 PM)
Our focus has been to not let circumstances in the game get us to hanging our heads. There are times where, in our Rangers game for example, we were in control, but a couple of minutes turned it around. This next game tonight is a chance to turn it around for us.
Drew (NY)
how excited are you about the winter classic. also, do u take a different approach when playing outside
Mike Rupp
(1:04 PM)
No different approach. At the end of the day, it's a hockey game. It's an exciting one. I'm excited about the opportunity to play in it. Whatever the circumstances with the weather will be a wash.
Ray Stinger Jr (Pittsburgh)
Hi Mike! You and 87 are coming in on a 2 on 1,you have the puck,are you getting the assist or are you going to shoot?
Mike Rupp
(1:04 PM)
Oh geez. I could get the assist if he gets my rebound!
Nathan (New Stanton, Pa.)
Would you be disappointed if it doesn't snow for the Winter Classic?
Mike Rupp
(1:05 PM)
I don't think I'd be disappointed. I think it would be icing on the cake if it did snow. The ice conditions wouldn't be great if it was snowing, but we're all playing on the same sheet. But I would love to see the snow coming down.
Brian (Pittsburgh)
On the first episode of 24/7, we saw Fleury and friends put all of the young guys' furniture in the hallway of the hotel. When you were a rookie, what is the worst thing that anybody did like the prank pulled on your young stars?
Mike Rupp
(1:06 PM)
There was nothing like that. It was always just embarrassing things. As a rookie, you're at the mercy of the veterans. If you're at a meal and they're bored, they can make you get up and sing in the restaurant or something.
Rich (San Diego)
Mike, How do you feel about the upcoming game tonight against the Coyotes and what do you think about HBO so far?
Mike Rupp
(1:07 PM)
Yeah, I think the show's great. We saw the first one from last Wednesday. We see the cameras there every day and get to meet the crew, but to see the finished product and to see the vivid picture from the cameras and following the story, I'm anxious to see Week 2.
Zach (Pittsburgh)
What's it like playin with the guys on the fourth line? Weather its talbot, jefferey, or conner.
Mike Rupp
(1:08 PM)
It's great. We all understand how our line needs to play and what we need to bring to the table. We all get along well. Every linemates and your team in general, when you're around each other so much, you bond. Even more so in those games where there's some physicality and it brings you closer.
Matt (Lakewood, OH)
How happy are you that your alma mater, St. Ed's finally got the monkey off their backs by winning the State Championship in football?
Mike Rupp
(1:09 PM)
Yeah, I heard that. That's huge! It's nice to have that feather in the cap.
Chris Fiegler (Latham, NY)
Are you looking forward to play in the Winter Classic on January 1, 2011 at Heinz Field in Pittsburgh?
Mike Rupp
(1:10 PM)
I know that we're all excited about it. We haven't really spoken too much about it because our schedule is so busy. I think in the prior 24/7's it was always leading up to the final event and it was always on your mind. But we have so many games before then. I'm sure when we come out of the break and finish up the games before the Classic, we'll be able to get consumed by it. It's probably better that way so we don't get too anxious.
Erin L (Pittsburgh, PA)
What's your favorite building (outside of Consol) to play in?
Mike Rupp
(1:11 PM)
On the road, I like to play in Montreal. I think Montreal has the best ice. The fans are loud. It's great playing on the road there. Then I like playing in the rinks where your team is hated the most. I like playing in Philly and in New York. I like having a chance to tick off a lot of people where they're rooting against you.
Drew (NY)
Hey Mike, Die Hard Pens Fan. why is it that every fan in the league always hates on the Penguins. Do you think they are just mad because we have such good young talent
Mike Rupp
(1:12 PM)
I think on the same side, the Penguins have grown to be a team that, I don't know if they're America's team, but in other sports, where you see Yankees stuff everywhere you go. We're not to that point yet, but everywhere we go, you see Penguins stuff in the arenas. I'm not a Yankees fan, so maybe it's the same thing. When a team has some success, you see the stuff around and fans don't like it.
Mason (Russellville Indiana)
After tough losses what is the mentality going into the next game?
Mike Rupp
(1:13 PM)
Just to get back to our game. Maybe we're not playing the way we're capable of playing. It's just about getting back and doing the simple things. Hopefully we can get back for another run.
Brent (Philadelphia)
If you had to pick one food for tailgating at the Winter Classic, what would it be?
Mike Rupp
(1:14 PM)
I'm a big BBQ beef or pork kind of guy. Anything that's BBQ sauce and sloppy is good for me.
Ash (Sudbury, ON)
Based on what we've seen on the HBO series, it's safe to say the team has incredible chemistry on and off the ice - you guys look like you're always have fun. What word would you use to describe the relationship you have with your teammates?
Mike Rupp
(1:15 PM)
I think that you saw us in the midst of our winning streak and that maybe it's fun all of the time. I think in this next episode you'll see us after two losses. We address our issues that need to be addressed, but at the same time we enjoy going to the rink and doing our work. Our group of guys are so close and we understand we'll have another shot in our next game. This team is the closest I've had with a group of guys and I think that shows in the 24/7.
Jeff (Orlando)
Have you enjoyed a double Cap, egg, and cheese at Primantis' yet?
Mike Rupp
(1:16 PM)
I haven't had any of them yet. I've been told that the egg is the way to go on any sandwich. I've been going with the straight slaw. But I'll have to try that one.
Kevin
Mike, how happy are you and the rest of the team to see the emergence of Kris Letang as one of the best defenders in the NHL?
Mike Rupp
(1:18 PM)
Tanger has come a long way. He's obviously gifted offensively, but he's underrated defensively. He's strong on the puck. Having a guy like that, you have an extra weapon. The team is built with our big three up front. To have the ability to have a defenseman that can have 3 points to help our team win, with any of the guys back there, it's a nice weapon. We don't rely on one guy to get us offense, there are a few of them back there that can. It's huge.
Mike Rupp
(1:18 PM)
Happy Holidays to everyone! Hopefully we'll see you with a smile on our faces after the Classic!