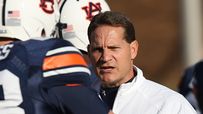 In 2009, Chizik became the first Auburn head coach to lead his team to a bowl game in his first year.
Welcome to SportsNation! On Wednesday, head coach of Auburn's 13-0, No. 1-ranked football team Gene Chizik stops by to chat about the upcoming BCS national title game.
In just his second year at Auburn, Chizik has accumulated a 21-5 record, while leading the Tigers into this season's national championship game. Auburn will face off with Oregon Monday, Jan. 10 at 8:30 p.m. ET on ESPN in Glendale, Ariz.
The 48-year-old Chizik came to Auburn following two years as head coach at Iowa State.
Send your questions now and join Chizik Wednesday at 12:30 p.m. ET!
More Special Guests: Previous chats | SportsNation
Buzzmaster
(12:21 PM)
Auburn coach Gene Chizik will be here at 12:30 p.m. ET to take your questions!
Buzzmaster
(12:29 PM)
Coach is here!
JB New Haven, CT [via mobile]
What scares you the most about Oregon's offense?
Gene Chizik
(12:30 PM)
The tempo is obviously very challenging. The speed of their offense is hard to similate in practice and their playaction passing game is extremely effective when it comes to giving up big plays. Those three things are pretty challenging.
Jordan (Slinger, WI)
What were the keys to Auburn's success this season?
Gene Chizik
(12:31 PM)
No. 1, team chemisty, being able to come back from those deficits that we've been able to overcome. We have been opportunistic on both sides of the ball. When we had to have plays defensively, we did. When we needed offensive plays, we were able to do that.
Matthew (Columbia, NJ)
Hey Gene, what's your opinion on the BCS? Do you believe there should be a playoff or should the system stay the same?
Gene Chizik
(12:32 PM)
I think there's probably arguments for both, but until we come up with a way that makes the most sense, the BCS has been pretty consistently correct, for the most part. Obviously, 2004 we didn't get it. But that's been rare.
William (Texas)
War Eagle!How is the team handling the pressure of being the number 1 ranked team heading into the game
Gene Chizik
(12:32 PM)
I think they've handled it great. We were No. 1 when the first BCS standings came out. It switched a little bit and we went back up to No. 1. We played consistent with our rankings.
James Carson (Nashville, Tn)
What are some team building activities that you and your staff build into the long layoff before the Championship game? WDE Coach!
Gene Chizik
(12:33 PM)
We've got a plan for team movies, team bowling, things that we do outside of football. Things of that nature to just do some team activities, team events.
Matt (DE)
Coach, can you take about the importance of having a guy like Gus Malzahn on your staff?
Gene Chizik
(12:34 PM)
I think it's huge. If you look at any coaching staff in America, they're only as good as their assistants. I have what I think to be the best coaching staff in America.
Chris (San Diego)
Which player other L.James do you worry about most in Oregon team?
Gene Chizik
(12:35 PM)
I worry about a lot of them. They have a great receiving core. Their QB is extremely talented and effective. They have a punt returner that's as good as I've seen. There are a lot of challenging people in terms of personnel on their team that we'll have to be aware of.
Sledge (B'ham, AL)
War Eagle Coach! How important is the veteran offensive line to this years success?
Gene Chizik
(12:36 PM)
They've been a huge part of, and probably don't get enough recognition, what we've accomplished. There is no question that they've been a huge part of the puzzle. They get overlooked more than anybody.
Adam (Chicago)
Coach..whenever the time comes, how do you go about replacing a player like Newton? Does the offense itself have to change or do you look for kids with matching skill sets?
Gene Chizik
(12:36 PM)
You're always looking for somebody that matches a Cameron Newton's skill set. Whether you find one or not, remains to be seen. You try to recruit the kind of guy that you need. Once they get there, you find out what he can do and you adjust. Everyone's different.
Jordan (Slinger, WI)
Is the preparation for this bowl game different because the National Championship is in the line?
Gene Chizik
(12:37 PM)
We're preparing the way we always prepare. That's worked for 13 games, so we're not going to change that. We have a longer time to prepare, but how we prepare won't change.
dave (erie, pa)
Coach do you expect Cam Newton to stay his senior year at auburn? If not whats the plan for QB?
Gene Chizik
(12:38 PM)
We're focused on this game. We'll have those conversations at the appropriate time. We're trying to win a national championship.
Michael harkness (charleston,SC)
Think Bammer Offence is better built that the duck or think this will be our toughest game yet? Any chance you can come to Charleston then go see people serving oversea on a USO trip?
Gene Chizik
(12:39 PM)
Definitely the most challenging, when you consider everything, talent, scheme, tempo. Putting that all together, it will be the most difficult.
kris (geneva, alabama )
What was your highlight of this season?
Gene Chizik
(12:40 PM)
I think just the ability to be undefeated in our league and win our league. The Alabama game was a huge piece for our instate rivalry and instate recruiting. It's been fun to do.
Amy, Birmingham [via mobile]
War Eagle coach! How do you feel practices have been especially with the long layoff? Have the guys shown the same ability to remain focused as they have all season?
Gene Chizik
(12:41 PM)
I think they've been good. Yesterday was one of our better ones. Our team has been very consistent all year, in terms of how they've practiced. We were a little rusty after coming off of a 10-day break, but we're getting it back into gear.
Sledge (B'ham, AL)
WDE Coach! How is this team similar to the other two undefeated teams that you have been a part of?
Gene Chizik
(12:42 PM)
It's been similar in the fact that the team chemistry has been very unique. On any championship team, that's a huge part of the puzzle. And in how we've won many of the games, that's a part of the team chemistry that we've built. That's what makes championship teams.
Adam (Chicago)
The SEC is a murderer's row. Will the experience of preparing for a top team almost weekly help you get ready for Oregon?
Gene Chizik
(12:43 PM)
There's no question. One thing that our team understands is the hugeness of every game. How big every game is. Every week in our league. There are so many rivalries in our league because of the dynamic of our league. That preparation has helped our team.
Gene Chizik
(12:43 PM)
War Eagle!