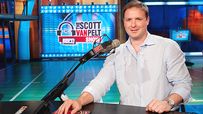 Welcome to SportsNation! On Wednesday, ESPN Radio's Ryen Russillo will be stopping by to chat.
Russillo is co-host of The Scott Van Pelt Show on ESPN Radio, which runs 1-4 p.m. ET. Listen live

He also hosts the NBA Today podcast on ESPN.com. He has covered the NBA draft since 2003 and prior to joining ESPN, he was a TV studio analyst for Boston Celtics games.
Send your questions now and join Russillo on Wednesday at 4:15 p.m. ET!
More Ryen Russillo: ESPNRadio.com | Chats | Search | SportsNation index
ESPNRadio.com
(4:12 PM)
The post-show meeting is wrapping up. Ryen will join us in a couple of minutes so fire away.
Jon (VA)
Do you think Marty Morhninweg or Jim Harbaugh is a better head coach candidate for the NFL?
Ryen Russillo
(4:13 PM)
Not even close. Marty was terrible with Detroit.
JRich (MD)
Ryan, What's your take on the Heat? Are they a team nobody wants to play in the playoffs or just taking advantage of a softer schedule ?
Ryen Russillo
(4:14 PM)
Nobody wants to play this team, but I still will like the size of Orlando and a healthy Boston in a seven-game series. They're playing great defensively, but they play very small through much of the game. They start with big Z and then it's Anthony for 20 minutes. It's about 30 minutes a night of center.
Barry (Phoenix, AZ)
If the Knicks want Nash, is there any scenario under which they can get both Nash and Carmelo? Or would that require two separate trades, with a third team involved in both?
Ryen Russillo
(4:15 PM)
It would be two separate trades. These are not going to happen.
RYan (NC)
Any word out of the Bucks on if they will try to make a move with Michael Redd's expiring deal?And who's roster would you rather have - Detroit or Charlotte? (transplanted Detroit-er to Charlotte and my basketball world as a fan is bad)
Ryen Russillo
(4:16 PM)
Another problem with expiring contracts, especially one worth $18 million, is what could you realistically bring back that someone wants to give you that isn't an awful contract in return? So the point is if the player is any good, the only way you get something you're excited about on the court is a contract that is awful for your future. 13-19. Still like them to get into the playoffs. Have played the toughest schedule in the NBA so far.
Zach (Greenville)
How was your New Years?
Ryen Russillo
(4:17 PM)
Average.
Thunder (Oakland)
What is steph curry's ceiling? Monta ellis all star? David Lee?
Ryen Russillo
(4:18 PM)
Second-tier star, never one of the top five players in the league, but I love him.
Kevan (Austin)
Can you describe in words the ugliest baby that you saw a picture of today...I must know how bad they truly got.
Ryen Russillo
(4:18 PM)
One looked like a baby King Kong/Bundy. The other looked like Louis Gossett Jr. in Enemy Mind.
Mack Schoen (Jackson WY)
Still think Oregon's defense is so much better than Auburns that Oregon will blow auburn out?
Ryen Russillo
(4:19 PM)
It was way better statistically, so I assume you think I'm making this stuff up. Auburn has more momentum entering this game, but they've both been off for over a month. I think Oregon wins. The blowout call was to make people mad.
King Henry the 2nd (New York)
Impressed by the Knicks victory last night, Ryen?
Ryen Russillo
(4:20 PM)
Yah. Anybody who scores 128 against the Spurs is impressive. What do you want me to say next? That they're the best team in the East? Keep waiting.
matt (green ridge, pa) [via mobile]
Ryen, who's #1 on your nfl big board, a la mel kiper, assuming luck returns to stanford?
Ryen Russillo
(4:21 PM)
I love A.J. Green, but I wouldn't take a WR #1. Maybe Fairley from Auburn?
Zach (OH)
Get rid of the beard its pretty disgusting
Ryen Russillo
(4:21 PM)
Why do you think it's disgusting? You don't have to deal with it.
Joe (NV)
What is the missing piece the jazz need to be legit contenders?
Ryen Russillo
(4:22 PM)
Defensive big. See Lakers playoff series last year. The answer has been the same for two years, maybe three.
Colton (Salt Lake City)
Hi Ryen, what's your take on the Celtics injury situation? Are injuries finally slowing them down? Can they still survive them and hang on to the best record in the east?
Ryen Russillo
(4:23 PM)
If healthy, they're the best team in the NBA. I don't see them being healthy. Garnett two weeks here, next thing you know, he's out a month and not around for the playoffs. Not saying it's going to happen, but that's exactly what went down two years ago. If they're healthy in April, I'll pick them, but they're not going to keep up the initial pace.
VW (NYC)
Dude stop using Comcast as an excuse and go to atdhe.net and watch some Knick games. I need to hear your take on them
Ryen Russillo
(4:24 PM)
I will, but not anytime soon.
JP (Charleston, SC)
Since you went to Vermont, do you like Phish?
Ryen Russillo
(4:24 PM)
I did, then I kind of grew out of it. I liked them more in high school.
Ryen (Chicago)
Ryen we've got the same name! (or i just typed ryen in there and my names actually mike?) Either way how do you feel about oj mayo getting worked by Tony Allen?
Ryen Russillo
(4:25 PM)
If O.J. really didn't want to pay him $1500 that he lost to him in a card game, then he deserved to get up for his get down.
Ryen Russillo
(4:25 PM)
At a pick-up game at the Celtics' facility, Tony Allen's girlfriend came up to me after the game and told me I was the only one playing hard. Just wanted to add that in there.
Dizzil04 (Chicago)
Have you ever played Boo-Ray?
Ryen Russillo
(4:26 PM)
This is the card game that all NBA teams play. When I was on a team plane, I couldn't afford the buy-in, so I sat up front and watched video. Surprisingly, Ricky Davis didn't want to hang out with me.
Nick (OB)
How bad is Reggie Miller at calling games? I don't like it.
Ryen Russillo
(4:27 PM)
He's calling games? I thought he just always had a really good seat and would yell comments. I thought he was friends with someone and he was always dressed up. This is shocking news. I'm going to pay a lot more attention the next time Reggie Miller is near the court. Never realized he was calling games.
Nick (OB)
Who would be your NBA MVP so far?
Ryen Russillo
(4:29 PM)
It started Gasol, there is a lot of buzz for Amare. I like the Derrick Rose argument. It's been fueled by Bucher, shot down by Simmons. I'm starting to warm up to it. D-Wade is my choice.
Nick (Wisconsin)
If the reports are true, it's a crime that Josh McRoberts isn't in the dunk contest over a guy like Brandon Jennings (who is out with a broken foot right now!). What gives?
Ryen Russillo
(4:29 PM)
How marketable is Josh McRoberts moving forward? There's your answer.
Matt (Houston)
If you had to plan a bachelor party for 2 of your college buddies, where would you go assuming they are both in their upper 20s. We were thinking Vegas for the opening weekend of March Madness. Any better suggestions?
Ryen Russillo
(4:30 PM)
That is a great plan. Usually guys say late-20s, though. I'm going to Cabo in April, Vail in a month. Was in Colorado and Vermont last year and have been to Vegas, Burlington and New Orleans for bachelor parties. Vegas depends on your group of guys. Sounds like you'll be alright.
Michael Finn (Wausau,WI)
What was your favorite college football game of this year? It feels like a down year to me in terms of magic and thrill, but there were still a few great ones in there.
Ryen Russillo
(4:31 PM)
I loved the LSU-Tennessee game because the ending was so weird.
Joe D. (Maryland)
Will you be purchasing Tiger Woods PGA Tour '12 so that you can finally get a chance to play Augusta National?
Ryen Russillo
(4:31 PM)
Yes, I heard it's unreal.
Dizzil04 (Chicago)
How far do you think the Bears go in the playoffs this year?
Ryen Russillo
(4:31 PM)
I'll probably pick against them in their first game.
John Izumi (Sacramento)
What's your take on DeMarcus Cousins and Tyreke Evans as the Kings Franchise Duo, is there future brighter then most people think? How good can Cousins be?
Ryen Russillo
(4:32 PM)
I watch them a lot. I hate watching them play basketball. They don't know what they're doing and there's no one to tell them what they're doing wrong. They're developing bad habits and bad attitudes, and it's not what you want to build on.
Jake Locker (WA)
Andrew, returning to school isn't all it's cracked up to be...
VW (NYC)
Sixers should keep Iggy or move Iggy?
Ryen Russillo
(4:33 PM)
I wouldn't give him away. I might try to move Turner while he still would have some attractiveness. If you aren't going to play him...
Jim (Columbus)
Will people shut up about Ohio State not being up to level as the SEC? Like Mark May?
Ryen Russillo
(4:34 PM)
Do you think that they are?
Zach (Greenville)
More fearless player than Blake Griffin? I said Barkley as rookie. Then I heard JA Adande say it. Do you agree?
Ryen Russillo
(4:35 PM)
Barkley had more of an attitude. Griffin, going back to his college days, would get messed with a lot and he always kept his composure. It's very impressive and he still has it. I'm always impressed with how many people will ask me on my Twitter account if I'm watching Blake Griffin when they're playing. He's becoming one of the most popular players already in the league.
Derrick Rose (Chicago)
Shouldn't I be starting over Rondo in the all-star game?
Ryen Russillo
(4:35 PM)
Yes.
Nick (OB)
Have you hear Stacey King yet? He's so bad, I can't get over it.
Ryen Russillo
(4:36 PM)
We're getting a lot of these. I could spend hours on this topic considering I can name the announcers and spend a lot of my week listening to them. I'll say this: NBA announcers are not journalists or even members of the media. They are team employees who happen to be talking during the game, giving you a 2.5-hour advertisement. It's awful.
Peyton (Indiana)
What does Elway do with Tebow?
Ryen Russillo
(4:37 PM)
Try to convince him to start drinking (kidding).
Jim (Columbus)
I hope so. It wasnt the Bama, LSU, or Gators. But people dont have to eliminate them right away like they are laughing stock to everybody
Ryen Russillo
(4:39 PM)
Jim, I understand your frustration. I said this on the show today: there are probably 115 programs in college football that would trade places with Ohio State. You are the face of your conference and a couple losses in this decade have been blown out of proportion, but Pryor has become so unlikeable that people with no ties to the Big Ten and probably couldn't name six of the teams are rooting against him and the idea that Ohio State can hang with the boys down south.
Joe D. (Maryland)
Do you see John Wall eventually becoming an elite point guard, a-la a Chris Paul or a Deron Williams? I know he's still a rookie, but he seems to struggle with his shot and throws his body around the court seemingly without regard. As a Wizards fan I'm a little worried.
Ryen Russillo
(4:39 PM)
I wouldn't worry.
Jim Harbaugh (Palo Alto, CA)
Just checking in to make sure everyone here is respecting the games.
Ryen Russillo
(4:40 PM)
We are.
Spiro (Seattle)
I've never heard of you before. Who are you and why should we care about anything you say?
Spiro (Seattle)
How many drugs did you used to pop and/or inject into your bosom when you listened to the Phish?
Ryen Russillo
(4:40 PM)
Well I'm glad you're here, Spiro.
HOUSTON FAN (HOUSTON)
WHAT ARE THE ROCKETS PLANS IN THE AREA OF TRADES, SPECIFIC NAMES PLEASE
Ryen Russillo
(4:41 PM)
Let me call Daryl. I'll start the chat back up in 10 minutes. What you were saying is you need specific names?
VW (NYC)
Top 3 shooters in the NBA? Mine: Ray Allen, Steph Curry, Steve Nash
Ryen Russillo
(4:41 PM)
I think you got it. Korver's numbers are sick, but he's not the all-around shooter those guys are. I feel like Nash can make any shot.
Nick (OB)
Kurt Thomas has impressed in Joakim Noah's stead, your thoughts?
Ryen Russillo
(4:42 PM)
He's been okay. Not a lot of scoring. Taj Gibson has stepped up quite a bit. They're #2 in defensive efficiency now and get Noah back in late February/early March. A lot to like about this team.
Steve Nash (Phoenix)
Where the heck am I gonna get traded to? And who's gonna replace me in Phoenix? Do you think after I leave that Phoenix will have a "Planet Orange" part 2?
Ryen Russillo
(4:44 PM)
They need to move Nash now. Probably get a couple first-rounders, maybe a Devin Harris-type. In the NBA, you don't really get a star back because that team is trying to build forward, adding Nash to something already established. Phoenix will probably keep him until it's too late because Phoenix is dumb.
The Most Interesting Man (World)
Ryen you really have Wade over Bron as MVP at this point? Wade has been a scoring machine as of late, but Bron is the Engine driving the car in Miami.
Ryen Russillo
(4:44 PM)
Wade won player of the month in December, he's probably the third-best player in the NBA. I know LeBron is playing point, but I'll go Wade. It's January 5. I'll probably change my mind, too.
Jimmy [via mobile]
I dont think orlando can play with the heat
Ryen Russillo
(4:45 PM)
Because of that Z-Dwight Howard matchup?
VW (NYC)
Would you rather have an old Steve Nash or a young Raymond Felton?
Ryen Russillo
(4:45 PM)
Old for one season. Five seasons? No.
Ron (Ohio)
Anyboby could replace nash
Ryen Russillo
(4:45 PM)
I hope you are drunk.
Keith P (Michigan)
Possible Coaches to replace John Kuester next year?
Ryen Russillo
(4:45 PM)
No interest in this question.
Daryl Morey (HOUSTON)
We are going after Chris Paul, you can put that in the paper!
Ryen Russillo
(4:46 PM)
You go after everyone.
Zach (Greenville)
What's worse in these chats: Real aggressive ALL CAPS GUY or dude that plays race card for QBs (see Vick chat a month or two ago)
Ryen Russillo
(4:46 PM)
Zach is such a vet of these chats. The race card bums me out. If I don't like Vick, it's because I'm a racist, but then no one says anything about me killing Favre.
MoMo (Lynchburg)
Do you think Liberty University's mens basketball team will make it to the NCAA tourney this year after their first 4-0 start in conference play in team history?
Ryen Russillo
(4:47 PM)
I sure hope so. And we're done. Follow me on Twitter at @ryenarussillo. No chat next week. Flying to Arizona next weekend. Have a good one.
ESPNRadio.com
(4:48 PM)
That's all, folks. We'll be back soon. Have a good week.