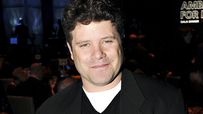 Astin is the son of successful actress Patty Duke.
Welcome to SportsNation! On Wednesday, actor Sean Astin, star of movies like "Rudy," "Lord of the Rings" and "Goonies" and the voice of Disney's "Special Agent Oso," stops by to chat about his favorite Los Angeles sports teams, like the Lakers and UCLA Bruins.
Astin, 39, has more than 70 TV and movie credits to his name, starting in the business when he was just 10 years old.
Astin's Disney cartoon will have Lou Holtz guest starring on January 7.
Send your questions now and join Astin Wednesday at 2:15 p.m. ET!
More Special Guests: Previous chats | SportsNation
Buzzmaster
(2:15 PM)
Hey gang! Sean Astin is here and will be starting momentarily!
Fightin' Irish (ND)
RUDY! RUDY! RUDY! RUDY! RUDY! RUDY! RUDY!
Sean Astin
(2:16 PM)
I'm here!
Joel (Shanghai)
Hey Sean, big fan. Which is a bigger adrenaline rush: hauling Frodo up Mt. Doom or sacking the Georgia Tech QB on the last play of the season?
Sean Astin
(2:17 PM)
Pure adrenaline? Sacking the QB! Hauling Frodo up Mt. Doom was a slow release ... more like a marathon. Good question.
Greg M (San Rafael,CA)
Hey Sean, love all of your work man. Just wondering if not Notre Dame, what is your favorite college football team? And have you ever met the real Rudy?
Sean Astin
(2:18 PM)
U-C-L-A! U-C-L-A! U-C-L-A!
Sean Astin
(2:18 PM)
If it wasn't an online chat, I'd sing the fight song for you.
Sean Astin
(2:18 PM)
I could hear the band practicing from my front door when I was a kid.
Tony (Pt Jeff, NY)
IF you could play any sports figure(besides Rudy which was awesome), which role would you WANT? which would fit you best(if different answer)?
Sean Astin
(2:20 PM)
Great question. Floyd Mayweather? Ha. Seriously though, I got to play a high school coach and that was very rewarding. It was an Iowa baseball movie. But now, I don't know. I can' think of anyone specifically offhand. I told another ESPN friend here, I love all sports. I can't think of any I don't love. I've even come to appreciate cricket. Maybe I could play a sportswriter. I don't know. Anything in the sports realm is appealing.
Jack Bauer (CTU)
Did you enjoy your time working on 24? Did you wish you could go out in the field with Jack instead of working inside of CTU?
Sean Astin
(2:21 PM)
Out in the field. No question.
Sean Astin
(2:21 PM)
Going back to the sports role ... no one specific in sports is in my the forefront of my mind but I'm taking that question as a challenge!
Sean Astin
(2:22 PM)
Howard Cossell? Just kidding.
Brad (Gadsden,Alabama)
Sean, Who is going to win the BCS National Championship?
Sean Astin
(2:23 PM)
I just shook Oregon's hand! Joey Harrington was just here. What a great game. It seems like two totally different universes with Auburn and Oregon.
Rich (New Jersey)
I enjoy your work alot, especially "Rudy" & "Goonies". I became an avid Laker fan after attending the 4 games at Madison Square Garden during the 1970 NBA Finals. Even though they lost in 7 games I still have great memories. Any Laker moments that stand out for you?
Sean Astin
(2:25 PM)
It's so funny .. my mind first when to my childhood and my Laker experiences back then. Last year I played in a celebrity softball game with Kareem. I got to chit chat with him for a bit which was great. One thing that comes to my mind was the three-peat. Watching Kobe at the end. It felt like he had matured and really come into his own.
Kit (Mpls)
Sean, if there were a Goonies remake, would you give it your blessing and maybe star in it?
Sean Astin
(2:26 PM)
I'd give it my blessing, sure. They've been talking about it forever. If Steven likes it I'm sure it will be fantastic.
J.J. (CT)
What was your favorite movie you've been in? Least favorite?
Sean Astin
(2:26 PM)
Patton is my favorite movie.
Jc (Fort Myers Fl)
Simple and easy question. Did you ever imagine the LTR would be as huge as it ended up being. We all knew and loved the books but the movies were and are cult classics. Our 13 year old has created his own mythical world based on the movies and the characters with some add on of his own. Thanks.
Sean Astin
(2:27 PM)
Yes and no. We knew it was massive but until you experience it you can't really know what it is going to be like.
Sean Astin
(2:28 PM)
The cool thing about it was the people who worked on the movie. Everyone was so creative and hard working. They all deserved to have their work enjoyed by that huge audience.
J.Rod (SLC, Utah)
Not saying Kobe isnt a great player but i wouldnt say great up to date considering the heat, Boston and Orlando, but should we be concerned with Kobe coming into the postseason lakers still are the team to beat but is a 3peat likely?
Sean Astin
(2:30 PM)
There is nothing as special as watching greatness. The Heat or whoever it is are going to come at them with everything they've got. Laker fans will be treated to one more year of greatness. I'm not worried about Kobe at all.
Joe (Chicago)
My favorite scene of yours all time is the spider scene in Lord of the Rings! Speaking of other creeping things, Ron Artest, are you planning on bidding on his championship ring?
Sean Astin
(2:31 PM)
Mixed feelings about that. Moved by Ron's emotions. But conflicted about the idea of the ring being out there.
Linda (Ohio)
Who do you think should be Horse of the Year? Zenyatta or Blame?
Sean Astin
(2:33 PM)
I saw Zenyatta's 18th run. Absolutely thrilling. No words can desribe that moment in horse racing. I just made a movie mockumentary called "And They're Off!" I play a trainer and Chri Oteri is my ex-girlfriend/jockey. Hopefully you can see that soon!
Caleb (Denver)
Out of all your movie rolls, what do you get asked the most about?
Sean Astin
(2:34 PM)
Encino Man!
Sean Astin
(2:34 PM)
Just kidding!
Sean Astin
(2:34 PM)
Goonies, Rudy and LOR ... flip a coin!
Sean Astin
(2:35 PM)
Thanks for the questions! I had so much fun! Now go back to work you crazy people!