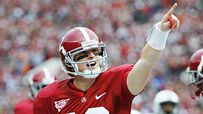 McElroy graduated from Alabama in three years and spent his senior season in graduate school.
Welcome to SportsNation! On Monday, we will be talking about Monday night's BCS championship game (8:30 p.m. ET, ESPN) with reigning champion quarterback, Alabama's Greg McElroy.
In two years as a starter, McElroy compiled a 24-3 record as a starter, including a 14-0 national championship season in 2009 as a junior.
In 2010, McElroy finished his Alabama career by establishing career highs in competion percentage (70.9%), passing yards (2,987) and TD passes (20).
Send your questions now and join McElroy Monday at 2 p.m. ET!
More Special Guests: Previous chats | SportsNation
Buzzmaster
(1:49 PM)
Greg will be here shortly to take your questions!
Matthew (Los Angeles,CA)
With Mark Ingram, Marcell Darius, and possibly Julio Jones leaving. What do you think of Alabama as a team?
Greg McElroy
(2:01 PM)
I think we have a lot of talent. We obviously finished the 2010 sesaon on a great note. I think Coach Saban has made it a point to not necessarily rebuild but reload. As long as he's there, I expect them to be at the top in the SEC and the nation.
Brendan (St. Louis)
Congrats on the great year! I was just wondering what was it like working with Nick Saban for 4 years?
Greg McElroy
(2:02 PM)
It's difficult at times. But you have to understand as a player, that he just wants whats best for you and the team.
Greg McElroy
(2:02 PM)
He's a special person that cares more about the team than anybody. That's a big reason that he's been as successful as he has at every stop.
Jason Y (Greenville, SC)
How much does the media get in your head before a big game like this? Do you think it will be a factor for Newton?
Greg McElroy
(2:03 PM)
I do not think it's a factor for Cam whatsoever. He's done a tremendous job this year of handling both positive and negative attention. However, the media does tend to hype up championship games which can add significant pressure to an already pressure filled situation.
John (Birmingham,AL)
Will you be going for Auburn or Oregon in tonight's national championship game? Being a huge Bama fan I'm going to have to say, "ROLL DUCKS ROLL!"
Greg McElroy
(2:04 PM)
I always root for the SEC and tonight is no different. However, I personally believe that the Ducks will be victorious simply because of their tempo and the way that they prepare.
TXBAMAFAN (San Antonio (Hometown Tuscaloosa))
Greg, whats next for you? Are you thinking of testing the pro waters?
Greg McElroy
(2:05 PM)
Yes. I will be training for the NFL draft in Orange County, Calif. and will be playing in both the Senior Bowl and NFL combine. It should be a great experience and I'm looking forward to do everything necessary to doing everytihng I can to playing on Sundays. BTW, I will be in San Antonio Jan. 13-15 for an NCAA awards ceremony.
Sam Gardner (Tuscaloosa, Al)
Roll Tide Greg, who are you taking in tonight's game? Also what was it like facing Auburn this year in the Iron Bowl?
Greg McElroy
(2:06 PM)
It was a great challenge. We understood how difficult a game it would be and the way they played definitely didn't disappoint. It was a classic Iron Bowl battle and unfortunately we didn't do enough to get a victory. I have no hard feelings towards the Auburn Tigers and wish them nothing but the best, except when they're playing Alabama.
Thad Williams (Temple Georgia)
Are you sad to have to leave Alabama?
Greg McElroy
(2:07 PM)
I am. It was a great experience and I will have tremendous memories because of my time in Tuscaloosa, but I personally believe that the program is in better hands now than when I got there, because of the contributions of Coach Saban and the rest of the team. I am very excited to see what the future has in store for them.
Jared Wilson (Odessa Texas)
Greg McElroy,First and foremost I respect everything you do on and off the field, for your linemen and for fans even though I am a Longhorns fan. My question is how did growing up in Texas prepare you for big time college football? Also how does Alabama football compare to the gridiron of Texas?
Greg McElroy
(2:09 PM)
As you know, being from Odessa, high school football has a rich tradition throughout the state. I have so much respect for high school coaches, players and fans, because of their dedication and commitment to their high school programs. It was a great experience and a tremendous way for me to compete against some of the best teams and players that the high school has to offer. I was a much better player at Alabama for having had that experience.
Mike (Alabama)
What was your most memorable moment while playing for the crimson tide? Also thanks for bringing us a national championship back to tuscaloosa
Greg McElroy
(2:11 PM)
I would have to say taking a knee against the Longhorns to seal a national championship victory. Being in the lockerroom, singing the fight song and knowing the amount of pride we brought back to Alabama. It was an incredible moment for us as individuals and everyone that supports Alabama. It is because of those people that makes playing there so special.
Ryan (Mayfield KY)
How fierce will the QB competition be at Bama between AJ McCarron and Phillip Sims this offseason?
Greg McElroy
(2:13 PM)
It will be extremely fierce. AJ has obviously had a lot of time in the system and has developed considerably since he arrived on campus. Phillip is as physically gifted as any QB I've seen at the college level. It will come down to whoever is able to play with the fewest mistakes and be able to inspire his surrounding teammates. Both guys have incredible character and have a great commitment to doing anything they possibly can to help Alabama be victorious. Whether that's on scout team or in hte offensive gameplan meetings, those guys just want to win. I'm looking forward to seeing it unfold and I know the QB position at Alabama will be in great hands.
Harvey (Mississippi)
How good is Trent Richardson?
Greg McElroy
(2:14 PM)
He's phenomenal. From a physical standpoint and an attitude standpoint, he is as good as anyone I've ever been around. I know he'll do a great job next year and will continue to progress. I expect for him to be playing this game for a very long time.
Collin (Bama Fan)
was alabama your first option? and how is it i am considering going there to play baseball?
Greg McElroy
(2:16 PM)
Yes. From Day 1, I wanted to play for the Crimson Tide. From my junior day in Tuscaloosa, to watching them throughout the 2005 season, culminating in a Cotton Bowl victory.
Greg McElroy
(2:16 PM)
I knew it was where I wanted to be. I'm just so glad to have had the opportunity to don the crimson and white uniform.
DWAYNE (DAYTON, OH (HOMETOWN BIRMINGHAM))
Greg, How was it paying under Nick Saban, and what has he taught you, not only as a coach but as a leader?
Greg McElroy
(2:17 PM)
He taught me the importance of focusing on the process and made it clear that you will not be successful unless you pay attention to every last detail. He is an extremely focused person and a joy to play for. His leadership trickles down to every player on the team.
Evan (Georgia)
Hey Mceltoy, how bad did it hurt when 170lb T'sharven Bell picked you up and tossed you like a rag to the ground?!?? Feel free to express your feelings.
Greg McElroy
(2:19 PM)
Bad.
Chad (Greenville, SC)
Greg, what do you think separates Alabama from other "football crazy" programs in the SEC? Don't be a stranger in returning to campus on fall Saturdays...see ya in the Legends tent on the Quad!
Greg McElroy
(2:20 PM)
I think the entire SEC fan base is what makes playing there so special. Any where you go, you expect to see an avid and rukus group of fans. Alabama is extremely committed and supportive of their program just like the rest of the SEC fan base.
Greg McElroy
(2:23 PM)
Thanks to everyone for their outstanding questions. It's been a joy to be able to play football the past 5 years at a great institution and to be able to compete against the best players and teams in the nation every week. It's the fans that make playing the college game so incredibly fun and I appreciate everyone, regardless of who they cheer for and what colors they wear. Please continue to support your team in a diehard fashion. Believe me, as a former player, you did not go unnoticed. I am on Twitter @gvmcelroy, so please continue to check in. If any questions were unanswered today, I would be happy to answer any more questions via Twitter and if I don't get to your question today, then send it again and I'll do my best to accomodate. Thank you again and Roll Tide.