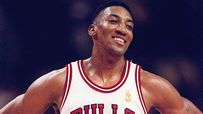 Pippen averaged 16.1 points in his career with the Bulls, Blazers and Rockets.
Welcome to SportsNation! On Wednesday, basketball hall of famer Scottie Pippen stops by to chat about the NBA season.
Pippen, who played 17 years in the NBA, including 12 seasons with the Chicago Bulls, entered the Basketball Hall of Fame in 2010. He won six NBA titles, making the playoffs 16 straight years during his career, playing in the fourth most playoff games of all time. An eight-time NBA all-defensive team member, Pippen ranks sixth all time in steals.
This season, Pippen is teaming with Buffalo Wild Wings to give fans a chance to win a trip to the NBA Finals with Pippen. Check out the Home Court Advantage challenge for details.
Send your questions now and join Pippen Wednesday at 11 a.m. ET!
More Special Guests: Previous chats | SportsNation
Buzzmaster
(10:54 AM)
Scottie Pippen will be here at the top of the hour to take your questions!
Buzzmaster
(11:07 AM)
Scottie is here!
Michael (Chicago)
What was your proudest moment has an NBA player?
Scottie Pippen
(11:08 AM)
My proudest moment was being drafted and later being traded to Chicago from Seattle.
Wryan (Dolton, Il)
If You, MJ, and Rodman played 3 on 3 with the MIAMI THREE, who would win?
Scottie Pippen
(11:08 AM)
They can have it. We are going to let them win.
Kyle (Chicago)
I love buffalo wild wings....do you now get free wings for life?!
Scottie Pippen
(11:09 AM)
Yes! I have a card that allows me to eat at all of the Buffalo Wild Wings. I actually have a gift card. I would say it's unlimited. Go to BuffaloWildWings.com to win a chance to go to the NBA Finals with me!
Alex (Libertyville, IL)
Will Derrick Rose win the MVP this season? if not does he deserve to thus far?
Scottie Pippen
(11:10 AM)
I'm not sure if he's going to win. There are a few other players out there that are having a great season, like LeBron, Amare. But I'm hoping that this is his year. He's definitely deserving.
Nate (Chicago)
Hey Scottie, how do you feel about the Bulls' franchise heating up again to be title contenders for some years to come?
Scottie Pippen
(11:11 AM)
I feel real good about the team. The coaching staff. I think that they have developed a lot with Derrick, Joakim, Deng and finally have been able to put a team out there that's been productive for the last two years.
JM, New York City [via mobile]
Hey Scottie! How do you think your 72-10 Bulls squad would fare in the current NBA landscape? Do you think any team will ever break that record?
Scottie Pippen
(11:12 AM)
I think that the team would fare very well. I don't think any team will win 70 games period, this year, let alone 72. I think eventually, it will be broken, but I don't see a team out there right now that's equipped to break it.
Scott (murrieta california) [via mobile]
What drove you to work so hard especially on defense, and with back problems, for this fifth and sixth championships?
Scottie Pippen
(11:13 AM)
It was just the way I was brought up early on. Being driven as a player. I think it was from not having a college scholarship.
Chimp (Chicago)
Scottie, it's great seeing you on the sidelines at games, are you here to stay in Chicago??
Scottie Pippen
(11:14 AM)
Yes, I'm here to stay in Chicago. I'm here working with the team and spending a lot of times with Buffalo Wild Wings.
Scottie Pippen
(11:15 AM)
If you want to find out in person, go to BuffaloWildWings.com and enter for that chance to come see the Finals with me.
Efrain Wallington NJ [via mobile]
Why the Knicks are taking too long to get Carmelo Anthony? Why gamble with this situation?
Scottie Pippen
(11:17 AM)
I'd rather not answer that one. I'm working with the Bulls now and it wouldn't be appropriate for me to talk about another team/player.
Michael (Chicago)
You have the single best dunk in the history of the NBA. Hands down, no debate. How long did it take you to realize your jam over Ewing was a great one?
Scottie Pippen
(11:18 AM)
It didn't take too long. I don't normally dunk on people and walk over them.
SteveFitz (Chicago, IL)
Pistons or Knicks. Who did you dislike more as a player?
Scottie Pippen
(11:19 AM)
I don't want to say that I really disliked either of the teams. I respected them, but I wanted to beat them.
Bill cos (naperville, il)
Does the 2011 Bulls team remind you of any of your 6 NBA championship teams? if so, what makes this team like the great teams of the 90's
Scottie Pippen
(11:20 AM)
I'm going to have to say no, that this team doesn't remind me of any of those championship teams. It's consistency, that's what makes teams great. If they're consistent, they'll continue to move up the ladder.
Molly Yuan (Toronto, Canada)
Scottie, if you played yourself in a game of one-on-one, would you do better offensively or defensively?
Scottie Pippen
(11:21 AM)
What a question. It will all work out equal. I'm way unbalanced.
Kevin (Aurora IL) [via mobile]
Is Derrick Rose really this good? Can we expect this kid to get any better? He's incredible
Scottie Pippen
(11:21 AM)
Yes, I do think that he is really that good. Yes, he will get better. We're still seeing a very young player that's matured and grown very fast. The maturity level of his game and body will continue to get better.
derek brown, West Palm Beach FL [via mobile]
Who do you think will win it all this year?
Scottie Pippen
(11:22 AM)
Well, I think the Spurs are playing the best right now in the league, at least that's what the record shows. But I think Boston will win it all this year.
Henry Boyd (Chicago, Il)
Cubs and the White Sox both ask you to throw out the opening pitch but the games are on the same day. Who u rockin with Pip?
Scottie Pippen
(11:22 AM)
I'm going to the White Sox.
Scottie Pippen
(11:23 AM)
Because my boss is the owner.
Ted (San Diego)
Are you following the Central Arkansas bball team this year and how do you think Corliss is doing as a coach?
Scottie Pippen
(11:23 AM)
Yes, I do follow Central Arkansas. Corliss is doing well as a coach. He has yet to have a strong recruiting season, but he's only had the one recruiting year. I expect that to continue to get better.
Steve (Hanover Park)
Do you ever wonder what it would of been like if M.J. never retired in 93' and 98'?.... more titles?
Scottie Pippen
(11:24 AM)
Yeah, I think about it some time, but the reality of it is that he did what he did. You don't really focus on things that you don't have any control over.
Stephen (Las Cruces, NM) [via mobile] [via mobile]
What are the Bulls missing or are they missing anything? Do you consider them a top 5 team?
Scottie Pippen
(11:25 AM)
I consider them top 5 in the East. I don't think they're missing anything right now, but getting all of their players healthy. Joakim is a huge piece that they're missing right now. I think we'll see another surge by this team.
sal(hanford,ca) [via mobile]
Scottie,what was your first reaction when you knew Rodman was coming to the bulls?GO BULLS!!
Scottie Pippen
(11:26 AM)
My first thought was, wow. And I was happy. I felt like we had an opportunity to go out and win for a few more years.
Jose Texas [via mobile]
Hey Scottie! Do you and Michael still keep in touch?
Scottie Pippen
(11:27 AM)
I don't talk to Michael too much, unless I run across him. We're not phone buddies. I have a handful of guys from those teams that I keep in touch with.
Scottie Pippen
(11:28 AM)
Get out there and meet the challenge, because I want to go to the finals. NBA Finals, court side!
Buzzmaster
(11:28 AM)
Thanks for chatting Scottie!