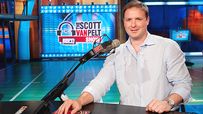 Welcome to SportsNation! On Wednesday, ESPN Radio's Ryen Russillo will be stopping by to chat.
Russillo is co-host of The Scott Van Pelt Show on ESPN Radio, which runs 1-4 p.m. ET. Listen live

He also hosts the NBA Today podcast on ESPN.com. He has covered the NBA draft since 2003 and prior to joining ESPN, he was a TV studio analyst for Boston Celtics games.
Send your questions now and join Russillo on Wednesday at 4:15 p.m. ET!
More Ryen Russillo: ESPNRadio.com | Chats | Search | SportsNation index
ESPNRadio.com
(4:11 PM)
Ryen is here. Fire away.
Pat (Pittsburgh)
How did you come up with the term spin it?
Ryen Russillo
(4:11 PM)
I didn't come up with it. It's what everyone says about any good QB.
Zach (Greenville)
Doug is on right now. Said you talked on the phone and you said the BCS is the best. What?
Ryen Russillo
(4:12 PM)
Not sure what he's doing. We talked on the phone. I said this year, the BCS pitted the best two teams. The NFL playoffs have become less of a reflection of the regular season. I'm not exactly pro-BCS. It was just a point I made.
Matt (Florida)
Whats up Ryen, are my Bulls in talks with Denver for Melo or not?
Ryen Russillo
(4:12 PM)
No, they won't give up Noah. And I wouldn't trade Melo unless I got Noah. I'm not doing it for Deng and the rights for Flip Murray.
john (missouri)
who is having the more impressive season: derek rose or snookie?
Ryen Russillo
(4:14 PM)
I think Snooki brings it every night more consistently. Rose has been a better leader, but there's something to be said about the ability to be a really good follower. Rose is better with the ball. Snooki moves well without the ball.
Adrian (NYC)
Hey Ryen, Just curious what your opinion on Gilbert Arenas as a 6th man for Orlando...do you think he'd be better suited starting over Jameer or do you think he's the kind of player that can make some noise coming off the bench.Thanks, keep up the good work
Ryen Russillo
(4:15 PM)
Jameer has certain nights where he looks really good and other matchups where he's just going to lose (see Boston, Tuesday night). But Arenas has been awful, so I don't think you can start him. The reason he comes off the bench is to provide scoring. They're almost doing him a favor by playing him against backups and allowing him to get more looks, but he still falls into that category of a "I haven't shot in two minutes, I need to take a shot" player.
Pat (Pittsburgh)
There has been a lot of love for Rogers and I get why. I do need to understand how you and SVP chose him over Ben in your rankings today. Dude has 2 rings and is as clutch as anyone I can think of except for MJ? This is the playoffs not a fantasy matchup.
Ryen Russillo
(4:16 PM)
Are you saying Ben is as clutch as Michael Jordan? Just stop.
darren (st. petersburg, fl )
Am i a hater for thinking the Heat just really aren't good enough to win it all.Anytime I say this people in Fla look at me like I'm crazy.
Ryen Russillo
(4:16 PM)
Not a hater. They don't have size and Mike Miller hasn't made a shot in a home game. Think about this. They've lost a bunch in a row because LeBron and Bosh have been hurt.
Brian (Heaven)
I was listening to your NBA Today podcast while getting a massage.Good times.
Ryen Russillo
(4:17 PM)
What was the name of your masseuse?
Zach (Greenville)
Funnier: Robert Flores or Dane Cook?
Ryen Russillo
(4:17 PM)
Flores.
Box (Salt lake city)
Do you see the jimmer having any sucess in the NBA?
Ryen Russillo
(4:18 PM)
Maybe as an off the bench shooter, bring the ball up a little. He drives a lot, so it's not like he can't put it on the floor. His assist numbers are good. He's pretty good in transition, but he's small to be a two-guard.
Trent (Kentucky)
Is Cowherd really as big of a moron as he seems? Also, what workout is best for building my lats.
Ryen Russillo
(4:18 PM)
Cable front row extension.
Cory (South Carolina)
Does any of the anchors or analyst have a really bad tattoo?
Ryen Russillo
(4:18 PM)
Bob Ley has one on his lower back of Papa Smurf surfing.
john (missouri)
chest day today?
Ryen Russillo
(4:19 PM)
Day off.
Zach (Greenville)
Should I rush a coed, honors fraternity here? Phi Sig Pi
Ryen Russillo
(4:19 PM)
I'm worried you even asked. That's a no.
Jurgen (Vienna)
Why is that picture cropped so we cannot see how many plates you are pounding on the flat chest hammer strength machine?If you are in Vienna some time will you come and join me in a workout session? Please tell me you're really not doing p90x?
Ryen Russillo
(4:20 PM)
Jurgen, we need some stats. How big are you? I love P90X, though.
Simon (Germany)
What do you think bout the Mavs' playoff chances this year? pretended Dal finds a good trade partner for Butler.
Ryen Russillo
(4:20 PM)
I think they can get to the West finals. Things don't look great now. People in the NBA believe they will take on a big salary, so expect a trade. It will be a buyer's market with teams looking to dump contracts this year.
Wayne (Texas)
Is your new nickname LaBeef, now that you are pushing P90X? Or would you prefer Cockburn, when you have a beard? You got true grit, kid. No one covers the NBA like you do.
Ryen Russillo
(4:21 PM)
I think there's a compliment in here.
PAT (PITTSBURGH)
The point was that ben is clutch and my analogy may havebeen misunderstood. I was looking for rogers over ben justification?
Ryen Russillo
(4:22 PM)
Okay, I get it, but you did compare him to Michael Jordan. I think Rodgers is a better passer of the football. He can really spin it. I'm never going to win the resume argument, but who the best QB is should not just be defined by who has the most rings. Are Dilfer and Manning even?
Andrew (Milwaukee)
Any idea why the Jets curbed their trash talk this week against Pittsburgh?
Ryen Russillo
(4:22 PM)
1) They really don't like the Pats. 2) Every time they compliment the Steelers, it's still an indirect shot at the Pats. Win-win.
Patrick (Oak-Town)
Max Kellerman says 100% Griffin ends up with the Lakers at some point in his career. Would he be the eventual replacement for Kobe?
Ryen Russillo
(4:23 PM)
That's a bold prediction. No way you can predict that stuff.
Drew (Seattle)
Do you still get to hang out with John Anderson now that he's a huuuge celebrity?
Ryen Russillo
(4:23 PM)
I will after this weekend. I'm filling in for Beadle on Winner's Bracket.
Steve (Brooklyn)
Why don't you like Reggie Miller as TNT commentator?
Ryen Russillo
(4:24 PM)
I'm not sure, I just know I don't. Sometimes it's okay. Sometimes I'll go stretches wishing I could learn more. I like analysts that teach me something.
Tieg (Portland, OR)
Top 5 lowest bball IQs in the NBA ---> GO! (if you leave Ty Thomas out, I might have to cancel that podcast subscription. yes, I know it's free.)
Ryen Russillo
(4:25 PM)
Cousins will have a two to three-minute stretch when it looks like he's playing some of the worst basketball known to man. Al Thornton has never been accused of being a thinking man's player. Let me keep thinking about this. I will not put Tyrus Thomas on it. Cancel away.
Jurgen (Vienna)
Reynosaurus,Just weighed in at the gym at 107 kg, and I am 6'4". Im just into weighlifting though, not getting big. Glad the p90x is working nice for you, I need to switch it up too.
Ryen Russillo
(4:26 PM)
And as soon as I know what 107 kg is, I'll be impressed. But if your name is Jurgen, you're from Vienna and you're asking workout questions, you should be huge. I want to go to Austria tonight (or right now, as Brian Wilson would say).
john bravo (New york)
will carmelo come to ny
john bravo (New york)
wll carmelo come to new jersy
Ryen Russillo
(4:27 PM)
Denver has already traded him to New Jersey 25 times I've heard. If it doesn't happen this weekend, it means Melo thinks New Jersey will blink first and speaks to how bad he really doesn't want to play with the Nets.
PAT (PITTSBURGH)
which line would you be more comfortable with this weekend?
Ryen Russillo
(4:27 PM)
Offensive line? Jets, Packers, Steelers, Bears. I'd rather lay the 3.5 with Green Bay if that's what you're talking about.
Michael Finn (Chicago)
Would you rather win a million dollars by hitting a full court shot at halfitme of game 7 of the NBA Finals in Boston or by winning 100 consecutive days on Jeopardy and you retire undefeated at a million?
Ryen Russillo
(4:28 PM)
Full-court shot. I wouldn't want to be anywhere 100 days in a row.
Drew (Seattle)
Your thoughts on the CWebb/McHale pairing on NBA TV? I wish they had their own podcast. Also, why'd they ditch GP? Too awesome?
Ryen Russillo
(4:30 PM)
I really enjoy NBA TV. I can't emphasize this enough. I love it. Not all of them are great analysts. All the analysts ignore the hosts. It's like everyone wants the TNT Thursday night model, but at the same time, it's kind of a mess. I wish GP hosted. I do get a little annoyed when the game has already started and I have to go back to listen to them. I'm convinced last night they were trying to make as many sexual references as they could. Side note: drank with Gary Payton one night in New York City, and legitimately hung out with him. Didn't watch him go to the bathroom and say, "Hey GP."
Steve (Brooklyn)
Who's your favorite analyst in the NBA then, I can't stand local analysts that just boast about thier team i.e. Eric Snow.
Ryen Russillo
(4:31 PM)
Every time I read Hollinger, I feel like I learn something. But he's not on TV. Legs on TV is one of my favorites. Michael Wallace of our Heat Index. Lesser-known guy, but very good. Barkley doesn't know what the hell he's talking about but he is entertaining.
dave (SF)
who are you least favorite annoucers to listen to when watching a random NBA game? i vote Celtics, Grizzlies, Nuggets, and Mavericks as the worst
Ryen Russillo
(4:32 PM)
Not a huge Heat guy. This is unfair. I could write a book about this. Clippers announcers are great.
john bravo (New york)
will carmelo come to boise
PAT (PITTSBURGH)
do you have any interest in doing some video game audio?
Ryen Russillo
(4:32 PM)
Yes. ColecoVision.
Ted (Seattle)
I miss basketball. I think Seattle should offer Portland two Seahawks games in Portland a year for ten Blazer games in Seattle a year. What do you think?
Ryen Russillo
(4:33 PM)
The Celtics used to play in Hartford, CT once a year. Then they were like, 'Why do we do this?' and they stopped. If I was a Sonics fan and watched Durant every night, I would cry. Any Thunder fans worry about how predictable their offense is?
jay (maryland)
pistons trade rip maxiell and summers to mavs for 1st rnd pick butler stevenson and ajinca wut do u think?
Ryen Russillo
(4:33 PM)
If Rip is still available, something like this is very likely.
Mikey (Chicago)
Ryen if I win the powerball tonight I'm going to buy the hornets. Would you like to be the team's General Manager?
Ryen Russillo
(4:34 PM)
Yes. But I want to be allowed to also dress for games (at least just the lay-up line). And I pick all entrance music. Game one: GZA - 'Did You Say That'
PAT (PITTSBURGH)
not to say anything negative about the other espn radio guys, but oyu and SVP are by far the most fun to listen to. reminds me of my buddies and I giving each other a hard time over sports. Are you guys having as good of a time doing the show as it comes off?
Ryen Russillo
(4:35 PM)
Thank you. It's not a knock at the other guys, it's just your taste. I'm sure on the Mike & Mike chat, people tell them they're the best.
Jobin (Quincy)
What do you think of Sean Grande (Celtics radio PBP guy, for those who don't know)? Diarrhea of the mouth, brilliant rhythm, or a little in between?
Ryen Russillo
(4:36 PM)
I think Grande is great. He never undersells the moment. I used to love it when the team stunk and he used to have to write intros about game 70 vs. Milwaukee. He's a great writer.
J.B. (PA)
Is it possible that the Knicks could be the 2nd strongest team in the Eastern Conference within two years?
Ryen Russillo
(4:36 PM)
I'll give you a David Thorpe answer: yes, possible.
Trent (Utah)
What's the best sports moment in Utah history?
Ryen Russillo
(4:37 PM)
I would say beating Bama in the Sugar Bowl. Stockton's shot against the Rockets?
Bal (Toronto)
Whos to blame for lebron tossing up 30 shots(making only 11) while wade didnt attempt a single shot in the last 7 minutes of the game(including overtime). Spoelstra or Lebron?
Ryen Russillo
(4:38 PM)
Watching that game last night, I didn't have a problem with anything LeBron did, except pretend he was hurt right before hitting a 30-footer (which is more annoying than a big issue). If I coached on either one of those staffs, I would tell the team weird night, bad shooting, let's get ready for the next game.
Oscar (Los Angeles)
Why are Laker fans so annoying?
Ryen Russillo
(4:39 PM)
I'm not sure. Maybe defending Derek Fisher when Fisher flops and thinking it's total disrespect toward the team if one part of it is criticized? Most everyone recognizes the Lakers are awesome, and if they aren't, then they're not being honest, so I don't know why they're insecure about it.
Adam (Oakland)
Do you buy into Hollinger's criticism of Monta Ellis? I don't care about dudes made up #s, my eyeballs tell me Monta can play.
Ryen Russillo
(4:40 PM)
Some numbers are misleading, but his stat on Monta before the season was that there wasn't another player that played as much and had a worse +/- in comparison to his other teammates. So over an entire season, Ellis was a -10-point differential per game when he was on the floor versus off the floor. That is a dramatic stat. This year, it's been better.
Simon (Germany)
Everyones talking bout blake griffins game. I think hes about the funniest dude in the whole league, love watching his iviews..agree?
Ryen Russillo
(4:40 PM)
Very laid back, but I see what you're saying. Seems like he still gets it.
PAT (PITTSBURGH)
best/funiest thing you've ever seen on a college campus whether in college or on the road for gameday?
Ryen Russillo
(4:42 PM)
Any time Stanford Steve is driving the golf cart and he almost gets us killed or starts a huge traffic jam. I need to think about this a little bit. I'll get back to it next week.
ESPNRadio.com
(4:42 PM)
That's all for this week, folks. Thanks for stopping by. Be sure to check back next Wednesday for some more chat goodness. Have a good one.